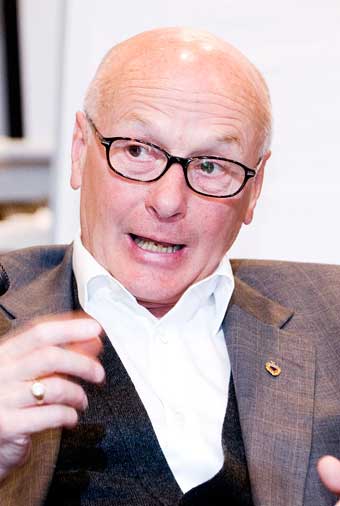 Photo by Whitehorse Star
Ted Staffen
Veteran Speaker plans to leave politics
Ted Staffen, the Speaker of the Yukon Legislative Assembly, announced Friday afternoon he will not seek re-election in the upcoming territorial election.
Ted Staffen, the Speaker of the Yukon Legislative Assembly, announced Friday afternoon he will not seek re-election in the upcoming territorial election.
"It felt like it was time," Staffen told the Star this morning.
Staffen, who has been the Yukon Party MLA for Riverdale North since 2002 and Speaker of the legislative assembly since elected in spring of 2003, said he is "interested in going back into business."
As for what kind of business, Staffen wouldn't say.
He also said he made his decision a long time before the Yukon Party's leadership race this past spring, and that he is committed to working hard to ensure the party wins a third term in government.
NDP Leader Liz Hanson said this morning she was surprised by Staffen's announcement and congratulated the longtime Speaker on his time spent in government.
"The job of the Speaker is difficult," said Hanson. "They have to find balance in keeping the discussion active while ensuring there is a certain dynamic that people can communicate in."
The Speaker's role is to enforce the rules of the assembly by allowing the majority to conduct its business while ensuring the minority's rights are heard.
Hanson said that level of communication within the legislative assembly was "very low."
Staffen said maintaining civil communication in the assembly is something he, along with former premier Dennis Fentie and the two opposition leaders, have been working on since coming into office in 2002.
"It's (the legislative assembly) made up of 18 passionate people who care about the Yukon, and we see solutions differently," said Staffen. "The passion shouldn't be stopped, but we shouldn't attack each other personally."
Staffen feels that during the past 8 1/2 years, the assembly has been successful in increasing civility while in session.
Liberal Leader Arthur Mitchell thanked Staffen for his years in the public service.
"He maintained decorum in house, and that's not an easy thing," Mitchell said this morning.
" I didn't always agree with his rulings, but I think he was always trying to do the fair thing, and that's his job."
Staffen said that his biggest challenge in government was always in representing his whole constituency.
Understanding that not everyone in the riding voted for him and taking the time to work with people from "all walks of life" is something which both challenged and thrilled Staffen.
"I really appreciate the trust people put in me,"he said.
Staffen puts the economy at the top of the list when it comes to the Yukon Party's successes during the past two terms.
"Eight and a half years ago, the economy was a mess," he said.
"Now, our children are coming back to the Yukon after finishing university. They're buying homes, contributing to the economy and helping build our territory."
Staffen is also proud of his time spent reconstituting the youth parliament program. He said it's an interesting way for the legislative assembly to "make contact with the community they represent."
As for whether he would want to be Speaker if he could do it all over again, Staffen said yes, absolutely.
"I wrote my university papers on the political evolution of out territory. I'm kind of a policy wonk."
Staffen said that he would like to thank Whitehorse, especially everyone in the Riverdale North riding, for supporting him over the years.
"It was quite a thrill, and quite enjoyable," he finished.
Add your comments or reply via Twitter @whitehorsestar
In order to encourage thoughtful and responsible discussion, website comments will not be visible until a moderator approves them. Please add comments judiciously and refrain from maligning any individual or institution. Read about our user comment and privacy policies.
Your name and email address are required before your comment is posted. Otherwise, your comment will not be posted.