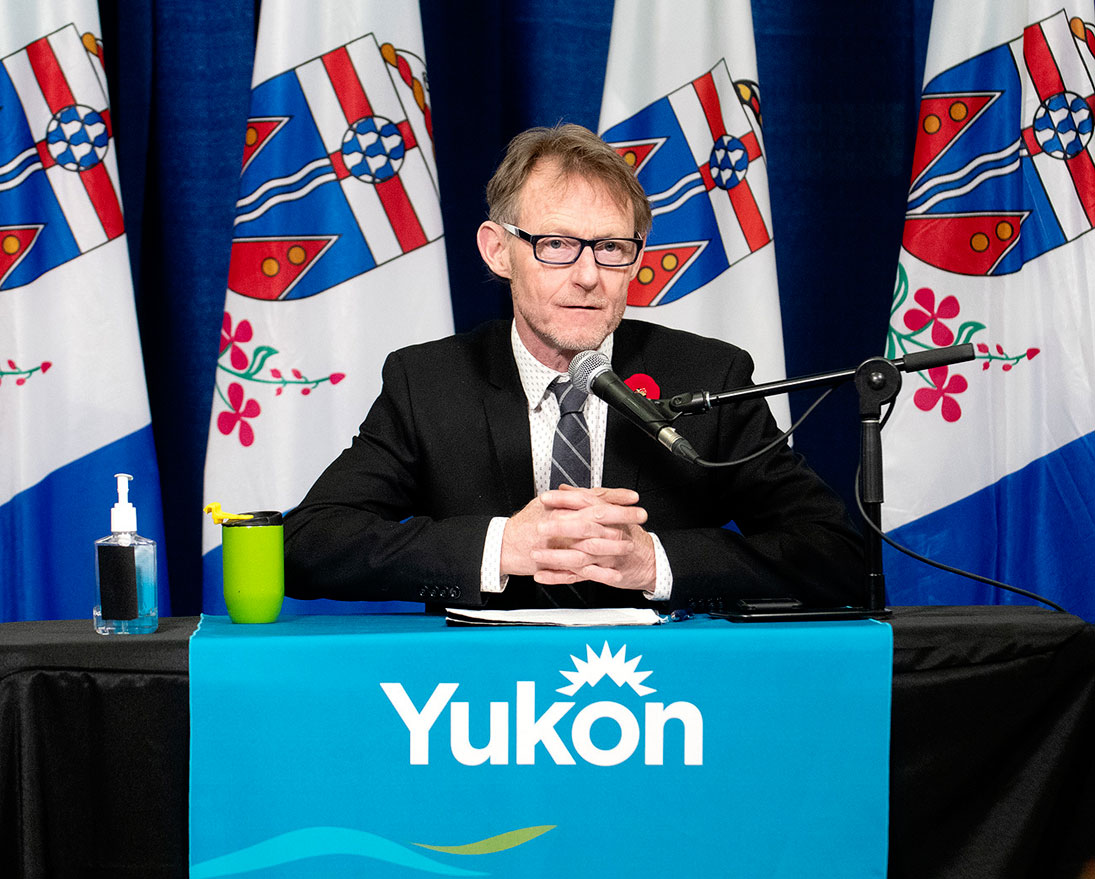 Photo by Whitehorse Star
Dr. Brendan Hanley
Vaccine can be anticipated next year: top doctor
Yukoners can expect a COVID-19 vaccination sometime in 2021, according to the territory's chief medical officer.
Yukoners can expect a COVID-19 vaccination sometime in 2021, according to the territory's chief medical officer.
"One thing we can be sure of is there will be enough vaccine for anyone who wants or needs it," Dr. Brendan Hanley said this morning.
The exact details of when and how the vaccine will become available are still unknown, Hanley said during his weekly COVID-19 briefing.
Two drug development corporations – Moderna and Pfizer Inc. – have recently announced promising preliminary vaccine results.
On Monday, Moderna called its vaccine 94.5 per cent effective in preliminary studies, with Pfizer announcing similar results last week.
The federal government has reserved 56 million doses from Moderna and 20 million from Pfizer, with the option of purchasing more.
Premier Sandy Silver said this morning he is working with the federal government on bringing those vaccine doses to the Yukon.
Identifying storage space for the vaccine, the number of required doses, staff requirements and distribution plans are all part of the conversation, Silver explained.
The vaccine rollout will be informed by the Yukon's flu shot distribution strategy.
The vaccine quantities allocated per province and territory won't be established until trials are completed.
"The effectiveness based upon those trials will determine a lot of the distribution as well," Silver said.
"For example, the latest trial for the Moderna vaccine has been done for elderly patients as well, and it seems they are starting to see who it's most effective for."
The Yukon can expect a phased relaxation of restrictions once a vaccine is available, Hanley said. His office is still working to "fill in the blanks" of the territory's reopening plan.
"It won't be overnight; it's going to be a gradual accumulation of immunity in the population that will allow us to then consider that gradual return to normal," Hanley said.
In the meantime, Hanley warned that Yukoners need to stay vigilant with the safe six and "lay low" after travel to B.C.
Last week, Dr. Bonnie Henry, B.C.'s chief medical officer, placed a public health order limiting travel to essential only in the Lower Mainland. Hanley urged Yukoners planning a trip to the Lower Mainland this month to reconsider their plans.
"That's why I strongly caution travellers to lay low and, while in B.C., to follow all those rules laid out – no one wants to be the one who brings it (COVID-19) home," Hanley said.
The chief medical officer said there still aren't plans to close the border to B.C., though case numbers in the province are rising.
He noted that travel from the province has decreased substantially, limiting importation risk.
"If we look around the country … even places with the strictest border requirements we are seeing cases come up and spread," Hanley said.
"I want to try to de-link a little bit of that association with just looking at the borders and not looking at how we prevent spread."
Preventing spread through the safe six will have a more significant impact on protecting the Yukon than closing the border would, he added.
"The critical thing is what we do to prevent transmission, how we prevent cases from becoming outbreaks …. It really all comes back to us," Hanley said.
Add your comments or reply via Twitter @whitehorsestar
In order to encourage thoughtful and responsible discussion, website comments will not be visible until a moderator approves them. Please add comments judiciously and refrain from maligning any individual or institution. Read about our user comment and privacy policies.
Your name and email address are required before your comment is posted. Otherwise, your comment will not be posted.