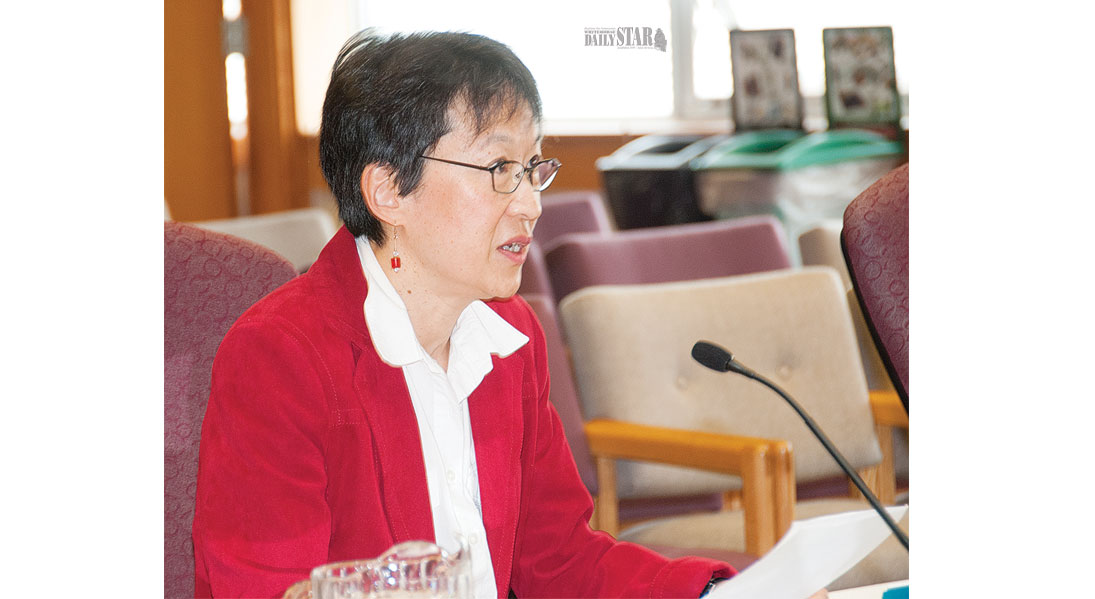 Photo by Whitehorse Star
Pictured Above: JULIE JAI
Use of Whistle Bend trail surfaces at council
Motorized multi-use or non-motorized use? That is the question.
Motorized multi-use or non-motorized use? That is the question.
At least, that was the main focus of questions about the paved perimeter trail in Whistle Bend during Monday's city council meeting.
They arose in light of a staff report recommending council approve changes to the 2007 trail plan dealing with designations of paths through that neighbourhood as well as Porter Creek and Takhini.
The proposed changes would formally designate in the plan the McCauley Creek Crossing Trail in the Porter Creek neighbourhood and the paved trail around the Whistle Bend neighbourhood for motorized multi-use.
As noted by Marc Boulerice, the city's parks supervisor, the proposal comes from a recommendation of the Whitehorse Trail and Greenway Committee which considered public input gathered through a task force formed to look at the trail plan for the Porter Creek, Whistle Bend and Takhini areas.
Public input was gathered using a meeting, survey and other tools last summer.
As council heard last night though, some in the Whistle Bend community don't want motorized recreation happening on the neighbourhood's perimeter trail despite more recent city documents that show it as a motorized multi-use route.
Julie Jai, who lives in the neighbourhood, addressed council at the beginning of last night's meeting.
She was quick to point out the primary trail users use it as a place to go for a stroll or get from point A to point B in the neighbourhood without using a vehicle.
Jai said she knows of one older woman who takes her daily walk along the trail using a walker.
The woman is partially deaf. Hearing any oncoming dirt bikes, snow machines and the like on the trail could be difficult, Jai said.
She argued that labeling it as a motorized multi-use trail could encourage more motorized users to use the route.
Jai also pointed out the designation in the trail plan would go against the vision that was developed for Whistle Bend to be a pedestrian-friendly neighbourhood.
The Millennium Trail, which stretches along the Yukon River between the downtown area and Riverdale, is not open to motorized traffic, she pointed out.
The trail through Whistle Bend is that neighbourhood's Millennium Trail, Jai added.
She urged council to vote against the recommendation.
Coun. Roslyn Woodcock was quick to note the trail is already designated for motorized use in other city documents that would require a change if the city were to decide motorized traffic was no longer permitted on the trail.
Boulerice later explained that two trails were envisioned for Whistle Bend. One was a multi-use motorized trail and the other was for non-motorized use.
The plans were later changed for one multi-use in an effort to save on costs.
"It's not a trail intended for doing laps around the neighbourhood," he said, noting it allows a route for users to get to out and away trails often used by motorized users.
Boulerice stated it was the developer – the Yukon government – that opted to alter the plans. Coun. Dan Boyd argued it is ultimately up to the city to approve development plans.
Meanwhile, Coun. Rob Fendrick noted he was at a charrette on the development of Whistle Bend and doesn't recall there being any proposal for two trails.
"Two trails would solve the problem," he said.
He asked that staff provide council with the documents showing the plans that were in place for two trails.
He also asked that council be provided with a list of other multi-use motorized trails.
Boyd also took issue with designation permitting motorized users on the trail.
He said he wanted to see a record showing that the trail has the motorized designation, as it seems that would create a lot of conflicts between motorized and non-motorized users.
"I have trouble with it logically," Boyd said.
He suggested the neighbourhood's streets could be used for riders of snow machines, dirt bike, ORVs and such to get to out and away trails, as is the case for other areas of the city.
The trail designation will come forward to council for a vote next week.
Coun. Betty Irwin was absent from last night's meeting.
Add your comments or reply via Twitter @whitehorsestar
In order to encourage thoughtful and responsible discussion, website comments will not be visible until a moderator approves them. Please add comments judiciously and refrain from maligning any individual or institution. Read about our user comment and privacy policies.
Your name and email address are required before your comment is posted. Otherwise, your comment will not be posted.