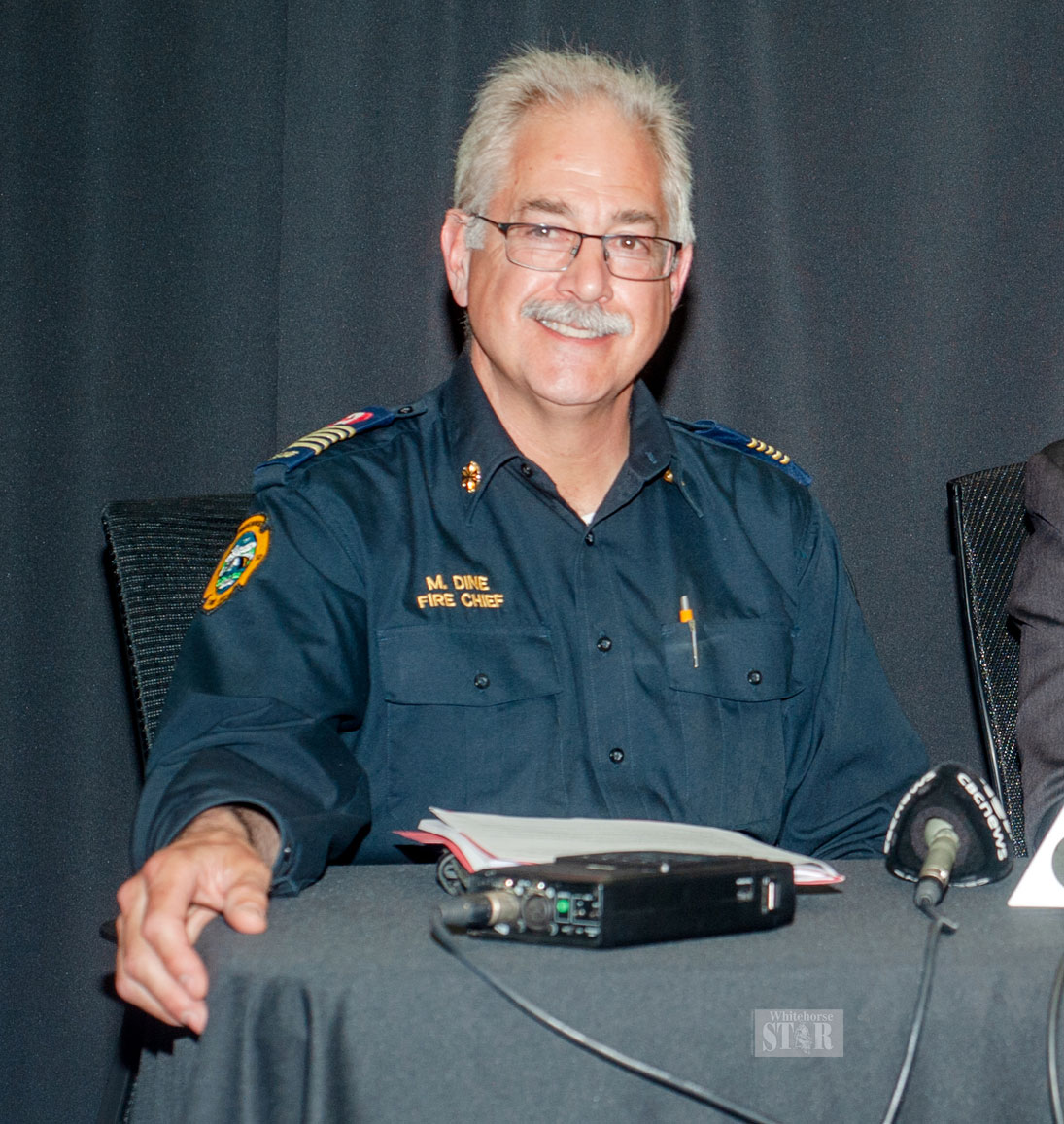 Photo by Whitehorse Star
Mike Dine
Union wants to discuss dismissal with mayor
City firefighters were shocked and disappointed by last Friday's announcement that then-fire chief Mike Dine was being dismissed.
City firefighters were shocked and disappointed by last Friday's announcement that then-fire chief Mike Dine was being dismissed.
A letter to Mayor Dan Curtis was written in support of Dine a couple of weeks or so before his dismissal.
The letter describes the new chief as a breath of fresh air for a fire department that was badly in need of one. (See the full letter on p. 15.)
It describes how the relationship between firefighters and city management had not been the best for the past several years.
Dine helped turn it all around, says the letter.
"What has transpired over the last year is truly a credit to not only Chief Dine but also (deputy chief) Chris Green and (city) director Peter O'Blenes," says the letter to Curtis.
"The state of relations within the department prior to Chief Dine's arrival was truly a toxic one.
"With the hiring of Chief Dine, the city brought in a chief officer that has the combined credentials of experience, education and training that cannot be equalled by anyone else in the fire service in the Yukon.
"...When you come into either of the fire halls these days, members are truly happy to be coming to work with a work atmosphere, and morale that reflect this."
Barry Blisner, the president of the local firefighters' union, signed the letter on behalf of the city's 31 full-time firefighters.
Blisner told the Star in an interview Wednesday firefighters wanted to write the letter to show support for Dine because they knew the end of his one-year probation was imminent.
Blisner said he wasn't on shift last Friday afternoon when the announcement of Dine's dismissal was made – but word spread quickly, he said.
"We were shocked by it," Blisner said. "I guess you can say we were confused by the decision and disappointed."
Blisner said the firefighters have not been given any explanation about Dine's dismissal.
City hall is not commenting on the former chief's departure.
There's been no indication whether the decision to dismiss Dine was made by mayor and council or senior management.
There's been no word whether it was with cause, or without cause, nor whether there is a severance package involved.
Dine took on the job in June 2018 to fill the vacancy after the previous chief resigned after three years as chief and 23 years with the department.
Dine arrived in Whitehorse having spent 20 years with the Penner Island, B.C., fire rescue department, the last 12 years as deputy chief.
The Star has been unable to contact Dine.
"Really, there was no indication from management, the city manager (Linda Rapp) or anybody else that this was going to happen," said Blisner, the president of Whitehorse Firefighters Association.
"We were just told he was no longer with the department and the deputy fire chief would be acting chief for the foreseeable future."
On Tuesday, Curtis addressed this week's conference of western firefighting unions being hosted by Whitehorse, Blisner pointed out.
Afterward, he asked the mayor if he would meet with the representatives of the local union to discuss Dine's dismissal, he explained.
Blisner said Curtis said he would look into things and would let Blisner if he would sit down with them.
There was no word on that as of Wednesday.
The union president said the relationship between the fire department and city management can often be strained.
The letter of support for Dine was written to ensure the mayor knew the full-time firefighters were pleased to have Dine as chief, and appreciative of the spirit of collaboration he brought to the position, Blisner said.
"Everything, we felt, was going great," he said. "That is why the end was confusing."
In the letter of support from the firefighters, Dine is described as a man of integrity and substance who turned around a difficult work environment.
"As I stated earlier, negative rhetoric sometimes overshadows what many of us hear but we wanted to pass along the hiring of Chief Dine a year ago did what we were all hoping for," says the letter signed by Blisner.
"We have a fire chief who respects and appreciates his employees and, in turn, he is well-respected and has a group of firefighters who believe in him and are happy to follow his leadership."
Add your comments or reply via Twitter @whitehorsestar
In order to encourage thoughtful and responsible discussion, website comments will not be visible until a moderator approves them. Please add comments judiciously and refrain from maligning any individual or institution. Read about our user comment and privacy policies.
Your name and email address are required before your comment is posted. Otherwise, your comment will not be posted.