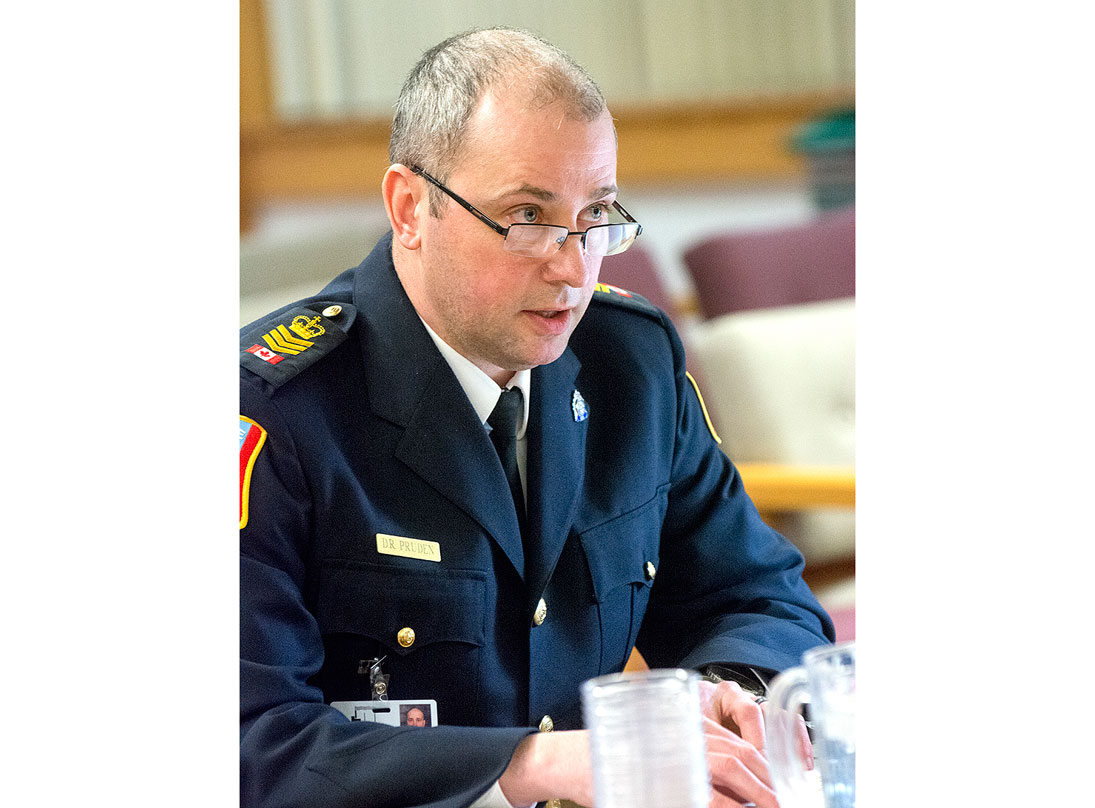 Photo by Whitehorse Star
Bylaw Manager Dave Pruden
Two dogs died from poisoning agent: RCMP
Whitehorse RCMP and bylaw officers are investigating the sudden deaths of two dogs in Porter Creek and the illness of a third.
Whitehorse RCMP and bylaw officers are investigating the sudden deaths of two dogs in Porter Creek and the illness of a third.
Preliminary testing of the deceased dogs' tissue shows traces of a poisoning agent, RCMP Const. Julia Fox said late this morning.
Despite rumours circulating on social media that they were intentionally poisoned by rotten meat thrown into backyards, bylaw manager Dave Pruden said Tuesday that's not yet known.
Stomach contents of the dog that survived have also been sent to a Vancouver lab for testing.
"I'd like to believe that people aren't poisoning animals in yards," said Pruden.
"I don't want to get into placing a bunch of fear into people that something is happening that may not be," he said, but added Porter Creek residents should just be cautious.
On March 15, two Corgis died suddenly, Pruden said.
One dog started having seizures and died en route to the veterinarian. When the owner returned home, the other dog showed similar symptoms.
On Monday, a husky at another Porter Creek home suddenly began showing signs of illness. The owner rushed it to the vet, and it survived.
"We don't know how these dogs ingested whatever they ingested," Pruden said.
He said bylaw officers have been talking to neighbourhood residents, but haven't yet determined what caused the illnesses.
"It could be a wide variety of things," he said. "A lot of times people's minds run to the worst-case scenario: maybe somebody's poisoning the dogs."
But Pruden said dogs could be ingesting something unhealthy in the woods, or licking anti-freeze leaking from machines.
"It doesn't take very much anti-freeze to get animals sick," he said.
He said bylaw would examine the full toxicology findings once they're sent back from Vancouver.
In the meantime, Pruden advises people to be vigilant with their dogs: ensure they're not eating anything when out for walks or licking at any puddles.
And if people are concerned about intentional poisonings, he suggests they keep an eye on their backyards.
Whitehorse RCMP shared a similar message this afternoon, cautioning pet owners to be vigilant, check their yards and report any suspicious activity.
A few suspicious canine illnesses have been reported in past years in and around Whitehorse.
Two Golden Horn dogs died after consuming rat poison in 2004, but police determined it was an isolated case.
In Hillcrest in 2003, a dog died of strychnine poisoning.
And in 1999, RCMP and a local veterinarian warned Hidden Valley residents to keep a close eye on their dogs after three fell ill and had seizures.
Two died.
Add your comments or reply via Twitter @whitehorsestar
In order to encourage thoughtful and responsible discussion, website comments will not be visible until a moderator approves them. Please add comments judiciously and refrain from maligning any individual or institution. Read about our user comment and privacy policies.
Your name and email address are required before your comment is posted. Otherwise, your comment will not be posted.