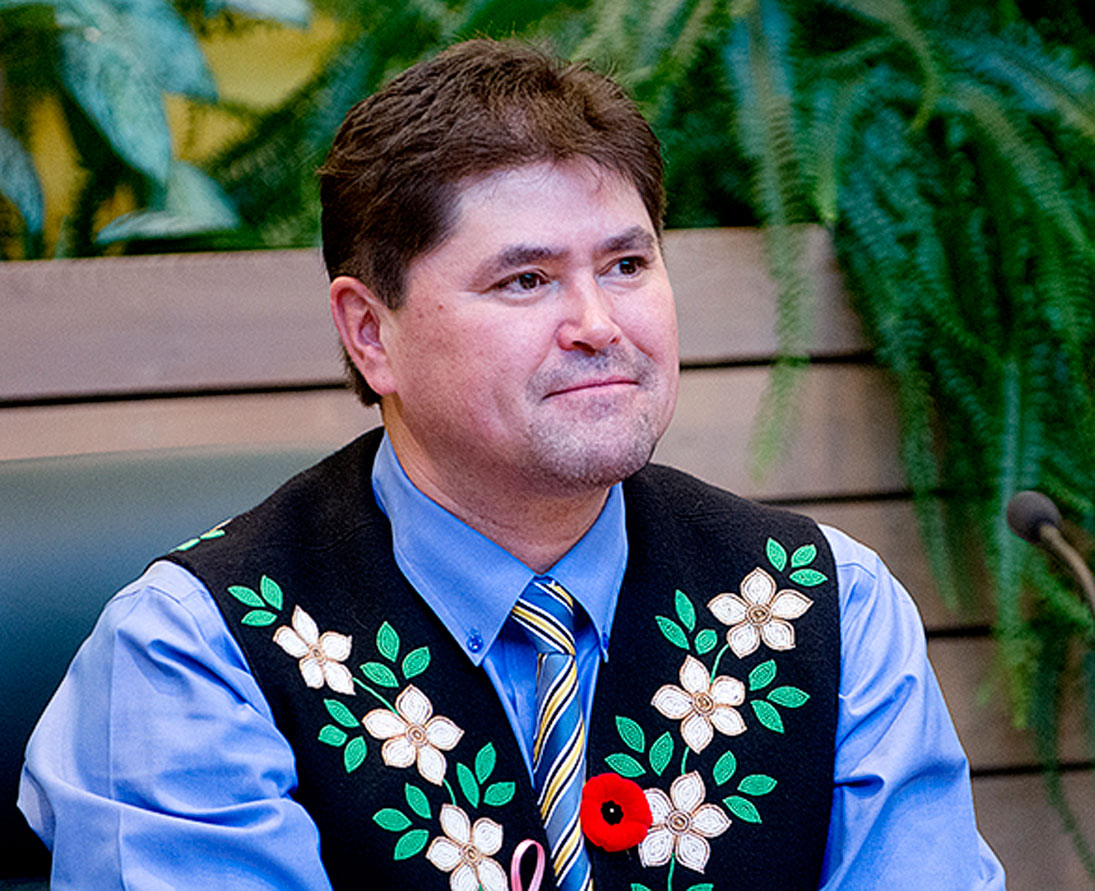 Photo by Whitehorse Star
LONGTIME MLA MOURNED – Darius Elias is seen Oct. 31, 2013 in the Yukon legislature.
Tributes pour in for former MLA Elias
Darius Elias, the longtime MLA for the Vuntut Gwitchin riding, died earlier this week.
Darius Elias, the longtime MLA for the Vuntut Gwitchin riding, died earlier this week.
Elias wrested the riding away from Lorraine Peter and a 10-year Yukon NDP stranglehold to hold it himself for 10 years before being very narrowly defeated by current MLA and cabinet minister Pauline Frost in 2016.
His sudden death has prompted an outpouring of grief and praise from many people, including some of the politicians he served with.
"Like many Yukoners, I was shocked and saddened to learn of the passing of Darius Elias," Premier and Liberal Leader Sandy Silver said in a statement Thursday afternoon.
"I knew him as a fellow politician, an avid hockey fan, a loyal citizen of the Vuntut Gwitchin First Nation, and a proud father, and a dear friend.
"Darius served the riding of Vuntut as a member of the legislative assembly from 2006 to 2016. The people of Old Crow trusted him to advocate for their values and community.
"This fuelled his passion to protect and advocate for the Porcupine caribou herd, and his travels to educate the world about this critical habitat."
Elias had served as the MLA for the riding first as a Liberal, then an independent and ultimately as a member of the Yukon Party.
He served as interim leader for the Liberal party for a short time, after the election in 2011 left it with only two representatives. The second member was a political neophyte named Sandy Silver.
"Darius was the interim leader of the Liberal party in 2011, when I was starting out as an MLA," Silver said.
"In my first year as MLA for Klondike, no one reached out to mentor or guide me more than Darius. I will always cherish his genuine concern and sound advice.
"In the legislative assembly, Darius was knowledgeable and passionate. When needed, he could be fierce when speaking for his community.
"Darius was extremely proud of his children and the rest of his family," the premier added. "My heart goes out to them."
Currie Dixon, the leader of the Yukon Party, also issued a statement on his former colleague.
"I was deeply saddened to hear of the passing of Darius Elias. Darius was a champion for his community of Old Crow and the Vuntut Gwitchin First Nation during his time in the legislative assembly. He was a leader, a colleague, and a friend, and he will be missed," Dixon said.
"During his decade in the legislative assembly, he quickly became known as one of the best orators and defenders of their community in the territory's history. He was a strong voice and advocate for everything to do with Old Crow, and had the respect of legislators from all sides."
Dixon also recalled Elias' love of sports, and even more so, his community and family.
"Darius' love of his children, the outdoors and hockey was infectious. I will miss our lively debates about hockey and will fondly remember him always sporting his Philadelphia Flyers ball cap around the office and at various community events," Dixon said.
"On behalf of the entire Yukon Party family, I would like to give our sincere condolences to his children, family, friends, and the community of Old Crow."
NDP Leader Kate White weighed in as well with a tribute to Elias.
"I heard about the sad and too-soon passing of Darius Elias," she said.
"He cared passionately about his community and the Porcupine caribou herd. Darius was a great orator; he could bring you along with his stories.
"I remember a tribute he once gave in honour of the Arctic Wildlife Refuge; at the time, it was powerful, I think it still is," White added.
"Our thoughts are with his family, community and all who knew him. He spoke these words December 18th, 2014:
'My journey with the refuge began in my mother's womb, and it continues today with so many thousands of international Arctic residents.
'I will tell a quick story, Mr. Speaker. I was once camped right beside the Arctic National Wildlife Refuge in my former job as a senior park warden for Vuntut National Park.
'One morning, I was walking toward the refuge in a mountain pass, and there wasn't a cloud in the sky and I heard a rumbling, so I stopped and I saw a cow caribou and a calf come over the pass and, in just minutes, I was surrounded by about 20,000 caribou and a sight, experience and a power that I will never forget.
'The United States Fish and Wildlife Service received close to one million comments in support of wilderness declaration for the Arctic refuge, and we remain steadfast on this side in our country.
'If I had an audience with the president of the United States, Barack Obama, my one and only ask would be for him to designate the coastal plain of the Arctic National Wildlife Refuge in Alaska as wilderness and protect it for all time before he leaves office. This month is the Arctic National Wildlife Refuge birthday, and we, as Yukoners, celebrate all that it supports and protects for our citizens as well.
'It is the sacred place where life begins, and I say to my fellow Yukoners today: Long live the Porcupine caribou herd.'"
Floyd McCormick, a former clerk of the legislature, expressed his regrets at the news on Twitter. He also shared an amusing story demonstrating Elias' passion for hockey.
He first met Elias during a hockey tournament, and it was memorable.
"It was during the 1996 Rendezvous hockey tournament. He was playing for Dawson City & I was in net for my Whitehorse rec league team. Darius' team won 6-5. Darius' slapshot made an impression on me – twice in the head to be exact. Adding injury to insult, if you will."
Social media were also busy with people expressing condolences.
"Sad, sad day. Such an articulate, thoughtful, passionate advocate for Gwitchin land use, fish and wildlife. Much love to his family and friends," one person wrote.
The legislative assembly also issued a statement on Elias' passing.
"The Yukon Legislative Assembly is saddened to hear of the recent passing of former member of the legislative assembly Darius Elias.
"Mr. Elias has been a member of the Standing Committee on Regulations, Elections and Privileges of Members of the Legislative Assembly, Standing Committee on Regulations, Ad Hoc Committee on Real Estate Rental Act, Special Committee on Tobacco Act and the Special Committee to Review the Risks and Benefits of Hydraulic Fracturing.
"On Apr. 16, 2015, Mr. Elias was appointed vice-chairman of the committee of the whole.
"He was elected vice-president of the legislative assembly and chairman of the committee of the whole on May 10, 2016."
Elias represented the same riding held by his mother, Norma Kassi, who was first elected as a New Democrat in 1985.
Add your comments or reply via Twitter @whitehorsestar
In order to encourage thoughtful and responsible discussion, website comments will not be visible until a moderator approves them. Please add comments judiciously and refrain from maligning any individual or institution. Read about our user comment and privacy policies.
Your name and email address are required before your comment is posted. Otherwise, your comment will not be posted.