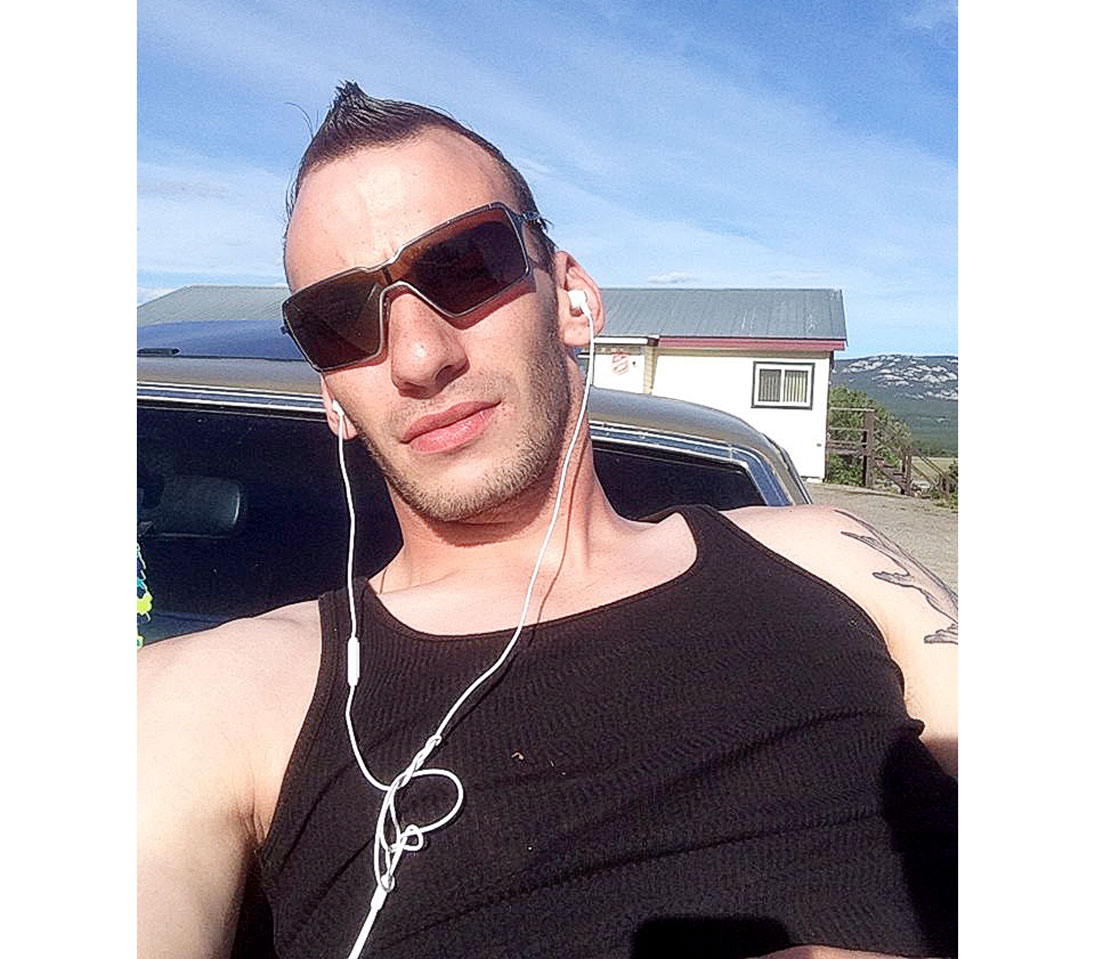 Photo by Photo Submitted
Christopher Brisson
Trial hears more evidence before week's break
The first week of the trial for Darryl Sheepway came to a close in Yukon Supreme Court last Friday afternoon.
The first week of the trial for Darryl Sheepway came to a close in Yukon Supreme Court last Friday afternoon.
Sheepway, 39, is facing a first-degree murder charge in the death of Christopher Brisson, 25.
Sheepway admits to shooting and killing Brisson in late August 2015 at a pullout on the McLean Lake Road, but the exact details are under dispute.
Last Friday, the court heard expert Crown testimony about blood stain evidence and findings from Brisson's autopsy.
The morning began with co-defence counsel Vincent Larochelle cross-examining Crown witness RCMP Sgt. Alison Cameron on her testimony about blood stain patterns in Brisson's Chevrolet Silverado.
Cameron observed more than 110 spatter stains on the overhead light, headliner, headrest and coat hook.
Her key findings included that a blood source located in or near the driver's seat had been struck with "extreme force."
But she could not be more precise about the exact location of the origin of the blood, saying it's given as plus or minus 22 centimetres, about the surface area of a volleyball.
During cross-examination, Cameron agreed that based on a blood drop on the truck's overhead light, the blood source would have been closer to the rear window than the steering wheel.
But she noted that blood stain patterns show more information than individual stains.
Larochelle also highlighted a lack of blood spatter on the headliner directly behind the driver's seat.
Cameron said she could not say what caused the void.
She testified there was no blood staining on the driver's headrest, which she would have expected had it acted as an obstruction.
When she examined the headrest, however, it had already been cut open and tested for lead by a ballistics expert.
The court also heard testimony from forensic pathologist Dr. Matthew Orde. He performed Brisson's autopsy at the Vancouver General Hospital on Sept. 4, 2015.
Orde testified the direct cause of Brisson's death was a shotgun slug wound that had entered his rear left shoulder, travelled upwards and to the right and lodged in the right side of his jaw. Brisson died as a result of "catastrophic blood loss."
It was impossible to determine the precise time of Brisson's death, Orde said, but it would have been "within a matter of minutes."
He also could not determine the range of fire of the shotgun.
Orde explained he determined the path of the projectile through x-rays. They showed metallic fragments scattered along the wound tract and the location of the slug.
The autopsy also revealed injuries to Brisson's body both from the shotgun slug and other causes.
As a result of the slug, Brisson sustained significant bone fractures and major damage to blood vessels and nerve bundles.
He also showed signs of blunt force trauma, and had grazes, bruises and tears to his skin.
Orde said these injuries were consistent with the agreed upon fact that Brisson had been ejected from his truck after it crashed in the brush off the McLean Lake Road.
The injuries were also compatible with evidence that Brisson's body had rolled down a bushy embankment overlooking Miles Canyon.
In Brisson's clothing, Orde found blood-stained foamy debris as well as glass fragments.
Based on his "untrained, non-expert eye" on fabrics, he said, the foam appeared to be consistent with material inside the driver's headrest from Brisson's truck.
Orde also recovered the deformed slug, fragments of three-ply wadding and three fragments of paper-like material, which he said were located in close proximity to one another.
Deformation of the slug, Orde said, would have been caused as the slug passed through bodily structures. But he could not tell whether the slug had collided with any objects before it hit Brisson.
Orde explained that as a general rule, bullets travel through the human body in a straight line unless they strike something and are deviated.
Based on this rule, Brisson would have been bent forward with his head turned to the left when he was shot, Orde testified.
On cross-examination, Larochelle argued that wadding in the wound indicates a close range of fire. He claimed the medical consensus is a range of less than two metres.
Orde agreed that a close range was likely, but he could not specify the exact distance due to a number of uncertainties.
"I'm not aware of any document that says that," he said of the two-metres calculation.
Larochelle further posed that abrasions on Brisson's back had been caused by wadding from a shotgun shell.
Orde testified that a wad hitting the body at high-speed impact can cause abrasions to the skin. He could not say whether this was the case with Brisson, however, as he said he would have to know the exact contents of the shell.
The trial is being presided over by Justice Leigh Gower, and is currently on a one-week break. It's set to reconvene Nov. 20, and go for a further two weeks.
Add your comments or reply via Twitter @whitehorsestar
In order to encourage thoughtful and responsible discussion, website comments will not be visible until a moderator approves them. Please add comments judiciously and refrain from maligning any individual or institution. Read about our user comment and privacy policies.
Your name and email address are required before your comment is posted. Otherwise, your comment will not be posted.