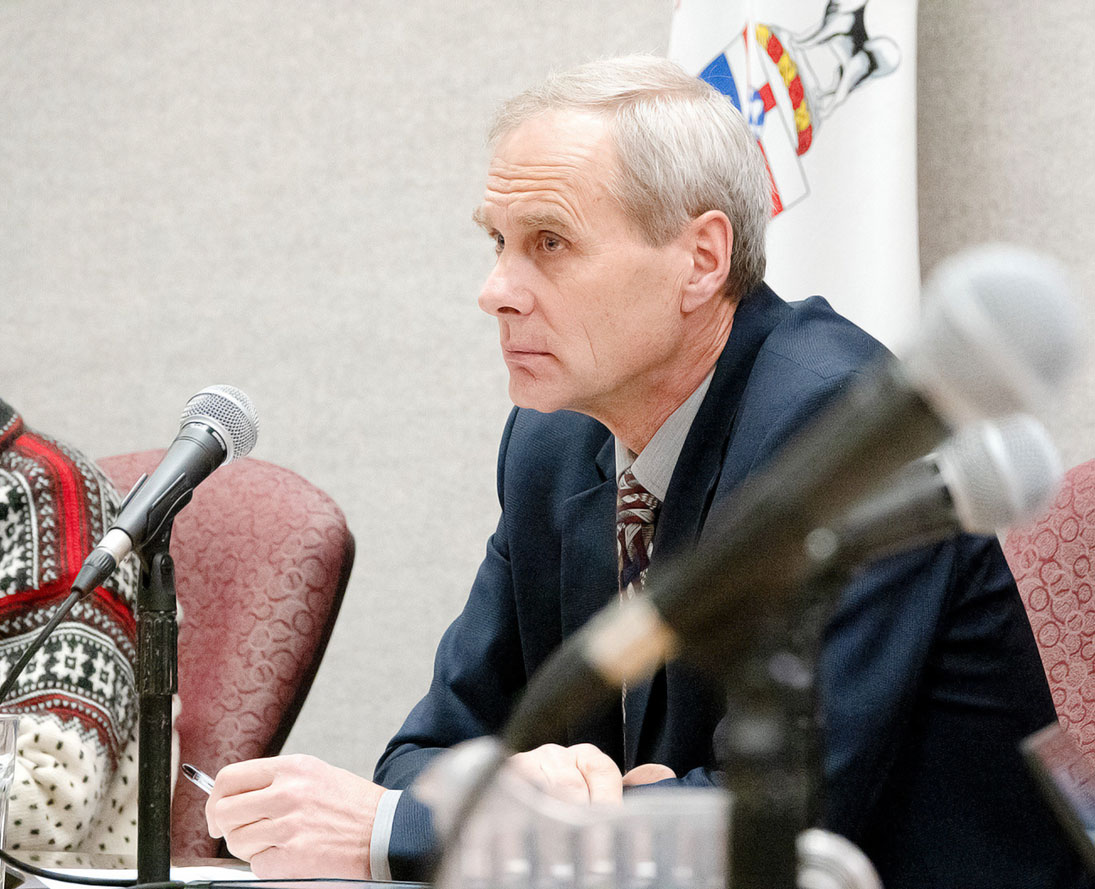 Photo by Whitehorse Star
Coun. Dan Boyd
Tread carefully on housing incentive: Boyd
City council might want to tread softly when it comes to promoting densification of neighbourhoods, Coun. Dan Boyd cautioned at Monday night's meeting.
City council might want to tread softly when it comes to promoting densification of neighbourhoods, Coun. Dan Boyd cautioned at Monday night's meeting.
Boyd noted the city's revised incentive program to encourage housing developments (see story below) calls on developers to achieve at least 90 per cent of the allowable housing density in a particular neighbourhood before they are eligible for the incentive.
If the incentive is set at 90 per cent, that's what developers will be building to, he said.
The councillor said densification makes the city more affordable but it also has other ramifications, such as pushing more parking to the street.
Some neighbourhoods may not be ready for such a change so quickly, he suggested.
Boyd noted how council is already hearing concerns over parking for some projects.
"I am just a little concerned we are trying to push too hard, too fast at times," he told his colleagues on council.
"So I think that incentive is sort of conflicting sometimes with what the community would like, is calling for or would prefer to have. Maybe not so dense."
Boyd suggested council take a look at the 90 per cent densification requirement.
City administration is proposing to revise the housing incentive policy that was initiated in 2012.
It proposes that apartment buildings that achieve the 90 per cent density in a residential multi-family zone be eligible for the incentive package.
Projects would be required to provide one parking stall per housing unit.
The proposal is primarily aimed at the new Whistle Bend subdivision, says the administrative report.
City planner Kinden Kosick told council Whistle Bend has been designed to accommodate that type of housing density.
Coun. Steve Roddick suggested change is not all bad.
He said he feels that a lot of the issues surrounding on-street parking arise out of a lack of management of on-street parking in sections of the city.
There are cities he knows of which have removed parking requirements altogether, cities which have effective management of on-street parking, he said.
Roddick said they have visitor passes for on-street parking, and effective transit services in areas where people know they will not have parking, that they'll have to make other arrangements to get around.
Increasing the density, he suggested, would put pressure on the municipal services to allow them to do that.
Roddick said he thinks resistance to change is rooted in hanging on to how things have been done in the past. But the harder we hang on, the harder it is to do things differently, he said.
Roddick said he would like to hear more feedback on the new incentive policy from the public and developers.
Add your comments or reply via Twitter @whitehorsestar
In order to encourage thoughtful and responsible discussion, website comments will not be visible until a moderator approves them. Please add comments judiciously and refrain from maligning any individual or institution. Read about our user comment and privacy policies.
Your name and email address are required before your comment is posted. Otherwise, your comment will not be posted.