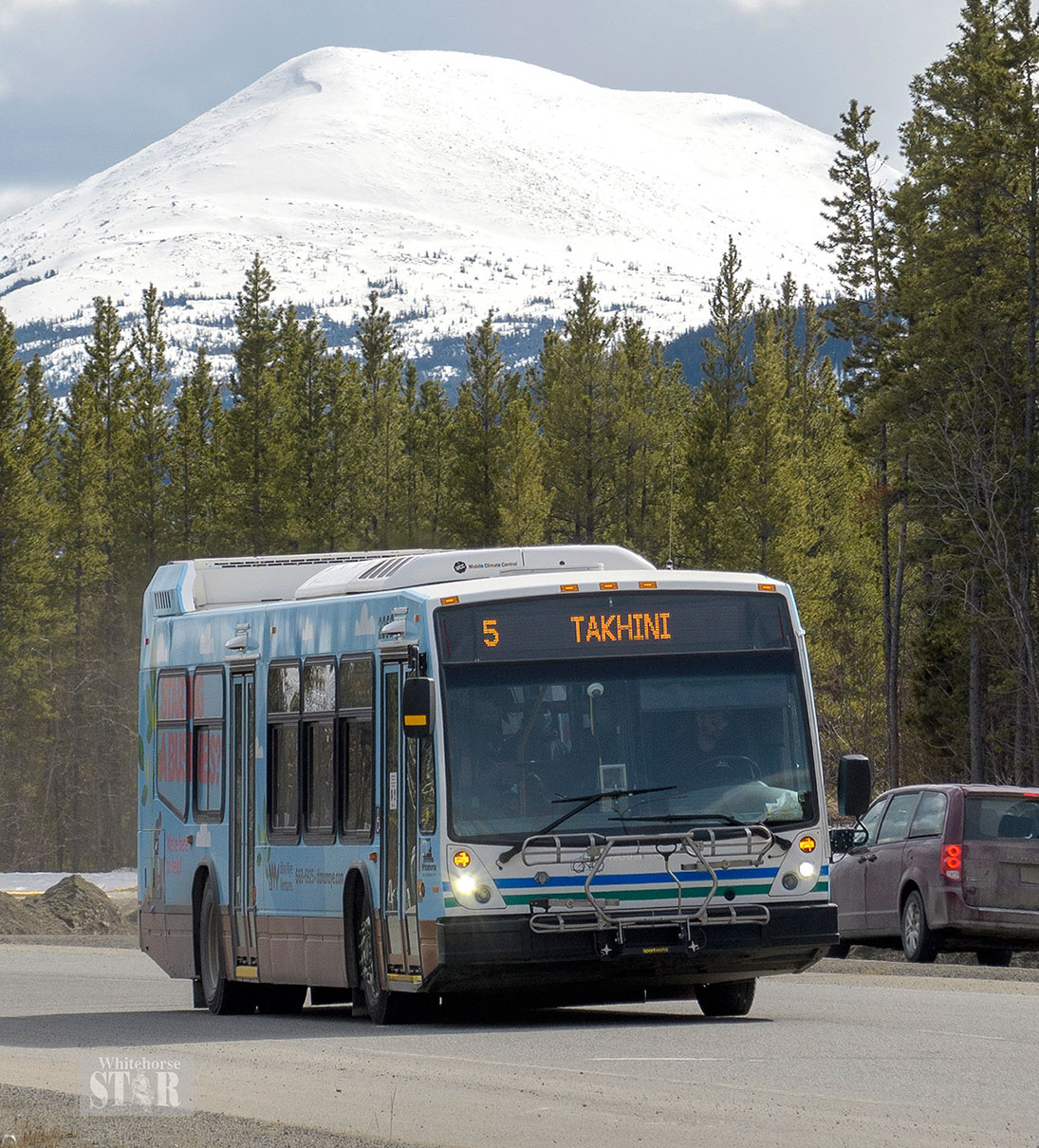 Photo by Vince Fedoroff
NO-CHARGE SERVICE – A Whitehorse Transit bus travels along Hamilton Blvd. on Apr. 28.
Transit fares are thrown under the bus
The wheels on the buses are going to go round and round – for free.
The wheels on the buses are going to go round and round – for free.
At a special council meeting at noon Tuesday, city council agreed unanimously to make riding the transit system free until at least July 1.
The concept is that encouraging more people to take the bus will help relieve some of the congestion on the Alaska Highway and Two Mile Hill caused by the closure of Robert Service Way due to the Apr. 30 landslide.
Coun. Kirk Cameron championed the idea and ushered its rapid approval through the usually slower-moving municipal process.
The changes took effect this morning.
After Tuesday's meeeting, Cameron told the Star he broached the idea last Wednesday, and city staff were quick to jump on the concept.
He said they immediately understood it could possibly give residents a reprieve on the traffic jams hitting the highway and Two Mile Hill, with the city's south access route closed.
Hamilton Boulevard has also seen a noticeable increase in traffic since the landslide, as has Mountainview Drive.
The Route 5 bus, which runs up and down Robert Service Way to Copper Ridge and Lobird, has been the only one directly affected by the closure of Robert Service Way so far.
Cameron said he also thought the project would test how eager people are to find an alternative way to get downtown, with fuel prices soaring.
He called the situation an ideal time to conduct the experiment to see what the changes will mean to the transit system.
"It doesn't get better than this," he said.
The bus fare revenue loss to the city is expected to be about $50,000, which will be made up from city reserves.
Anyone with a current transit pass for May should hold on to it, Cameron said, and it will be honoured after paid service returns hopefully later this summer.
"Hang on to your passes," he said.
Cameron wasn't sure how that process would work for transit riders who used the city's new app to purchase their tickets.
"I think it will work for them, but I'm not an apps guy," he said.
While the current motion approved by council is in effect until July 1, Cameron said, there's a possibility it could be extended if necessary.
The key factor will be the status of Robert Service Way, he said.
Current estimates say it will be closed for at least another three weeks while remediation and clean-up efforts are expected to begin – but there are no guarantees that deadline will be met.
In particular, Cameron said, if weather conditions are wet over the next few weeks, it could delay the work.If the road isn't open by July 1, the matter could be returned to council, and it would be its decision to extend it, he said.
Cameron said he's very happy to see how fast the city moved on the issue.
"My hat's off to council and staff for this," he said.
Add your comments or reply via Twitter @whitehorsestar
In order to encourage thoughtful and responsible discussion, website comments will not be visible until a moderator approves them. Please add comments judiciously and refrain from maligning any individual or institution. Read about our user comment and privacy policies.
Your name and email address are required before your comment is posted. Otherwise, your comment will not be posted.