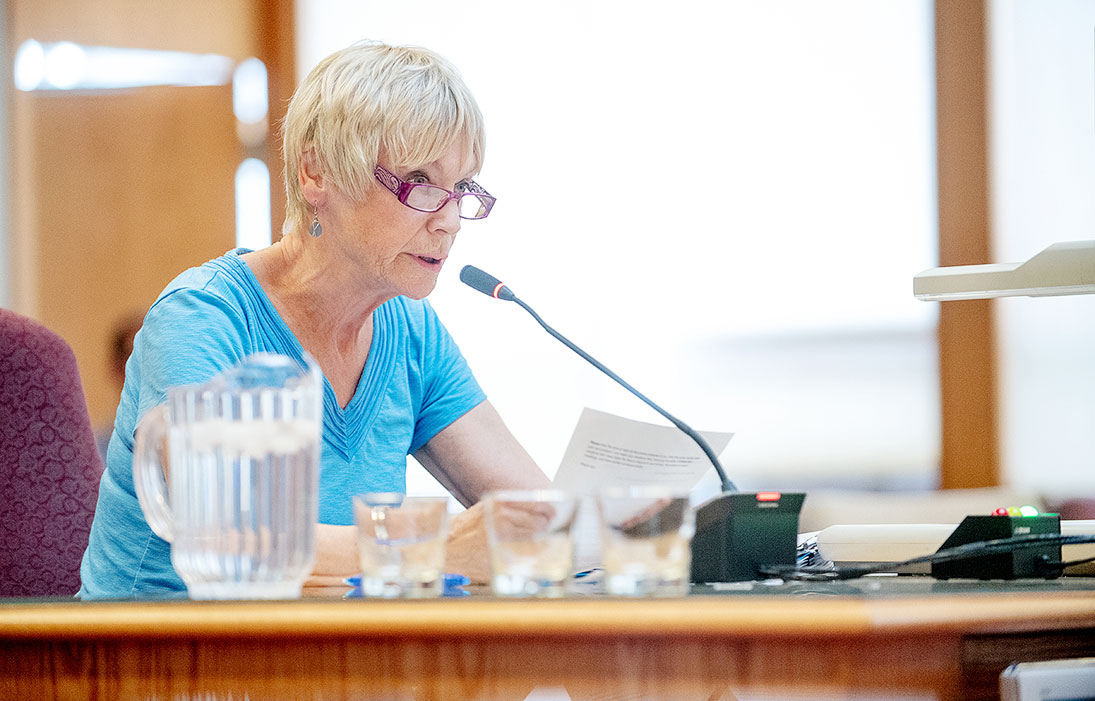 Photo by Whitehorse Star
Nancy Brady
Trails designations called a compromise
"This ... is not a perfect solution."
"This ... is not a perfect solution."
Those words from Coun. Betty Irwin at Monday's council meeting summed up what many on council were saying about the trail designations they voted to adopt.
With the designations far from perfect, members of council also said it's the best compromise for all.
Among the designations, perhaps the most highly-discussed issue was the plans for Whistle Bend.
It will see the perimeter trail around the neighbourhood designated as a non-motorized trail. The inner loop trail along Casca Boulevard will be a motorized multi-use trail. That will provide a route for riders to get out of the neighbourhood to more open areas for riding.
At an earlier meeting of council, the Klondike Snowmobile Association stressed the importance of having a route out of residential neighbourhoods to the backcountry.
Roadways can be used by ATVs and the like. However, the snowmobile association pointed out that in the case of Whistle Bend, with Casca Boulevard being a top priority road for snowplowing, a trail route is needed for snowmobiles to get out of the neighbourhood.
At Monday's meeting, Whistle Bend resident Nancy Brady once again addressed council, arguing that both trails should be designated as non- motorized use.
She reiterated several points she has made in previous presentations to council.
By allowing motorized multi-use on the Casca inner loop, she pointed out, there will be noise and air pollution that will impact residents of the area.
Brady has noted that Whistle Bend is a high-density urban area, and has argued that motorized vehicles should not be on popular neighbourhood trails.
"There is an option for road use," Brady told council members Monday, asking they consider the long-term impact of the decision and make both trails in Whistle Bend non-motorized.
Council members, however, commented that this is the best compromise for now.
Coun. Dan Boyd asked about the Casca route, with city staff noting there is both an outer and inner loop trail along the road, essentially a trail on each side.
Boyd noted his thoughts that that leaves room for motorized and non-motorized users to be on the trails along Casca.
Coun. Rob Fendrick then commented that this is a "good compromise," though more separation of users may be needed in the future.
"Whitehorse is evolving to a certain extent," he said. There may come a day when off-road vehicle riders may be required to trailered out of the neighbourhood, he added.
Echoing his comments was Coun. Jocelyn Curteanu.
"For now, this will do for me," she said, after describing Whitehorse as a growing community that may require trail designation changes in the years ahead.
Irwin then made her comments that though not the perfect solution, it's the best compromise right now.
The first two readings on changes to the snowmobile bylaw to reflect the changes in trail designations was also approved by council with the final reading set to come forward in July.
Along with adopting the trail designations, council also voted in favour of adopting a new trail development policy that will streamline the application process for trail development.
As well as stated in a previous report to council: "It will allow the city to enter into partnership agreements with stakeholders to develop and maintain new and existing trails, and may permit individuals to undertake trail enhancement projects on city trails.
"In addition, the policy contains terms that enable the city to achieve its objectives regarding public safety, user conflict avoidance, and environmental stewardship."
Before voting with the rest of council in favour of the policy, Fendrick said he's pleased to see a policy that will allow a more streamlined approach to developing trails.
Coun. Samson Hartland was absent from Monday's meeting.
Add your comments or reply via Twitter @whitehorsestar
In order to encourage thoughtful and responsible discussion, website comments will not be visible until a moderator approves them. Please add comments judiciously and refrain from maligning any individual or institution. Read about our user comment and privacy policies.
Your name and email address are required before your comment is posted. Otherwise, your comment will not be posted.