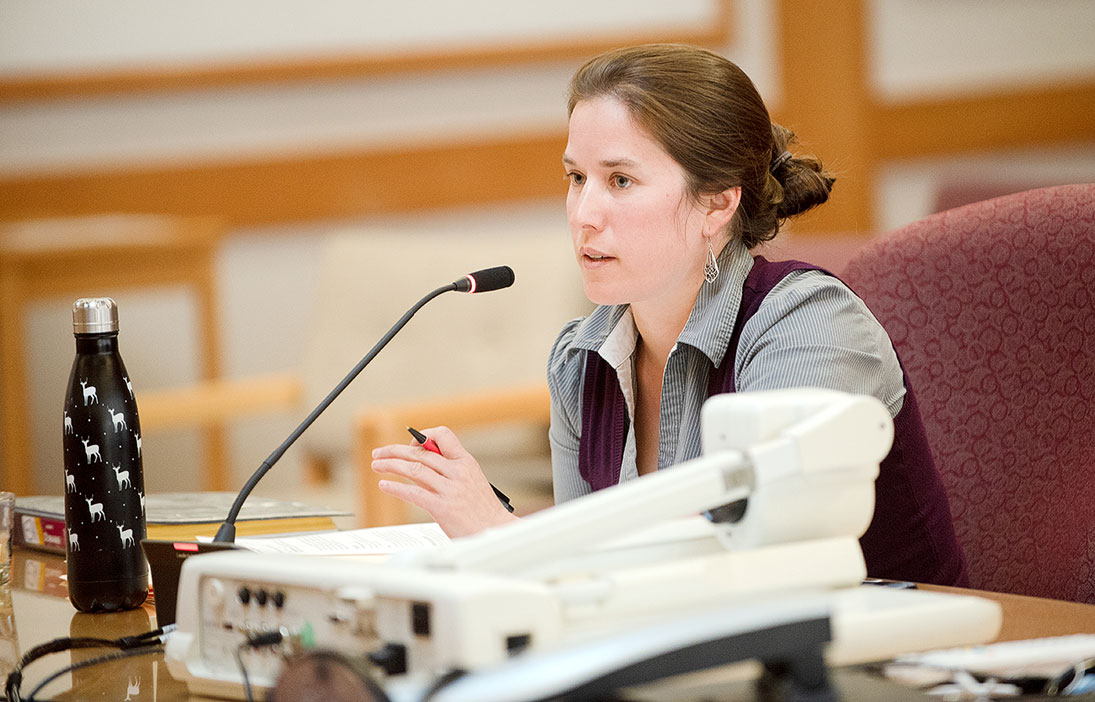 Photo by Whitehorse Star
Melodie Simard
Townhouses plan provokes numerous concerns
A limit of five units would be set on a proposed townhouse development on 12th Avenue if city council goes forward with staff's recommendation for a zoning change.
A limit of five units would be set on a proposed townhouse development on 12th Avenue if city council goes forward with staff's recommendation for a zoning change.
The change would see 21 12th Ave. rezoned from its current Residential Single Detached to Residential Multiple Housing, with the restriction of a maximum of five units.
A house and garage would be demolished to make way for the townhouses.
Melodie Simard, the city's planning and sustainability manager, brought forward the recommendation at Monday's council meeting, highlighting the results of a public hearing on the zoning change.
As part of that hearing, the city received a petition showing 36 signatures from residents opposed to the rezoning.
There were two other written submissions in opposition, and another two citing concerns around the proposal.
Another resident was on hand at the May 7 hearing to bring forward his concerns about potential parking issues.
Parking and road safety were a major issue for many who made submissions to the city about the rezoning. Public safety is already an issue that comes up for many who use the avenue.
Many have already expressed concerns over the high speed of traffic and the danger that places on pedestrians – particularly those walking to Jack Hulland Elementary School on Fir Street, just off 12th.
As Simard noted in her report on the public hearing: "The submissions stated that the proposed development is adjacent to a crosswalk that is used by children travelling to and from schools.
"The submissions expressed concerns that 12th Avenue is already dangerous for pedestrians and that multiple housing and an increase in on-street parking will make the situation more dangerous," Simard's report says.
"The submissions recommended several measures for the crosswalk, including flashing lights, a no-parking zone along with 12th Avenue in the immediate vicinity of the crosswalk, and lower speed limits for 12th Avenue."
The city intends to take action on the parking situation, with plans to place no-parking signs along both sides of 12th Avenue later this year.
Residents, however, may have to wait until after two studies are done before any further steps are taken to address other safety concerns.
Simard pointed to the neighbourhood collector road master plans – which has $50,000 designated for this year along with $50,000 identified for each 2019 and 2020 in the city's four-year plan – and the city's and Yukon government's school mobility review planned for this year.
"Both studies will examine 12th Avenue from a safety (perspective), and may recommend improvements such as the ones suggested by residents," it was noted.
Public hearing submissions also brought up issues with multiple family developments, with many arguing against increased density.
"The submissions valued the low density and large lot size character of Porter Creek and recommended that the existing RS-Residential Single Detached zoning for Porter Creek be maintained," Simard said.
"The submissions expressed concerns with increasing building heights up to 15 metres, which is the maximum height in the RM-Residential Multiple Housing zone."
By comparison, the maximum height in the current zone is 10 metres.
One submission argued there could be more noise, traffic, issues with pets, and more pressure put on the city's water and sewer system that could come from multi- housing developments.
"The proposed development is not anticipated to place as increased strain on municipal water and sewer infrastructure," Simard said.
"The proposed development could cause an increase in local traffic, noise and pet ownership due to an increase in the number of residents," she added.
"However, the increase is not anticipated to be significant since up to four units could be built on the subject area already (e.g. a subdivided lot with two duplexes). The amendment would result in a 20 per cent increase in density from four to five units."
Simard, however, pointed to the Official Community Plan, which calls for increasing the density of existing neighbourhoods.
At the same time, in recognition of residents' concerns, the limit of a maximum of five units was put forward with the zoning change.
That prompted council members to wonder how many multi-family residences have been built in the area.
City staff will bring back to council details on the multi-residential developments in the area before members are asked to vote on the matter.
"Like every single region or part of our city, we're looking at densification," Mayor Dan Curtis said. "Not just in the downtown core, and I don't think that it's a huge, huge increase."
Coun. Dan Boyd, however, argued that permitting this development could "open the door" for more such developments after the city has heard significant opposition to it.
"Not one person came forward in support of this," he said.
"We have basically 38 people, which is a fair number on these zoning applications, come forward with either concerns or opposed, so I find it a little bit concerning."
Delegate Cam Kos also came forward later in the meeting. He noted it could be possible for the property owner to subdivide the lot and build more units in a way Kos argued would keep the character of the neighbourhood intact.
Second and third readings of the rezoning will come forward next Tuesday evening.
Add your comments or reply via Twitter @whitehorsestar
In order to encourage thoughtful and responsible discussion, website comments will not be visible until a moderator approves them. Please add comments judiciously and refrain from maligning any individual or institution. Read about our user comment and privacy policies.
Your name and email address are required before your comment is posted. Otherwise, your comment will not be posted.