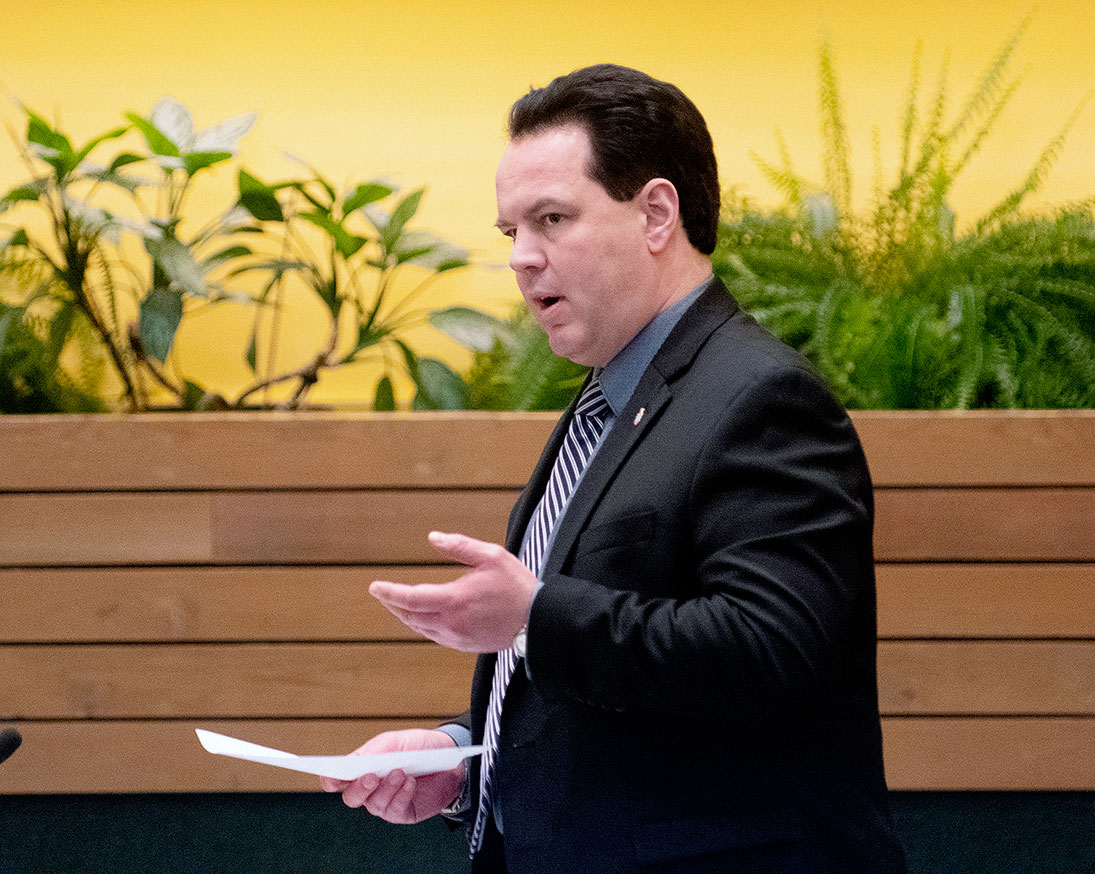 Photo by Whitehorse Star
Yukon Party MLA Brad Cathers
Timing of care homes fee hikes criticized
The Yukon Party has kicked off 2021 with more criticism of the Liberal government.
The Yukon Party has kicked off 2021 with more criticism of the Liberal government.
"Thanks to a lump of coal from the Liberals this holiday season, residents in long-term care facilities in the Yukon are now paying more user fees," stated a news release from the party.
"On Dec. 17, the Liberal government quietly snuck through a new policy to increase fees on seniors at these facilities starting on Jan. 1," the release added.
"These rate hikes equate to roughly a $2,000 increase per year on some of the territory's most vulnerable residents on fixed monthly incomes are impacted the most, and the increase is adding stress to those who call such facilities their home."
The issue was first mentioned late last year during question period in the legislature – and the government was quick to deflect then.
Liberal officials said the change had been previously announced – and were equally quick to deflect the Yukon Party's latest salvo.
"It's a new year, but the Yukon Party seems intent to continue to misinform Yukoners as they did throughout 2020," said senior cabinet communications advisor Matthew Cameron.
"On Nov. 3, 2020 the Government of Yukon announced that it was enhancing programs and services for Yukon seniors and elders, with the goal of supporting them to age in place in their own homes and communities.
"At that time, it was announced that fees for residents of Government of Yukon long-term care homes would increase from $35 per day to $40 per day as of Jan. 1, 2021.
"Despite this modest increase, Yukon's rate for long-term care remains one of the lowest in Canada," Cameron added.
"All residents were also directly notified in November of the changes, which also allows for pre-authorized debit payments at a monthly rate, as requested by residents."
Yukon Party MLA Brad Cathers said Thursday he believes the timing was simply wrong for the increase.
Anyone on a fixed income would struggle with the boost, he said, but particularly during the pandemic it wasn't necessary to add yet another stressor.
The Yukon Party news release stated "usually when rental rates go up in private sector housing, by law, three months' notice is required. The Liberals only quietly, and without a public notice, issued this new policy a mere 14 days before it was to take effect."
"The minister claimed in the legislative assembly, residents were given two months' notice —still short of the three months required by private-sector property owners.
"Regardless, it is clear that the Liberals are disrespecting seniors by significantly increasing long-term care rates on them over the holiday season and during a pandemic."
Cameron refuted that point, saying "the recent increase pales in comparison to the increase under the former Yukon Party government that saw rates go up from $14 to $17 per day – over $5,000 per year – when Currie Dixon, Brad Cathers, Patti McLeod and Scott Kent were all in government."
During question period in December, Pauline Frost, the minister of Health and Social Services, said "with regard to the care fees for our seniors, what I can advise is that we still have the lowest rates in the country.
"We provide services to seniors 24 hours a day. We have nurses on staff. We have direct access to physicians. We have care facilities that allow us to provide essential services and necessary supports," Frost said.
"We need to balance the supports and ensure that we have long term — that the fees of course need to become aligned with the services — appreciating that we still have the lowest rates in the country.
"The monthly rate was requested by the seniors."
Deborah McNevin, a co-ordinator with the Seniors Action Yukon organization, had a mixed reaction to the news this week.
She said she was glad to see the government is phasing in the increase, when there was a recommendation for a higher rate.
However, McNevin said she is concerned about the impact on senior couples, particularly where one half of the couple is still living at home while the other is in long-term care.
While the increase doesn't seem like much on a day-to-day basis, it still adds up to nearly $2,000 a year, McNevin pointed out.
That money has to to come from somewhere for people on a fixed income.
"Hopefully it won't be from food," she said.
The organization would like to see the government monitor the situation for such couples closely to gauge the impact of the changes on them.
No one from the Yukon NDP was available to comment directly on the situation.
Add your comments or reply via Twitter @whitehorsestar
In order to encourage thoughtful and responsible discussion, website comments will not be visible until a moderator approves them. Please add comments judiciously and refrain from maligning any individual or institution. Read about our user comment and privacy policies.
Your name and email address are required before your comment is posted. Otherwise, your comment will not be posted.