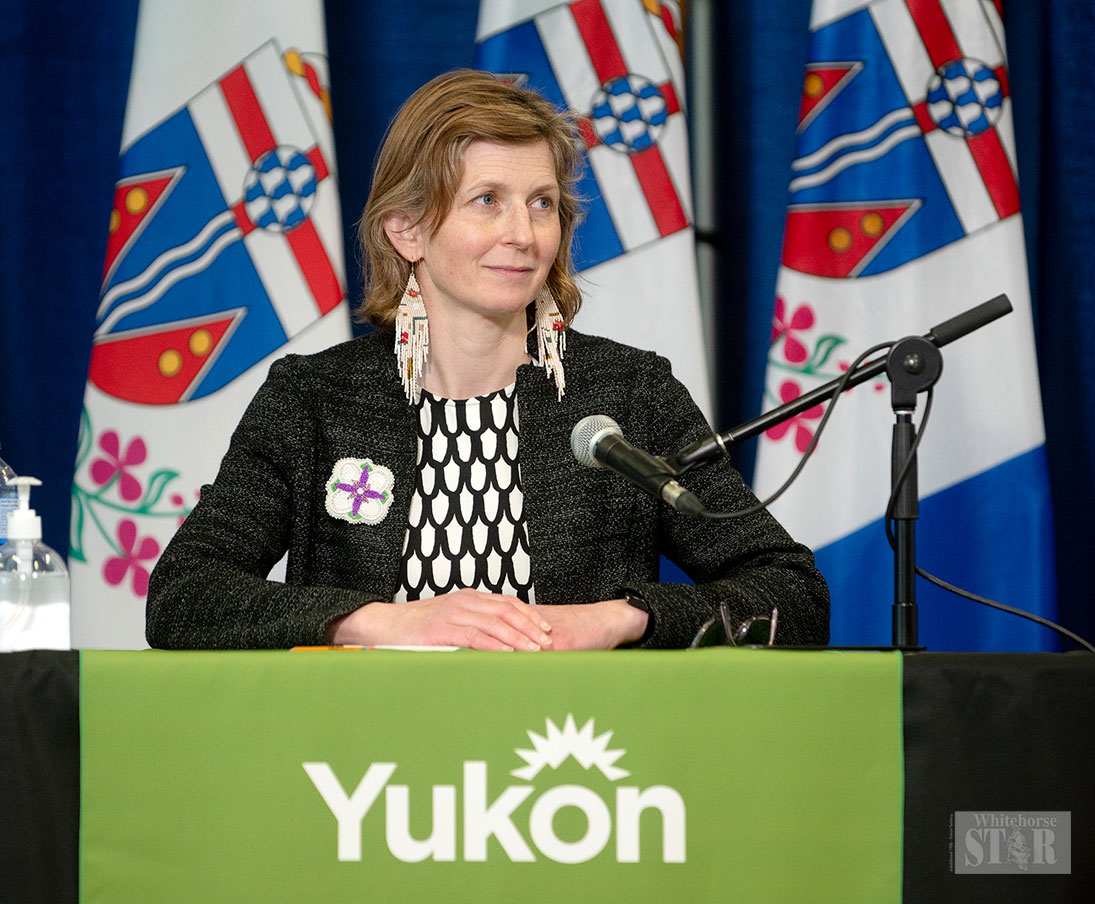 Photo by Whitehorse Star
Dr. Catherine Elliott
Third dose is for immuno-compromised Yukoners
Effective today, Yukoners who qualify for a third dose of a COVID-19 immunization can make an appointment online.
Effective today, Yukoners who qualify for a third dose of a COVID-19 immunization can make an appointment online.
They can do so through the CanImmunize page on Yukon.ca .
Yukoners in rural communities can call their local health centre to find out when the next immunization clinic will be held.
The National Advisory Committee on Immunization has recommended a third dose of an approved Health Canada vaccine for a select group of immunocompromised individuals, the Yukon government said Friday afternoon.
"This decision has been made as some immunocompromised people are more likely to have had a less than adequate immune response to the first and second dose of COVID-19 vaccine," the government said in a statement.
"This third dose for people with moderate to severe immunosuppression will complete their primary series, whereas those who are not immunocompromised require two doses to complete their primary series."
The third dose should be provided 28 days or more after the second dose.
A third dose of COVID-19 vaccine is different from a booster dose. A booster dose is used to boost the immune system when protection from a primary vaccine series shows signs of waning over time.
The third dose is the completion of a primary series for people who meet specific criteria.
The advisory committee's definition of immunocompromised includes people with the following conditions:
• Active treatment for solid tumour or hematologic malignancies;
• Receipt of solid organ transplant and taking immunosuppressive therapy;
• Receipt of chimeric antigen receptor (CAR)-T cell therapy or hematopoietic stem cell transplant within two years or taking immunosuppression therapy.
• Moderate to severe primary immunodeficiency, for example. Dieorge syndrome, Wiskott-Aldrich syndrome.
• Stage 3 or advanced untreated HIV infections and those with acquired immunodeficiency syndrome.
• Active treatment with the following categories of immunosuppressive therapies
• anti-B cell therapies;
• high-dose systemic corticosteroids;
• alkylating agents;
• antimetabolites;
• tumor-necrosis factor (TNF) inhibitors; and biologics.a
"It is important that Yukoners who are immunocompromised and vulnerable to COVID-19 have access to a third dose of the vaccine to protect their health," said Health and Social Services Minister Tracy-Anne McPhee.
"If you are immunocompromised, being fully vaccinated is the best way to protect you against the virus.
"In the Yukon, there are about 200 to 300 people who have immunocompromised conditions and should have a third dose of a COVID-19 vaccine in order to be fully protected against the virus.
"The guidelines laid out by the National Advisory Committee on Immunization for immunocompromised people are very specific, and the Yukon is fortunate to be in a position to rapidly respond to protect Yukoners."
People who are immunocompromised are less likely to have a robust response to the COVID-19 vaccine and require a third dose to ensure they are fully protected, the government said.
All others have a more robust response and may require a booster rather than a third dose to offer further protection.
"In order to ensure Yukoners who have moderate to severe immunosuppression are protected against COVID-19, a third dose of vaccine is recommended," explained Dr. Catherine Elliott, the acting chief medical officer of health.
"This ensures that everyone has a fair opportunity to reach their fullest health potential and protection against COVID-19.
"It is strongly encouraged for individuals to speak to their health care provider if they are unsure if they meet the criteria."
More COVID-19 cases reported ...
Add your comments or reply via Twitter @whitehorsestar
In order to encourage thoughtful and responsible discussion, website comments will not be visible until a moderator approves them. Please add comments judiciously and refrain from maligning any individual or institution. Read about our user comment and privacy policies.
Your name and email address are required before your comment is posted. Otherwise, your comment will not be posted.