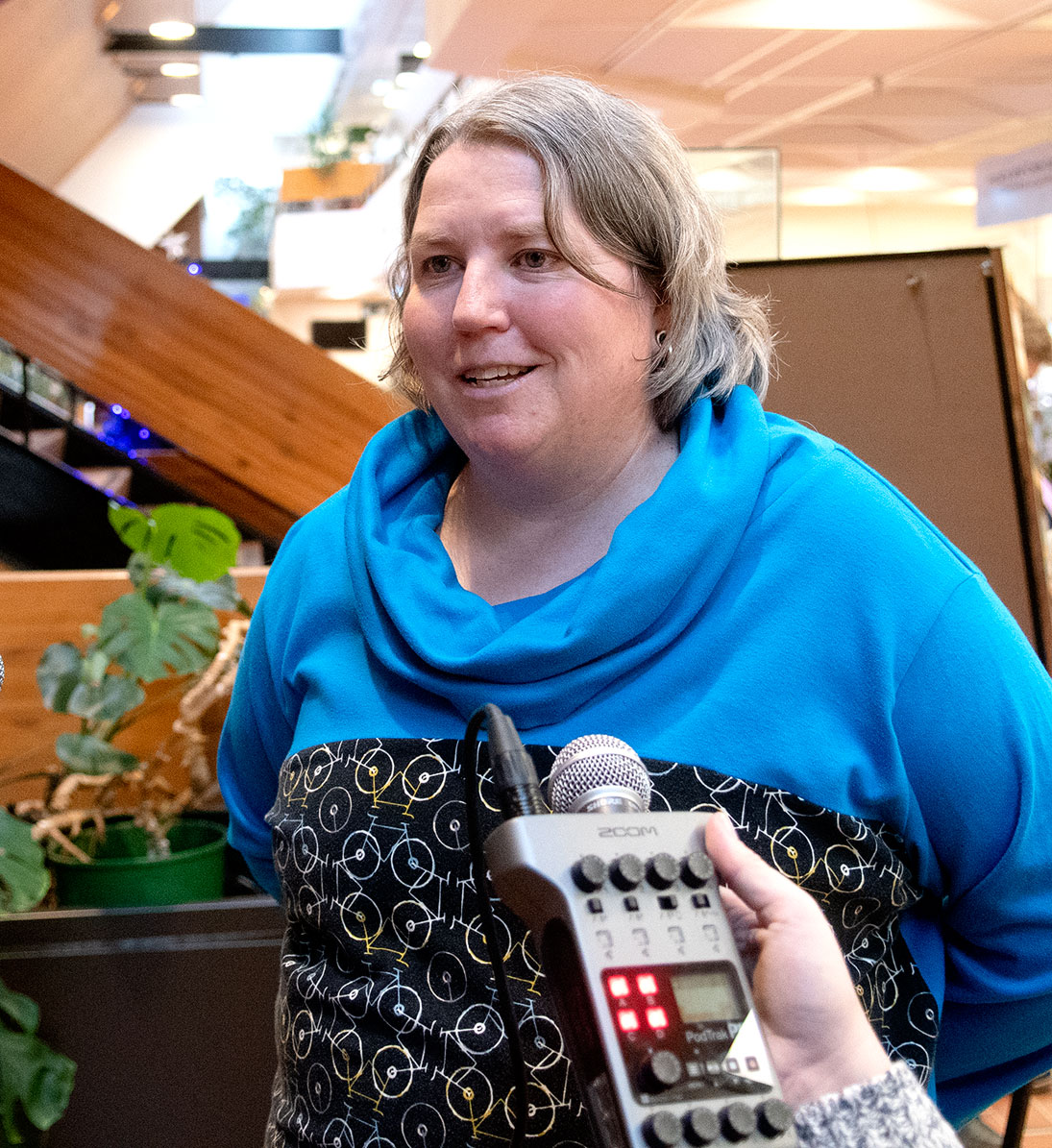 Photo by Whitehorse Star
NDP Leader Kate White
'There are definitely growing pains,' White says
'There are definitely growing pains,' White says
NDP Leader Kate White paused for a long, thoughtful moment on Thursday afternoon as she was asked if she had any "buyer's remorse" over her decision to sign an agreement that has kept the Yukon Liberals in government since the spring.
"That's an excellent – and very pointed – question," she told reporters. "No part of that relationship is easy."
The Confidence and Supply Agreement gives the NDP a substantial amount of power to influence policy decisions in exchange for its support on confidence motions to keep the Liberals in power through 2023.
"It does require work, and you know, hearing through the grapevine the premier said we're lacking leadership is an interesting one for me, because right now it's only my leadership that's keeping him in government," she pointed out.
"And so, there are definitely growing pains. We know there will be gains and there will be knocks for sure. It's at the end of a 30-day session, so things aren't looking very rosy, but I'm an eternal optimist."
As for the sitting itself, White said, "I'm sure from the outside this session was entertaining. It was a little less so from the inside. But I have to maintain that things can be better to do this job.
"There were hard days from within and from without. I've said before I'm living what I think electoral reform should look like and it's difficult."
White said Wednesday was both, as an example. An offer by her team resulted in the potential salvage of an important government bill (Bill 3) that seemed like it would die on the floor during second reading.
A negotiation with the Liberals found a last-minute workaround that will see the bill, which deals with municipal taxation and climate change initiative, including a home retrofit program, be brought back next spring for approval after the government spends a few months consulting with municipalities.
"I spent a long time talking to municipal leaders and trying to broker that deal, and it worked," White said. "That's a huge accomplishment."
"All in all, it's definitely been an interesting go-round. I'm proud of the work (MLAs) Annie Blake and Emily Tredger have done. It's the first session for both, and they've grown so much.
"There's definitely things to work on."
White then took a more assertive and aggressive approach to her intentions.
She has no plans on giving up the fight to have wildland firefighters included in the presumptive cancers list coverage that is offered to other firefighters.
"I'm going to force the government to do include them, and if they won't do it, I'll do it," she said without further explanation.
White said the same thing about banning evictions without cause.
"We're going to force them to remove the loopholes in the Residential Landlord Act and if they don't do it, we will do it.
"So there are things to look forward to, and there is a lot of work to be done and not a whole heck of a lot of time to do them."
White said she had plans to look at the CASA agreement the NDP has with the Liberals. She noted the partnership hadn't been in place for a full year, and many questions as to how it would function needed to be established.
"So it's really hard to anticipate what the future is going to look like right now."
White said what the NDP can do to pressure the government through the CASA while the legislature is not in session remains to be sorted out.
"I'm going to keep building that relationship."
Tredger also took part in the news conference, chipping in with some thoughts on how the session went.
"Kate told me I would be very exhausted by the end of this session and she was absolutely right."
"As a newer member of the legislature, I don't ever want to forget that we're here to represent Yukoners," said the Whitehorse Centre MLA.
"Every time I speak, I want to choose words that will make the Yukon better. I don't ever want to forget that."
See letter on MLAs' behaviour.
Add your comments or reply via Twitter @whitehorsestar
In order to encourage thoughtful and responsible discussion, website comments will not be visible until a moderator approves them. Please add comments judiciously and refrain from maligning any individual or institution. Read about our user comment and privacy policies.
Your name and email address are required before your comment is posted. Otherwise, your comment will not be posted.