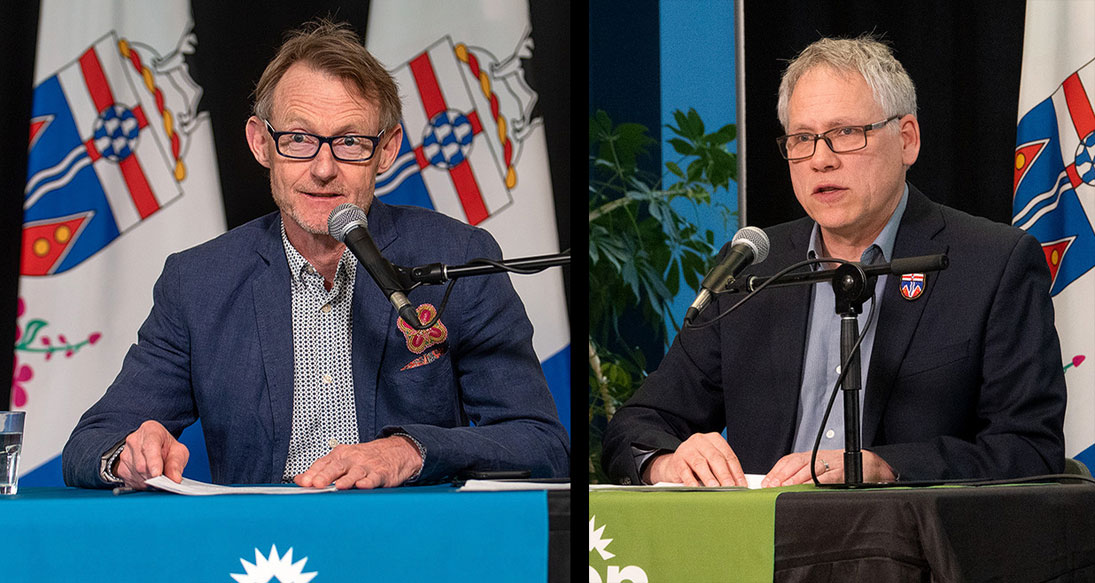 Photo by Vince Fedoroff
Dr. Brendan Hanley and Community Services Minister John Streicker
Territory's state of emergency extended
The Yukon government has extended the territory's state of emergency in response to the COVID-19 pandemic.
The Yukon government has extended the territory's state of emergency in response to the COVID-19 pandemic.
"I want to be clear that extending the state of emergency does not indicate any change in the risk of COVID to Yukoners, and it may be cancelled any time," Community Services Minister John Streicker told a media briefing Wednesday afternoon.
"However, as long as the pandemic continues to pose a risk to the health, safety and livelihoods of Yukoners, we may continue to extend it until other options become available."
The extension of the public health emergency, which was implemented last March 27, allows the government to continue enforcing self-isolation and other COVID-19 rules under the Civil Emergency Measures Act.
This is the third time the state of emergency has been extended. The last 90-day extension was announced in June and had been set to expire Thursday.
Streicker conceded that the Civil Emergency Measures Act is "pretty out of date" and leaves little wiggle room for the government to implement COVID-19 enforcement outside of maintaining the state of emergency.
"There are definitely things that need to be improved in the legislation," Streicker said.
"Today, what we need to do is focus on how to support and keep Yukoners safe ... I'm happy to have conversations about how we can improve the legislation over time."
Streicker also announced the repeal of five ministerial orders. They have been deemed no longer necessary in the current pandemic situation.
The property tax relief order, which extended the deadline to pay property taxes until Sept 2, has been repealed because that deadline has now passed. 
The remote cannabis sales order, which permitted online cannabis sales at Yukon dispensaries, has also been repealed.
Streicker said his department will look at permanently implementing online cannabis sales outside of the emergency order.
The self-isolation exception for those travelling into the Yukon for traditional activities because of treaty rights has also been repealed. Streicker said this order is no longer necessary now that the border is open to the other territories and B.C.
Virtual commissioning, signing and witnessing of legal documents is no longer allowed. 
Deputy ministers are no longer permitted to amend government contracts.
Streicker said this order was issued to accommodate a "nimble response to the pandemic" but today's more stable situation means a return to regular management procedures.
The driver medical order, which exempted drivers over 70 years of age from having to submit a medical examination certificate if required, will expire in 90 days from Thursday.
Several orders under the emergency remain in place. Those include self-isolation requirements, residential eviction protection and some extended timelines for businesses to meet compliance requirements.
Dr. Brendan Hanley, the territory's chief medical officer, told the briefing the state of emergency needs to remain in place as the seasons change and the pandemic's future remains largely unknown.
"We really don't know what lays ahead of us, and we need to respond quickly in the event that some unexpected event does happen," Hanley said.
The Yukon will remain stationary in its reopening plan, he added, as his office watches climbing COVID-19 case numbers in others parts of Canada.
Hanley's office is working on guidelines for contact sports and wind instruments in schools.
"We are only a few people, the same team working on guidance for return to schools, return to sports, return to worship, use of non-medical masks, are the ones working on how to put a pandemic orchestra together," said Hanley, who himself plays an instrument.
"We don't make our decisions lightly – we review the evidence, look at the plans of other jurisdictions and weigh the risk."
Add your comments or reply via Twitter @whitehorsestar
In order to encourage thoughtful and responsible discussion, website comments will not be visible until a moderator approves them. Please add comments judiciously and refrain from maligning any individual or institution. Read about our user comment and privacy policies.
Your name and email address are required before your comment is posted. Otherwise, your comment will not be posted.