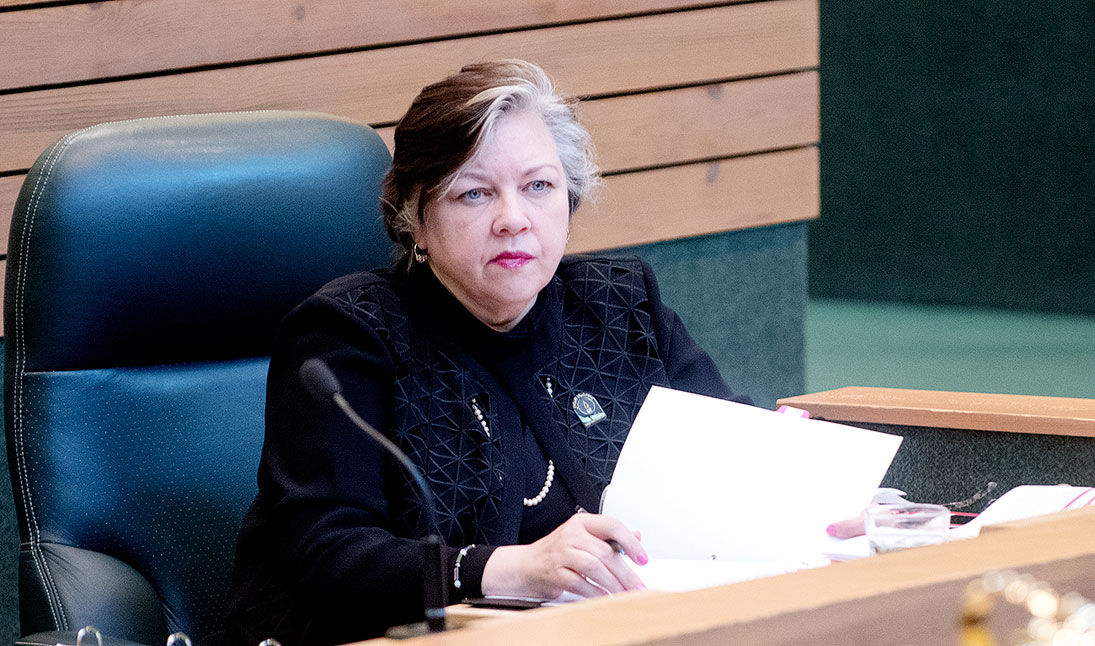 Photo by Whitehorse Star
Tracy-Anne McPhee
Territory is pursuing its own cannabis legislation
The Yukon government plans to have its own cannabis legislation in place when marijuana becomes legal across Canada in July 2018.
The Yukon government plans to have its own cannabis legislation in place when marijuana becomes legal across Canada in July 2018.
The territorial law could pave the way for a retail weed market in the territory, though the justice minister said it's too early to confirm whether the Yukon legislation will support brick-and-mortar dispensaries.
The purpose of the Yukon's legislation will be "to keep Yukoners safe, to restrict access to cannabis to youth, and remove profits that are related to organized crime," said minister Tracy-Anne McPhee.
Last Thursday, Brad Cathers, the justice critic for the Yukon Party, asked about the Yukon government's plans for the distribution and sale of marijuana in the territory.
The federal Cannabis Act "will create real challenges for the provinces and territories that have to do the heavy lifting of dealing with licensing, distribution, retail sales and highway enforcement," said Cathers.
McPhee said a working group was established and Justice is working in co-ordination with Health and Social Services, Education and the Yukon Liquor Corp. on legislation, but offered little in the way of detail.
Last November, a federal task force on marijuana conducted extensive consultations with governments, youth, legal and health experts and published a "framework" for pot legalization and regulation in Canada.
A "strong majority" of online comments submitted to the task force supported the storefront model – distribution through privately owned dispensaries.
"The advantage of the storefront model, according to many online respondents, would be to foster competition that would keep prices low and discourage the illegal market," reads the report.
Several submissions to the task force also suggested a retail weed market could create jobs and boost local economies.
The Federation of Canadian Municipalities recommended that licensing ensures the design of storefront operations does not "glamourize" the use of pot.
Public health organizations said marijuana and alcohol should not be sold at the same site.
The Canadian Association of Chiefs of Police warned that organized crime might find its way into storefront operations, and said measures should be taken to prevent this from happening.
Cathers asked whether the Yukon would seek financial assistance from Ottawa to help deal with the "significant burden of developing a new regulatory framework" for legal cannabis.
McPhee didn't have an answer to that question, but said "Yukoners' safety and wellness is foremost in our minds" as the government develops its cannabis plan.
Legislation proposed by the federal Liberals would allow adults aged 18 and older to posses up to 30 grams of dried marijuana, and share up to 30 grams with other adults.
Cannabis would be purchased from a provincially licensed retailer.
Provinces and territories would have the option of raising the age restriction to bring it in line with the local minimum age for buying alcohol.
Adults in provinces or territories that don't have a regulated retail marijuana system would be able to order weed through the mail from a federally licensed retailer.
The federal Cannabis Act would also create two new criminal offences: one for giving or selling weed to a minor, and one for "using a youth to commit a cannabis related offence."
Each of these offences carries a maximum prison sentence of 14 years.
Add your comments or reply via Twitter @whitehorsestar
In order to encourage thoughtful and responsible discussion, website comments will not be visible until a moderator approves them. Please add comments judiciously and refrain from maligning any individual or institution. Read about our user comment and privacy policies.
Your name and email address are required before your comment is posted. Otherwise, your comment will not be posted.