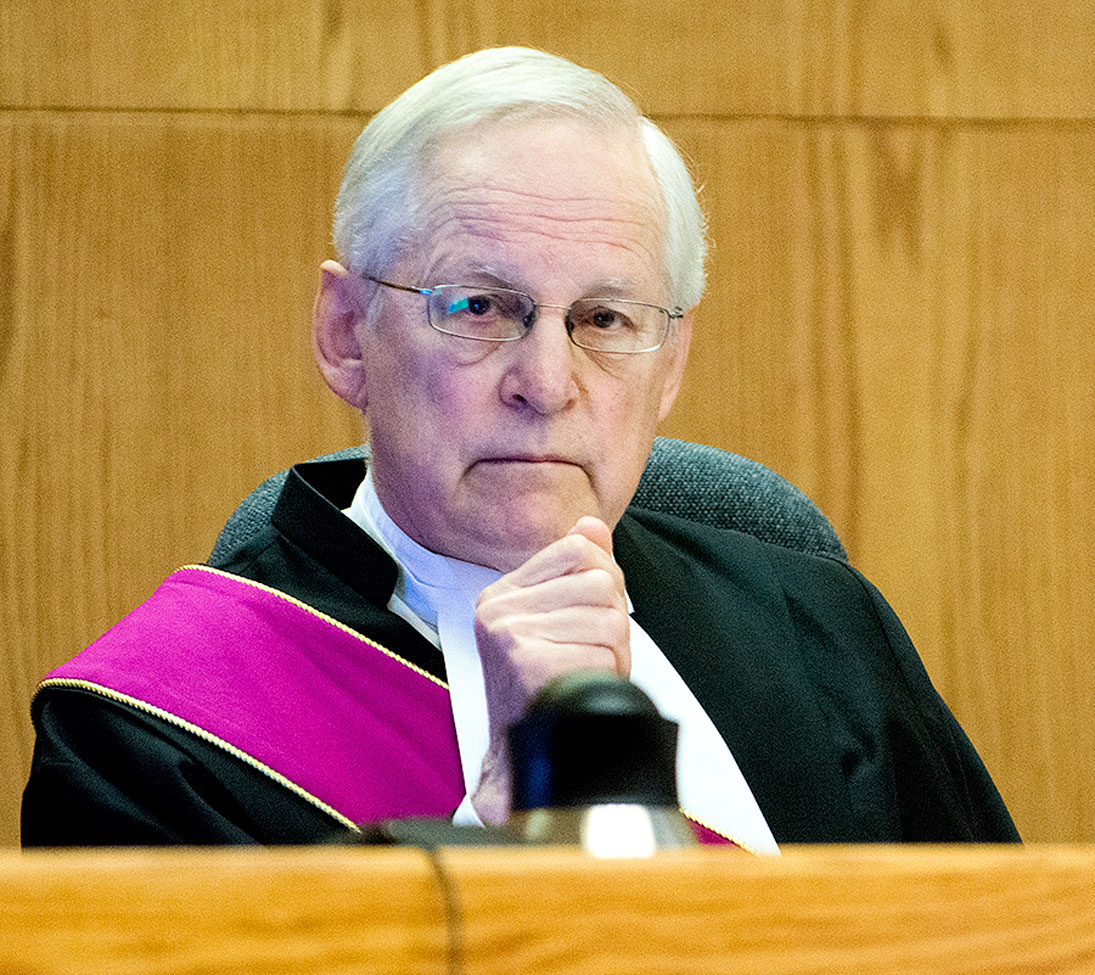 Photo by Whitehorse Star
Supreme Court Senior Justice Ron Veale
Supreme Court justice becomes Yukon's acting commissioner
Until new commissioner Angélique Bernard is sworn in on Monday,
Until new commissioner Angélique Bernard is sworn in on Monday, Yukon Supreme Court Senior Justice Ron Veale is fulfilling the functions of the territory's commissioner.
Former commissioner Doug Phillips' term as commissioner ended Jan. 31.
The legislative functions of the vacant post were fulfilled by the Yukon's then-administrator, Gerald Isaac, until Thursday – when Isaac's term also expired.
The senior justice of the Yukon Supreme Court is the second back-up.
Early this morning, before Bernard's appointment was announced, Pavlina Sudrich, the commissioner's private secretary, told the Star Veale would be acting as commissioner until the Prime Minister's Office (PMO) made the new appointment.
The PMO had not provided her with any timeline for the new commissioner's appointment.
"We just keep updating the Prime Minister of Canada's announcements page, that's just how it works," Sudrich said.
She couldn't speak to whether a delay like this one between one commissioner's term expiring and a new commissioner being appointed has happened before in the territory.
With lieutenants-governor, territorial commissioners' provincial counterparts, appointments sometimes take "quite a bit of time," she said.
But because the terms of lieutenants-governor don't have fixed end dates, "you're not in quite the same situation."
The commissioner is the Yukon's head of state.
The individual who occupies the role is responsible for making sure the territory has a premier in the case of death or resignation.
He or she also provides assent to bills passed in the legislative assembly, and attends official events on behalf of Yukoners, among other functions.
Phillips – a former Yukon Party cabinet minister – began serving as the Yukon's commissioner in December 2010. He succeeded Geraldine Van Bibber, now a Yukon Party MLA.
Veale himself is a former politician, having led the Yukon Liberal Party as the MLA for Riverdale South in the early 1980s.
In the 1982 Yukon election, he lost his seat to the late Bea Firth, who went on to become a territorial Conservative cabinet minister in the late Chris Pearson's government.
Veale was also the territory's Liberal candidate in the 1984 federal election, losing to then-Conservative incumbent Erik Nielsen.
Add your comments or reply via Twitter @whitehorsestar
In order to encourage thoughtful and responsible discussion, website comments will not be visible until a moderator approves them. Please add comments judiciously and refrain from maligning any individual or institution. Read about our user comment and privacy policies.
Your name and email address are required before your comment is posted. Otherwise, your comment will not be posted.