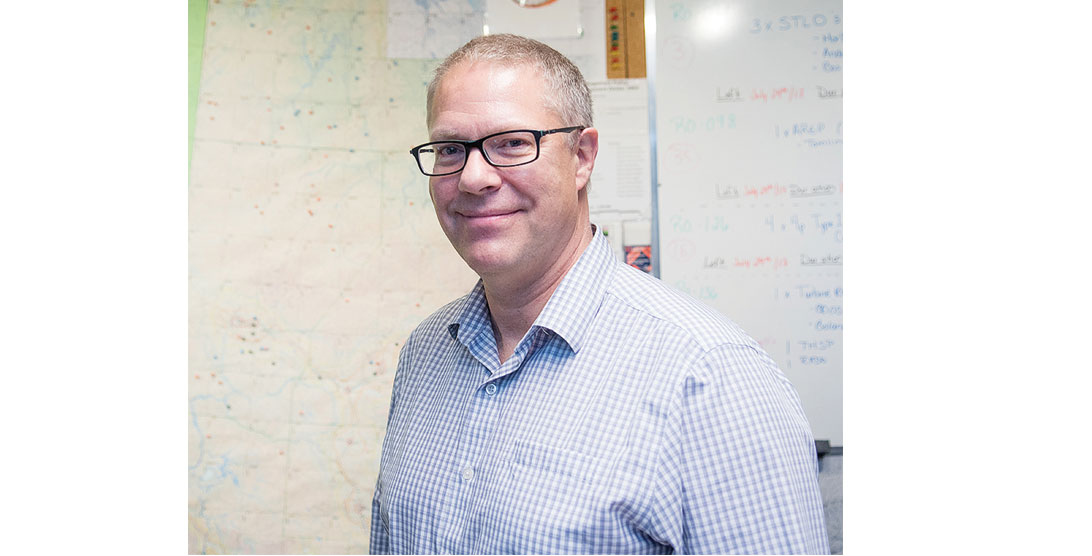 Photo by Whitehorse Star
MIKE ETCHES
Summer wildfire outlook is on track
With the May long weekend only a couple weeks away comes the territory's peak period for wildland fires.
With the May long weekend only a couple weeks away comes the territory's peak period for wildland fires.
And after six fires so far, the government's fire crews assured that everything is expected to remain on track for the coming months.
Mike Etches, the director of Yukon Wildland Fire Management, added that the next three months are not expected to bring any surprises.
Even as the snow starts to melt and frozen rivers begin to break – the Yukon River by Dawson City broke Tuesday – Etches said the concern of his team so far is low.
"Six is normal for this time of year," he said, adding that each one of those has been human-caused.
"We don't have a particular territory right now that's in high fire danger," he continued, adding the summer forecast is largely dependent on the amount of rain, humidity and strength of high winds.
The branch's in-house meteorologist, Michael Smith, echoed Etches' statements.
"We're looking at an average to slightly later than average start to our fire season, as far as widespread potential for lighting and fire," he told reporters earlier this week.
At a mock activation of the Emergency Co-ordination Centre early Tuesday, Smith said that the branch is expecting grass fires to occur before getting into the swing of summer, when forest fires are more common.
"We're pretty much good to go," said Etches, adding the branch is expected to become fully active by late May.
While there are areas that the department is aware may need more attention in the coming months, the director assured there wasn't any immediate concern – even in susceptible areas around Dawson City, which accounts for a couple of the six fires.
Other areas hit so far are Whitehorse and Carmacks, Etches confirmed.
An overview of 2017 wildland fires in the territory shows that Dawson City and Old Crow were hit the hardest last year. Dawson's fires affected more than 86,000 hectares of land, while Old Crow saw damage to more than 95,000 hectares.
The two areas are set to be slightly higher on the drought code this year as well, Smith confirmed.
The codes show how much moisture is in the air from surrounding forestry. While Smith clarified that they are not indicative of whether there will be fires, they can show how tough fires may be to extinguish.
Etches added this is in part what helps determine the seriousness of the response and size of attack crew sent out.
"If it's a small fire, an initial attack crew with usually one person and a helicopter air tanker is enough to handle it," he said. But with a bigger fires, like those during a hotter, drier and windier climate, co-ordination with the government's Emergency Measures Organization is done.
"For us, the Yukon is a fairly dry place, so a drought code of around 200 is fairly normal," said Smith.
He pointed out that in 2012, after the Alaska Highway was washed out, drought codes dropped to just about their minimum levels. A "slow climb over the last four to five years since then" has occurred.
Stations in Dawson, Haines Junction and Faro have begun gearing up slightly earlier this year in anticipation of lower drought codes, Smith continued.
He said the conditions in early April are usually a good predictor of the upcoming summer.
"If we lose all our snow as of April 1, all of a sudden we think,'OK, maybe we should be a bit more concerned than normal.'"
He confirmed that this year, there was still snow on the ground at stations like Watson Lake, which may delay the possibility of wildfires in the area.
"In fire, the devil is in the details," Smith added, referencing the 2017 wildland fires in B.C. that saw the province go through a cold and wet period before being hit with a dry spell.
"There's not a whole bunch we can do to accurately predict the fire season," Smith admitted, adding the branch deals in probabilities.
Etches did point out, though, the need to remind Yukoners about avoiding burning during high winds.
While he admits that residents and campers especially are generally responsible, the fact that all fires have been human-caused so far is worth noting.
"It's good to remind people," Etches said, adding "our regional protection officers, if there's any doubt at all, it's good to call them."
With a fire as recently as Wednesday, he added that preventative messaging about burning without permits is also important.
Permits can be purchased locally in communities or through the City of Whitehorse, and are required to light open fires between April and September.
Those wishing to burn grass, debris, and use burn barrels on both public and private lands must obtain the free permits.
The department's website warns against lighting fires before green-up in the spring, which Etches added his department is reminding folks about this summer.
"Knowing the stats, I'd say a big cause in the north part of the territory is lightning and human cause, which is a little under 50 per cent of the time," he said.
He continued that the crews are up for the task come June and July, when things really start to pick up.
"When our lightning season starts in the middle (of summer), that becomes a major focus," he added.
The tail end of the summer, typically late August, will see cool downs, low humidity and a decreased chance of lightning.
During the so-called off season, Etches said crews are often sent down to assist other provinces.
Describing the Yukon's fire season as "short but intense," Etches said sister agencies in B.C., Alaska, and Saskatchewan can ask for help.
Meanwhile, Etches said that as fire season approaches, people can call into more than one responding agency.
"Calling 911 is one way, but that can jam the lines," he said.
To report fires, residents can also call 1-888-798-3473, noting the location and any properties, people or landmarks around the area.
For multi-agency updates about other natural events, Yukoners can log on to yukon.ca/emergencies.
Add your comments or reply via Twitter @whitehorsestar
In order to encourage thoughtful and responsible discussion, website comments will not be visible until a moderator approves them. Please add comments judiciously and refrain from maligning any individual or institution. Read about our user comment and privacy policies.
Your name and email address are required before your comment is posted. Otherwise, your comment will not be posted.