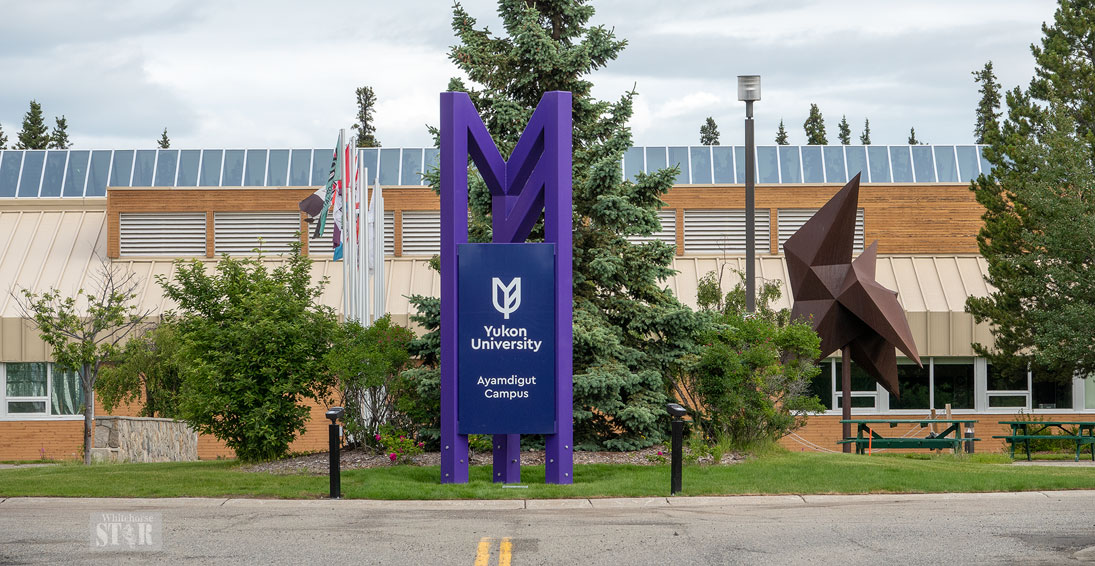 Students are fined $700 each for not isolating themselves
Two Yukon University students have been fined $700 each for failing to self-isolate before moving into campus housing last month.
Two Yukon University students have been fined $700 each for failing to self-isolate before moving into campus housing last month.
Honey Rain Catholique, 22, and Kyrsten Laurice Jonasson, 25, pleaded guilty in territorial court on Oct. 6.
The pair violated two orders under the Civil Emergency Measures Act (CEMA): the requirement to self-isolate for 14 days upon arrival and the requirement to adhere to the declaration they presented to CEMA officers.
The university campus closed from Sept. 1-4 after it was revealed the two students had moved into campus housing without isolating. 
According to a statement of facts read by Crown attorney Kelly McGill, Catholique and Jonasson arrived at the Watson Lake border checkpoint on Aug. 31.
The pair had driven through Alberta from the N.W.T. Their time in Alberta meant they were instructed by CEMA officers to provide a declaration with plans to self-isolate for 14 days.
Catholique and Jonasson declared that they would self-isolate at a residence in Porter Creek, but their permanent address would be campus housing at Yukon University. 
Catholique and Jonasson then moved immediately into campus housing, where they stayed overnight.
The next day, Catholique and Jonasson entered the main campus to collect their books on the first day of classes.
They were flagged and reported to CEMA officers. An investigation revealed that the two students had spent several days in Alberta before entering the Yukon.
They were aware they had to self-isolate but they "had issues with the residence where they thought they could self-isolate, and it was no longer an option for them," McGill said.
Catholique and Jonasson were then taken to a self-isolation centre, where they completed a 14-day quarantine period.
The Crown sought a $350 fine for each violation – failing to self-isolate and acting against their declaration – to a total of $700 each.
The maximum penalty under CEMA is a $500 fine, six months' jail-time, or both.
McGill said there are some aggravating factors in this case.
First, the pair went into a communal living environment on the university campus.
Second, they entered the university itself on the first day of classes – resulting in a campus closure.
"There was some significant impact to their actions," McGill said.
Mitigating factors include the pair pleading guilty in court at the earliest opportunity, accepting responsibility for their actions and showing remorse for them.
Catholique and Jonasson were apologetic when given the opportunity to address the court.
"The matter got messy because of our decisions," Jonasson said.
"I feel like it's a fair amount."
Justice of the Peace Sharman Morrison fined the pair $700 each and waived the surcharges.
She said she has taken the pair's financial circumstances into consideration, as they are both students and don't work full-time. She also noted that Jonasson is the mother of a young child.
Morrison gave the pair one year to pay the $700 fine. She advised that they could pay the fine incrementally, in small instalments.
If Catholique and Jonasson aren't able to pay the fine within one year, they can apply for an extension, Morrison said.
The Yukon's road borders have been monitored by enforcement officers since self-isolation restrictions came into place under CEMA on April 6.
Travellers are required to fill out a declaration with plans for self-isolation if they are travelling to the Yukon from outside the North or B.C.
There has been a total of 13 people charged and 18 charges laid under CEMA as of Oct. 7.
Enforcement officers have fielded 887 complaints since the measures came into place, including 496 complaints of individuals failing to self-isolate.
Add your comments or reply via Twitter @whitehorsestar
In order to encourage thoughtful and responsible discussion, website comments will not be visible until a moderator approves them. Please add comments judiciously and refrain from maligning any individual or institution. Read about our user comment and privacy policies.
Your name and email address are required before your comment is posted. Otherwise, your comment will not be posted.