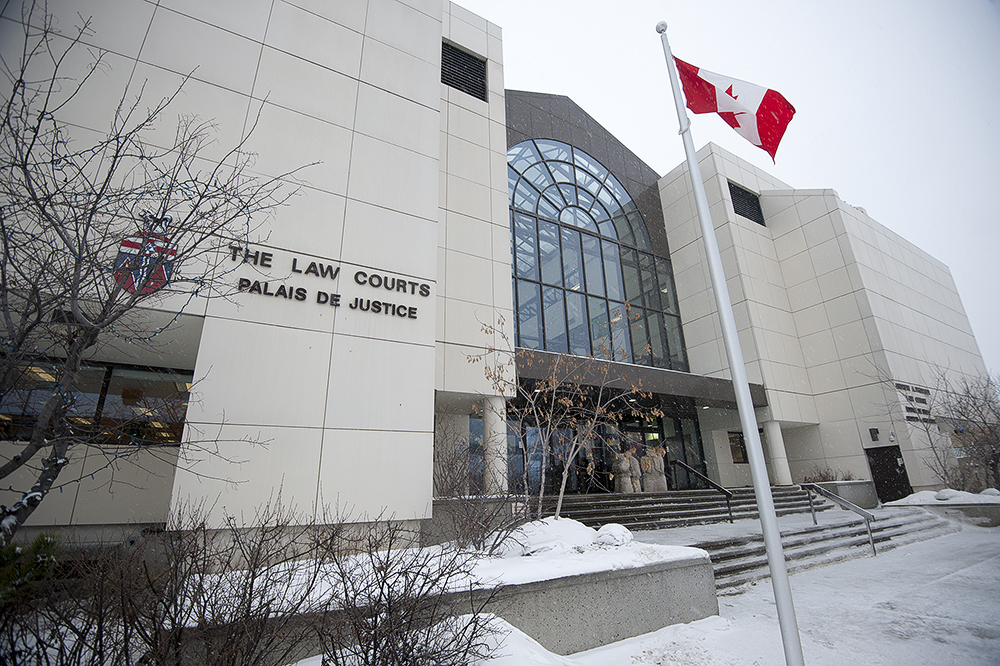 Photo by Whitehorse Star
.
Stepfather sexually assaulted me, woman alleges
A British Columbia woman has accused her stepfather of sexually assaulting her during one of her visits to the Yukon.
A British Columbia woman has accused her stepfather of sexually assaulting her during one of her visits to the Yukon.
Since identifying the accused could identify the complainant, their names cannot be published. The stepfather's trial began Monday morning in Whitehorse, and is set to conclude later this week.
During chief examination Monday, the woman said the alleged assault took place over the night of Sept. 29 and early morning of Sept. 30, 2017 in Whitehorse, at the end of a family visit.
She had been visiting her mother and several sisters in Dawson City. The trip had started sometime around Aug. 25, 2017.
At the time of the alleged assault, the stepfather was driving her back to Whitehorse to board her flight back to British Columbia the following morning, court was told.
She said she lives with her dad and visits her family in Dawson at least once a year, sometime during the summer.
She told the court that usually her mother and some of her siblings travel with her between Dawson and Whitehorse. The stepfather has been part of the group, but this time he was the only one travelling with the complainant.
"It was rarely just me and (my stepfather)," she testified.
Crown prosecutor Keith Parkkari asked why it had been just the two of them. The complainant explained the man had some financial matters to address in Whitehorse, and her mother was working.
She stated, several times, that she was afraid of the man's temper, and that she does not like him.
She said he does not like how much the stepfather drinks, and alleged that he becomes a physically and verbally mean person when drunk.
She claims to have witnessed him allegedly push her mother down a set of stairs while under the influence of alcohol.
"I didn't really like him," she told the court.
She said the man kept talking about himself during the drive – topics she said she did not care to hear. They arrived in the city at about 1 p.m.
They had lunch and the man insisted he buy the complainant some alcohol of her choice.
She said she tried to refuse, but he insisted. She picked out a bottle. He bought himself a case of beer.
They next went to check into their room at the Best Western Gold Rush Inn. The man went to take care of his financial business while she browsed some stores downtown. The two reconnected at a Main Street restaurant.
They went back to the hotel. She testified that she had wanted to go watch one of her sisters play volleyball in a school tournament, but was unable to go.
The man took a nap, and she started drinking from her bottle.
The stepfather had offered to give her money for a taxi ride, but she never received the money. The man drank in the hotel room as well.
The two eventually went to dinner, then to a local bar to play pool. At some point before 10 p.m., the complainant found out her sister was at the Days Inn.
Having a 10 p.m. curfew, the complainant said, she ran to the Days Inn to meet her sister. Her phone died at some point that night, and she was unable to fully charge it.
She met with her sister briefly, then headed back to the Best Western.
En route, she alleges, she was picked up by a taxi driver who had obtained some alcohol and marijuana, and she was driven out of town.
Her phone died at this point. She alleges that the driver tried to kiss her outside in a pull-out by the Yukon River. She could not be more specific, as she does not know the area.
She claims she was able to talk the taxi driver into bringing her to her hotel room. She hoped her stepfather would be there to save her from the driver, she told the court.
They walked into the room, and the stepfather chased the cab driver away. This driver's alleged conduct is not part of this trial.
The woman told the court she felt safe after the driver left, but that confidence would soon be dashed.
She said the accused offered her a cigarette, and the two smoked. At this point of the evening, she testified, she was intoxicated.
She next laid down on one of the beds.
She claims that the man offered her some cocaine, saying it would both calm her down and sober her up.
"I was terrified," she said. "I didn't want to anger him. I've seen what he is capable of."
She snorted the cocaine through some rolled up money, saying the drug had a negative effect on her.
She said it paralyzed her body, but left her conscious of her surroundings. She added she lost control of her arms and legs.
"I felt trapped in my head," she told the court. Parkkari asked if she had ever done cocaine before. She said the man's drugs did not seem like cocaine.
In this state, he asked to snort the drug off of her body. She said she permitted it out of fear. She told the court she felt his nose touch her body, but did not see the act.
She alleges the man next asked to take nude photos. She obliged – again, out of fear, she testified.
She alleges the man helped her undress when she had trouble taking off her shirt. Sometime during this encounter, she alleges, he touched her in a sexual nature.
The complainant claims the man tried to have sex with her but could not when he could not sustain an erection.
After this, she said, he proposed to buy her form-fitting clothes and other items, and to financially support her.
She claims he asked her to stay in Whitehorse another day. She said she would have to ask her dad.
She got her phone and contacted one of her male friends, asking him to pose as her dad and tell the man she couldn't stay.
She programmed this friend's number in the phone to appear as her dad. The friend did this.
The next morning, she told the court, the man gave her $1,000.
She said she'd never asked for the money, but took it because she did not want the man to get suspicious.
He brought her to the Erik Nielsen Whitehorse International Airport. She said she told her dad about the assault after she got through airport security.
She flew back to British Columbia. Her dad suggested she take a couple of days to recover, then go to police. She surrendered the money her stepfather had given her to the police.
She told the court she had not wanted any of these events to take place. She said the stepfather had asked for permission during the evening, and that she had let everything happen out of fear.
"I was terrified of what would happen if I said no," she said.
The complainant's cross-examination before Judge Gregory Mulligan was set to begin today.
Add your comments or reply via Twitter @whitehorsestar
In order to encourage thoughtful and responsible discussion, website comments will not be visible until a moderator approves them. Please add comments judiciously and refrain from maligning any individual or institution. Read about our user comment and privacy policies.
Your name and email address are required before your comment is posted. Otherwise, your comment will not be posted.