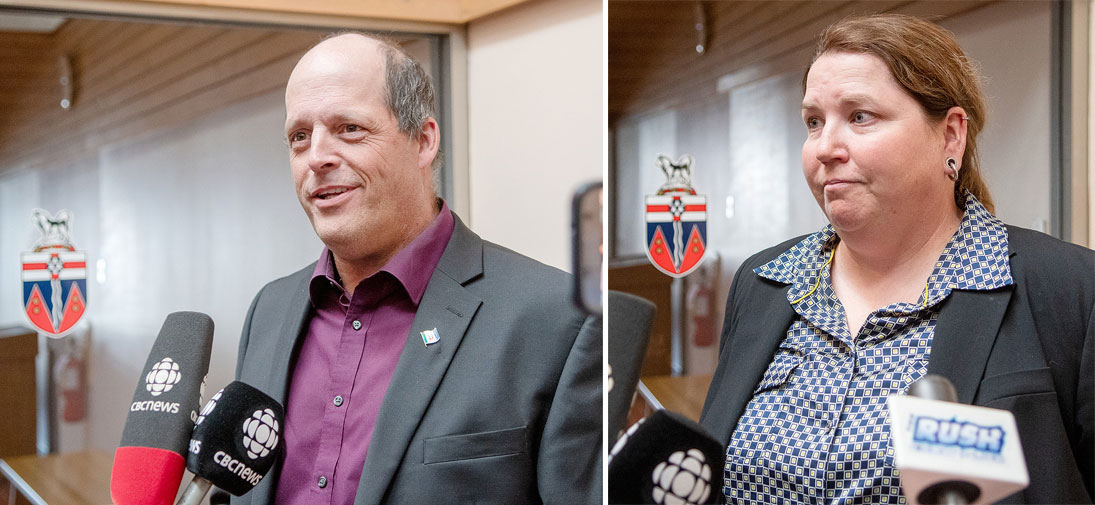 Photo by Whitehorse Star
Stacey Hassard and Kate White
Speech leaves parties disenchanted and wanting much more
The leaders of the official Opposition and the third party say they were left unimpressed by Thursday afternoon's throne speech.
The leaders of the official Opposition and the third party say they were left unimpressed by Thursday afternoon's throne speech.
"I think it was a throne speech that probably could have been done through news releases," Yukon Party Leader Stacey Hassard told reporters.
Hassard noted the throne speech will now consume several days of the legislature's time.
"I think the time probably could have been better spent discussing legislation and issues that are important to Yukoners."
Hassard said he was surprised to hear electoral reform wasn't addressed, just days after the chair of the electoral reform commission resigned.
He added his party has been critical of the commission's "arbitrary" appointment process, and is encouraging the premier to take a different approach in selecting a replacement.
"Maybe this is the opportunity where we'll get to turn things around and head in the right direction," he said. (See editorial, commentary, pages 14, 15.)
Hassard said the throne speech's focus on climate change is important, but doesn't include plans for significant action. He added the movements on buildings' energy retrofits and midwifery are left over from previous sittings.
"It's just another case of re-announcing things," he said.
NDP Leader Kate White said she was "ecstatic" to see commitments brought forward by her party in the 2016 election included in the throne speech.
"You know, they say that imitation is the greatest form of flattery, so welcome to our 2016 NDP election platform," she said.
When her party originally brought forward a motion to ban single-use plastic bags last year, White said, she was told it "just wasn't possible."
White also said she was pleased to see movement toward banning conversion therapy, but is looking to see a timeline for implementation.
White also noted a number of the issues brought forward were carried over from the last sitting, and assessed the throne speech as "a little bit light."
Last spring, there was discussion of the Department of Environment working on species-at-risk legislation. White said she was hopeful to see concrete measures taken.
"What we got is, 'We're working on it,'" she said.
White also said she was disappointed to see a lack in "bold commitment" toward climate action.
She noted words of a "green economy" felt recycled from the previous year.
Add your comments or reply via Twitter @whitehorsestar
In order to encourage thoughtful and responsible discussion, website comments will not be visible until a moderator approves them. Please add comments judiciously and refrain from maligning any individual or institution. Read about our user comment and privacy policies.
Your name and email address are required before your comment is posted. Otherwise, your comment will not be posted.