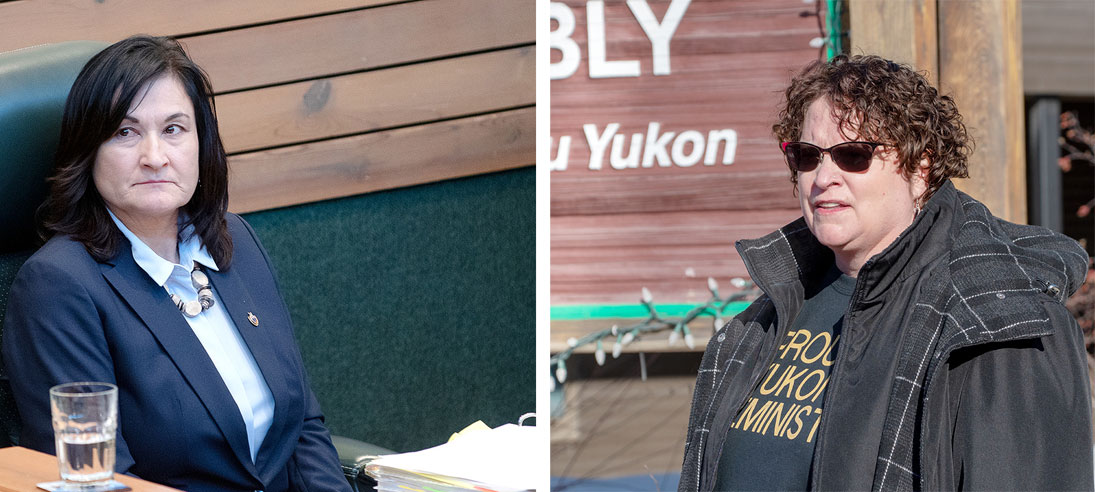 Photo by Whitehorse Star
Health and Social Services Minister Pauline Frost and Barbara McInerney
Society, YG at odds over funding talks
One Yukon society is rejecting the claim that it turned down a three-year funding agreement from the Yukon government – after Health and Social Services Minister Pauline Frost said just that on Monday.
One Yukon society is rejecting the claim that it turned down a three-year funding agreement from the Yukon government – after Health and Social Services Minister Pauline Frost said just that on Monday.
"We put a three-year agreement on the table with Kaushee's Place," Frost told reporters Monday afternoon.
That was shortly after question period, which saw her field criticism from both the Yukon Party and NDP on the Yukon Women's Transition Home Society and funding for NGOs.
It is that society, one of 827 across the territory, that operates both Betty's Haven and Kaushee's Place.
The society's executive director, Barbara McInerney, told the Star last week she feared funding levels from YG jeopardizes the services, which include offering housing to children and women fleeing domestic violence.
She also feared the group won't be able to cover its costs and be faced with a bleak picture for Kaushee's Place.
Last year, the funding the society received sat at $1.474 million. This year (2019-2020), that number is the same, with an added $29,480 (working out to two per cent increase) to account for the cost of living.
It's that two per cent increase and just under $30,000 that was referenced by Frost in the legislature and later to reporters - but McInerney noted that would not be enough.
She estimated that an additional $500,000 may be needed to stay afloat on top of that $.1474 million.
Speaking to the Star this morning, McInerney also took issue with Frost's claims that it rejected a three-year deal.
"That's completely incorrect; two years ago, when this government came in, they told us there was no new money.
"We knew that we were going to be in a financial crisis."
At the beginning of this fiscal year (April 1 of 2018), McInerney explained, the board did not sign onto a one-year agreement (not three-year, as Frost suggested Monday) it had been offered by the department.
"At the time, the board did not think it was professional to sign onto a one-year transfer agreement, the one that was offered, because they knew we were going to fiscally have difficulties paying all of our bills," McInerney said.
She confirmed that the board instead signed onto a shorter-term three-month transfer payment agreement with the department.
"The last three-year agreement was with the previous government, before 2016," she said.
"It's really confusing about what they're proposing and the intention in all of this."
Frost has explained in the past that NGOs will be taken a look at under the territory's comprehensive health care review, set to wrap up later this year.
"Yes, we have small increases pretty much every year," McInerney said, noting that staffing is the biggest cost for the society.
"In terms of how does workload equate to finances, well, you can only work people so much; you can only put so much demand on them."
The society currently employs 28 people, the majority of whom are at Kaushee's Place around the clock.
The executive director also noted that there have been requests from those who are not staying at the sites.
"So those are women strategizing, leaving a place, who have got to find a place to be able to move and get out of the violent situation.
"We're strategizing with them and hooking them up with an advocate that can kind of (help them)."
It's been a trying time for the group, McInerney added.
"I'm trying to keep my emotions out of the way and be responsive and respective to the women and children that we service," she said.
Meanwhile, the two per cent increase brings the total funding that the society will get this fiscal year to $1.503 million, the minister pointed out.
"So I'm trying hard to balance administrative costs with program and service delivery - that came from the opposition and that's the reality we're faced with," Frost added.
She added definitively there is no funding freeze nor cuts, after some protestors took to the legislature last Thursday to express their worries about funding and YG's involvement in the picture.
That was in line with Frost's statements in the house. There, she said that Kaushee's Place had met with the government "a number of months," more recently last year "to secure long-term funding arrangements."
McInerney said that had not happened, adding she hadn't been able to speak directly with the minister.
"They elected not to sign the three-year agreement, and work with us and we've committed to doing that," Frost said.
"We have unionized employees and the rising cost of administration in NGO groups," she said, pointing to the two per cent increase the group has gotten for this upcoming fiscal year (2019-2020).
According to a Yukon Employees' Union webpage, the collective agreement with the society spans from April 2016 to the end of March for this year. Available online, the collective agreement lays out hourly rates of pay, among other things.
It notes that a manager of Kaushee's Place earns between $34 to $35.03 hourly, while a co-ordinator and senior women's outreach worked at the site made between $24.66 and $25.41.
"My understanding is that the objective was for us to work with them to address the concerns they brought to the table as to why they needed more resources, why they needed more funding," Frost said.
McInerney said the work of negotiating a collective agreement can be labour-intensive when the agreement is short term.
"For us, it was a huge concern because of not being able to manage year to year.
"How do you sign an agreement when you're in a year-to-year (agreement?)"
She noted that ultimately, she hoped for a conclusion so the group could continue its work.
"We do not want to have to be in negotiations all the time, we understand that reporting on a monthly basis is very important," she added, noting the society has been in good standing for years.
Meanwhile, after being questioned by the Yukon NDP's Kate White, Frost explained that the society had opted to go with a three months at a time agreement "until we can solidify a long-term arrangement that better aligns with their changing priorities."
Those changing priorities were also something that was also mentioned in the House.
"What I'm hearing from some of the NGOs," Frost said, like the society, "is that they need more resources, as they have grown beyond their scope of practice and they would like more support."
On Tuesday, the department was unable to specify just how the group had grown beyond their scope.
The Yukon Party also criticized the minister.
MLA Geraldine Van Bibber wondered if the government's plan was to "set up an NGO for failure so that, when that happens, the Liberals' health review will be able to justify cutting funds to the NGO altogether."
Not so, Frost stressed.
While that comprehensive health care review will take a long-term look at program services, "the immediate cost-savings and cutting of programs are not what we're looking for."
Frost did acknowledge, though, that some groups are faced with higher admin costs "significantly with fewer resources going into programs and services.
"We're looking ... to better align and look at long-term funding, which means that we're prepared to enter into three-year funding agreements."
The minister added the department is to meet with the society later this week, but the ball may be very much in the society's court as "the priority lies with Kaushee's to come to the table in good faith."
McInerney hopes much of the same from YG, noting this can have an impact on the women and children the society serves.
"For them, I am always hopeful."
Add your comments or reply via Twitter @whitehorsestar
In order to encourage thoughtful and responsible discussion, website comments will not be visible until a moderator approves them. Please add comments judiciously and refrain from maligning any individual or institution. Read about our user comment and privacy policies.
Your name and email address are required before your comment is posted. Otherwise, your comment will not be posted.