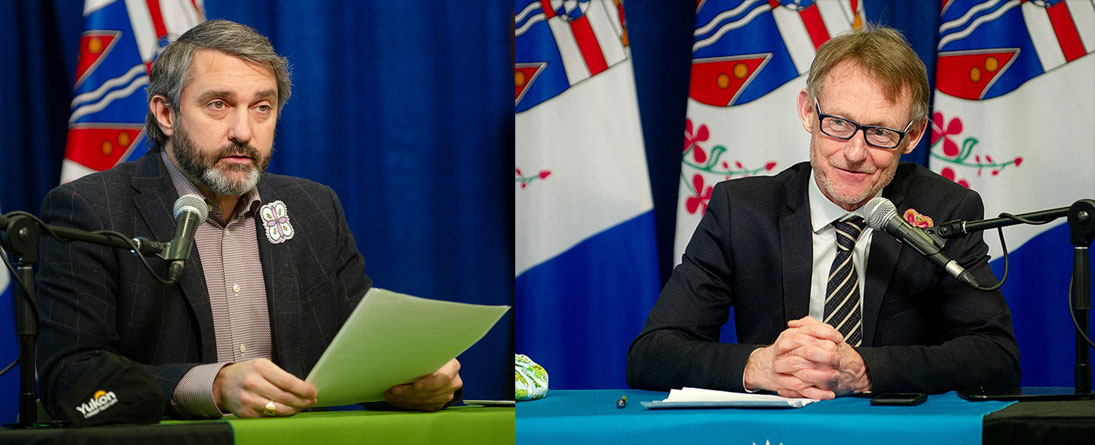 Photo by Whitehorse Star
Premier Sandy Silver and Dr. Brendan Hanley
Smooth sailing for anti-COVID-19 measures: premier, MD
Yukon officials say all is well with the fight against the COVID-19 pandemic as they gave their weekly briefing on the virus on Wednesday afternoon.
Yukon officials say all is well with the fight against the COVID-19 pandemic as they gave their weekly briefing on the virus on Wednesday afternoon.
Premier Sandy Silver and Dr. Brendan Hanley, the territory's medical officer of health, outlined the current situation from the number of active cases – which is zero – to the ongoing vaccination clinics.
A new case hasn't been reported for just over a week, according to the government figures.
That's good news by any standard, but Silver and Hanley were quick to emphasize that it's too soon for Yukoners to let their guard down.
"It's always feels great to arrive back at zero, but we can't relax," Hanley said.
Silver said 2,600 people have been vaccinated thus far at the clinics.
"It's been really cool to see the stories on Facebook," he said. "It's been a fantastic rate of uptake.
"The goal is to roll out the vaccine as quickly and safely as possible," Silver continued. "We have to remember the vaccine is quite fragile, and we don't want to waste a dose."
The efforts to eradicate the virus have been so successful that the government is shutting down the drive-through clinic at Centennial Motors' wash bay on Friday, he said.
The number of people being tested at the Hillcrest location has dwindled in recent weeks, Silver said.
Another startling effect is that virus activity off all kinds – including the flu and the common cold – have also plummeted.
Hanley said virtually no cases of either common virus are being reported in the Yukon. He attributed that to a welcome side effect of COVID safety measures such as the Safe Six and mask-wearing.
Viral infections are so low at the moment that Hanley said any exhibiting respiratory symptoms should consider it likely they may have been exposed to COVID and should take precautionary steps, such as getting tested.
Hanley also noted the so-called "spit" or gargle test is now available in the Yukon.
That's good news for parents with small children, as it's easier to administer than the conventional nasal test.
He said the Yukon remains on track to vaccinate 75 per cent of the adult population – which is the traditional figure used to estimate herd immunity – by April. That's if vaccine supplies hold up, which is not certain.
Silver said he is "absolutely confident in the vaccine supply.
"I'm not concerned at all," he added. "We're wanting to expedite this process."
Hanley was more cautious. While he remained confident, he said, events such as the problems with the Pfizer vaccine delivery schedule couldn't be predicted, and contingency plans and flexibility need to be built into the process.
So far, there has been remarkably little vaccine hesitancy seen from the public, both men said.
Hanley said his staff have been fielding some questions on the vaccine, including adverse effects, and whether the vaccine will stop transmission of the COVID virus or simply grant immunity.
"That's (the questions) not uncommon with a new vaccine," he said. "There are still things to be worked on."
Even if the vaccines don't stop transmission, the virus will still sputter out once herd immunity is reached, he suggested.
It's not clear, though, exactly what that magic number to achieve herd immunity is.
Hanley suggested it's likely that traditional 70-75 per cent – but no one knows for sure.
"That's why there's an urgency to achieve herd immunity," he said. "It will likely have a dampening effect on transmission. The two go together."
Silver said that continuing with safety precautions such as the Safe Six for the moment is also a way of showing Yukoners "care about their community.
"It makes others be protected, and it's not as much for ourselves," he said.
The government issued a news release in conjunction with the briefing.
As of Wednesday, the COVID-19 case count for the Yukon is 70. Sixty-nine people have recovered, one person has died (in Watson Lake), and there are no active cases.
As of end-of-day on Tuesday, 2,690 Yukoners have received their first dose of the Moderna vaccine, including all staff and residents of long-term care homes who chose to participate.
There are currently 18 mobile clinics scheduled in rural and remote areas, and residents within designated communities who are age 18 and older can receive a vaccine.
Yukoners living in Whitehorse and the Ibex Valley, Marsh Lake and Mount Lorne areas can also book a vaccine appointment if they are 70 years and older, or live in group settings.
Whitehorse and area residents age 60 and older will be eligible starting Feb.1. Everyone 18 and over can receive a shot starting Feb. 10.
The government had received 1,349 complaints as of Wednesday:
• Failure to self-isolate: 753;
• Gatherings over 10 inside or 50 outside: 35;
• Failure to transit through Yukon in 24 hours or stay on their designated route: 425;
• Businesses failing to comply with orders: 14;
• Failure to abide by declaration form: 19;
• Failure to wear a mask: 68; and
• Failure to physical distance: 35.
There have been a total of 40 charges and 33 people charged under the Civil Emergency Measures Act, including one new charge of the failure to self-isolate since the last COVID-19 update on Jan. 13.
Other statistics:
• Number of total incoming travellers: 68,295;
• Resident travellers: 18,394;
• B.C. residents: 15,477;
• N.W.T. residents: 506;
• Other approved jurisdictions: 356;
• Non-residents staying: 11,844;
• Non-residents transiting: 21,619; and
Other: 99.
There have been 369 windshield decals distributed indicating out-of-territory vehicles permitted in the Yukon.
Add your comments or reply via Twitter @whitehorsestar
In order to encourage thoughtful and responsible discussion, website comments will not be visible until a moderator approves them. Please add comments judiciously and refrain from maligning any individual or institution. Read about our user comment and privacy policies.
Your name and email address are required before your comment is posted. Otherwise, your comment will not be posted.