Photo by Vince Fedoroff
A COMMON SIGHT – Mark Mendelsohn, with Silver Ghost Contracting, clears snow Saturday along Front Street.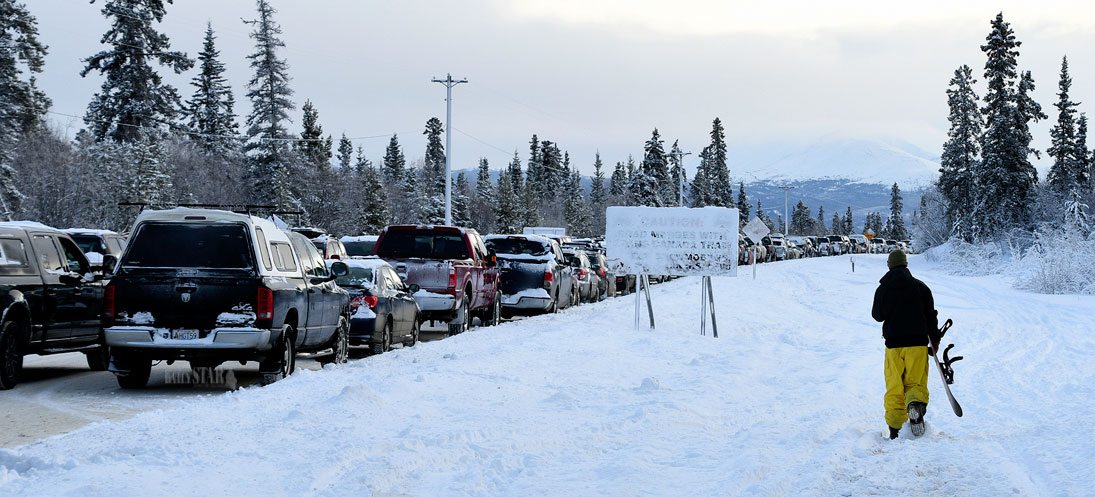 Photo by Vince Fedoroff
POPULAR DESTINATION – A lengthy traffic jam ensued Saturday at Mount Sima, with line-ups for parking at the hill. The snowfall made skiing conditions excellent, according to some skiers.
Ski hill enthusiasts formed long traffic jam
For some, Friday's record snowfall meant hours on the shovel through the weekend.
For some, Friday's record snowfall meant hours on the shovel through the weekend.
For others, it was a beautiful sight.
Such was traffic at Mount Sima that the parking lot was full almost immediately in the mornings on Friday, Saturday and Sunday.
Such was the enthusiasm, vehicles were lined up for almost two kilometres along the Mount Sima Road on Saturday, the busiest of the three days.
For the city's road maintenance crews, the prolonged snowfall meant longer hours, additional personnel and extra shifts.
But as the city continues to deal with the 21 centimetres recorded at the airport last Thursday and Friday, another blast of frigid Arctic air is on the way.
Environment Canada meteorologist Trevor Smith explained this morning the coldest temperature in the coming days is expected Thursday night before they begin to moderate again over the coming weekend.
"There'll be a little bit of light snow for today and tomorrow, but the cold Arctic air is settling in, and we are looking at a low by Tuesday night of -31 and high Wednesday of -25," he said.
"The coldest temperature we have forecast is for Thursday night, a low of -33."
But Saturday should see a daytime high of -19 and Sunday is expected to be -15, Smith said.
He said five centimetres of snow fell at the Whitehorse airport last Thursday and another 16 fell Friday.
Friday's snowfall broke an all-time daily record for the month of January, beating the previous record of 14 centimetres set on Jan. 3, 1968, the meteorologist explained.
There was another record of a different sort.
General manager Janet Hink of the Mount Sima ski hill said this morning the estimated $25,000 in revenue taken in on Saturday is looking like a single-day record.
Last season was a very successful one, ending off with the ever-popular Sima Palooza – the annual season-ending celebration, she explained.
Hink said Saturday's sales surpassed last spring's Sima Palooza.
While Saturday's intake of revenue didn't offset the revenue lost over the Christmas holiday when frigid temperatures kept the hill closed for a couple of days, it certainly helped ease the blow, she said.
On Saturday, Hink said, there were approximately 6,495 uploads, or the number of individual loads on the lift – one snowboarder making 10 runs is 10 loads.
Uploads on Friday were estimated at 2,300 and at 3,937 on Sunday.
Sima staff, said Hink, did an awesome job. And patrons noticed, commenting on how smoothly the hill handled the burst in the number of skiers and boarders drawn by the fresh powder.
City operations manager Richard Graham said today road crews were going flat-out Friday to tackle the emergency and priority routes, with additional crews brought on and shifts added to handle the surge of snow.
Additional efforts will continue through the week, he said.
Graham asked Whitehorse residents to keep on eye out for city signs providing advanced notice of snow-clearing planned for streets.
It's most helpful when residents move their vehicles from the streets so graders and other heavy equipment don't have to drive around them, he said.
"The more that people can move off the street, the better," said Graham.
Fewer obstacles allow the work to progress more quickly, he noted.
Graham said it also helps if residents can remove any snow that may hinder the visibility of fire hydrants and the like.
Road crews know where the obstacles are, but removing the snow just provides a little assistance as a reminder, he suggested.
Add your comments or reply via Twitter @whitehorsestar
In order to encourage thoughtful and responsible discussion, website comments will not be visible until a moderator approves them. Please add comments judiciously and refrain from maligning any individual or institution. Read about our user comment and privacy policies.
Your name and email address are required before your comment is posted. Otherwise, your comment will not be posted.