Photo by Vince Fedoroff
BELOVED STAR PERFORMER REMEMBERED – Shawn Kitchen performs in The Pirates of Penzance in April 2012.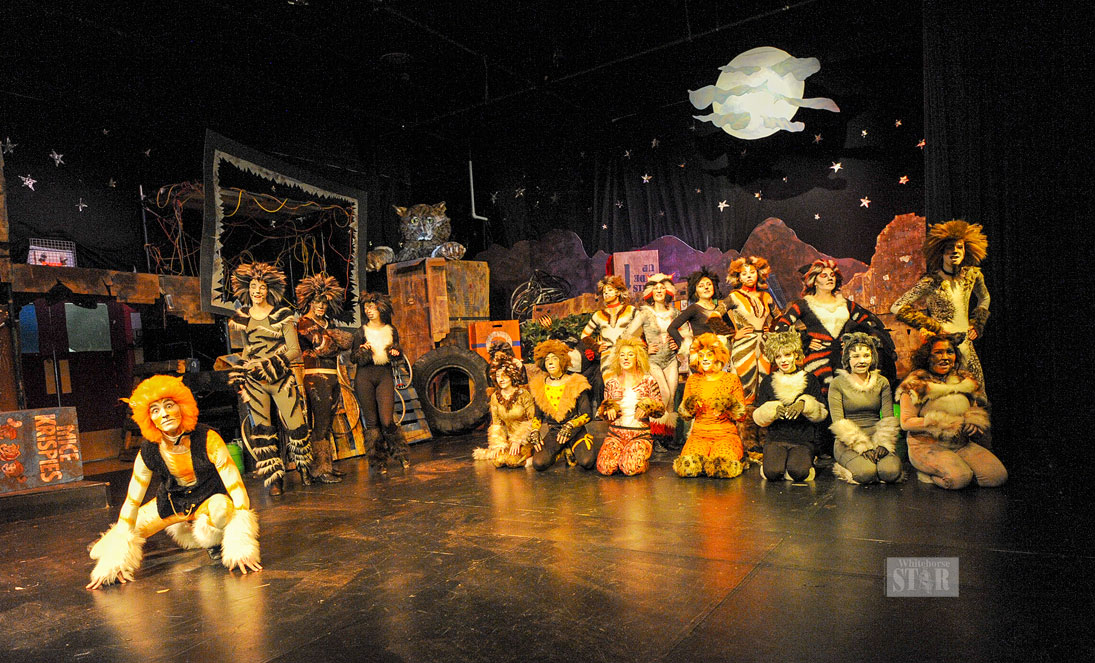 Photo by Vince Fedoroff
He is seen at the far left in the May 2013 production of Cats.
Photo by Photo Submitted
Julia Lane
Shock, sadness greet losses of two young lives
Shawn Kitchen, the pilot involved in Tuesday's fatal plane crash at Mayo Lake, is being remembered as a talented and well-respected man.
Shawn Kitchen, the pilot involved in Tuesday's fatal plane crash at Mayo Lake, is being remembered as a talented and well-respected man.
Kitchen, 24, and Vancouver resident Julia Lane, 33, who's also being fondly remembered, died in the crash. Lane was the sole passenger aboard the Alkan Air flight.
Mary Sloan, a former teacher of the Music, Art and Drama program at the Wood Street Centre, taught Kitchen before she retired. Kitchen was part of the program from 2010 to 2013.
The participants would put on three drama productions each semester. Sloan recalled one production Kitchen participated in, The Pirates of Penzance. She said he had a demanding role in this production, and excelled at it.
Sloan credits this to his great acting talent. She said he took on an athletic role when the theatre group presented its production of Cats.
"He was a star," she said.
She called Kitchen one of the best students any teacher could have asked for. He was creative, hardworking, imaginative, inclusive and generous.
"Everybody likes Shawn," Sloan said.
She said his talents shone on stage and behind the scenes. She added he had a great sense of humour and was very down-to-earth.
She explained that when she dealt with him, it did not feel like a student/teacher relationship. She felt that when she spoke with him, it was like she was talking to a colleague.
Kitchen was very active in the community. Sloan pointed out that he was involved with Scouts Yukon as well as Whitehorse's United Church.
She said he had so much talent, he could have been an actor. That said, she saw that he had a lot of desire to be a pilot; he had told her he wanted to fly.
The news of Kitchen's passing was hard on Sloan. She said she felt gutted, and the news was hard to process.
"It's just devastating news," she said.
She thinks of his family members, and her heart goes out to them. She said she never expected to hear of such a shocking event.
Sloan plans to eventually reach out to the Kitchen's family, but said now is too soon.
She wants to give them privacy because they are most likely still in shock and numb from the news.
She said the family is beloved in the community and will most likely have a lot of support from their church.
She said Kitchen's passing is a huge loss, and feels blessed to have known him and been part of his life for a while.
"The community will miss him," she said.
The staff and crew at Alkan Air are grieving too, she noted.
Wendy Tayler, the company's president and CEO, said Wednesday that Kitchen had been with the company for more than four years. She said everyone with Alkan respected him.
"We are a very tight-knit company, and family, and it has hit us very hard," Tayler said.
The company released another statement late this morning.
"So many people from around the territory and across the country have reached out to the Alkan Air family during this heartbreaking time of profound loss and sadness," it said.
"The love, support and generosity of spirit everyone has demonstrated these past days is greatly appreciated, and makes us feel proud and blessed to be part of such a supportive community. Thank you.
"We have grief counsellors working with Alkan Air to support our employees during this very difficult time. We all miss Shawn immensely, and he will forever be in our hearts."
Lane was a geologist with Archer, Cathro and Associates, a geological consulting firm. She was also a managing partner.
Mike Burke, the president of the Yukon Chamber of Mines, knew Lane, and spoke with the Star about her.
He had met her in the early 2000s, when she started working in the Yukon.
Burke said she was enthusiastic and a joy to be around, and called her a real leader.
He said her upbeat nature was contagious to everyone who worked in the isolated camps. Lane was able to lift spirits, and was an all-around good person.
"She was awesome," he said.
He saw her give presentations at conferences, where she was able to get people interested in the presentation.
Burke called it horrible to learn the news of her death, noting you never want to see someone die so young. Both Lane and Kitchen were starting to have an impact on the world, he believes.
"It's a blow to everyone that was close to her," Burke said.
He feels bad that Lane will not be able to meet new people and have positive impacts on them.
"It's really sad," Burke said.
He misses her terribly. He said he is the proud father of a daughter five years younger than Lane, and cannot imagine what Lane's parents are going through.
He feels they must be proud of her achievements, but shattered about her loss.
"She brightened up every room she was in," Burke said.
According to the airline and the Yukon Coroner's Service, the Cessna 208 left Rackla at around 11 a.m. Tuesday heading toward Mayo. The plane went missing at around 12:08 p.m.
A search quickly began after it was realized the aircraft was missing, and it was located at 1:30 p.m. that day. It had crashed in remote, mountainous terrain on the north side of Mayo Lake.
The Transportation Safety Board of Canada flew a team up to the Yukon from Edmonton on Thursday morning, and they were onsite today.
The board can take a year or longer to produce a final report on the crashes it investigates.
Tuesday's tragedy was the second double-fatality Yukon plane crash since late May.
At that time, Charles Eric Benson, 56, of Palmer, Alaska, and Jeffrey Brian Babcock, 58, of Wasilla, Alaska died when the 1952 Cessna 170B they were flying crashed shortly after takeoff from the Whitehorse airport. The plane was registered in Benson's name, and had been bought in Minnesota just days earlier.
Add your comments or reply via Twitter @whitehorsestar
In order to encourage thoughtful and responsible discussion, website comments will not be visible until a moderator approves them. Please add comments judiciously and refrain from maligning any individual or institution. Read about our user comment and privacy policies.
Your name and email address are required before your comment is posted. Otherwise, your comment will not be posted.