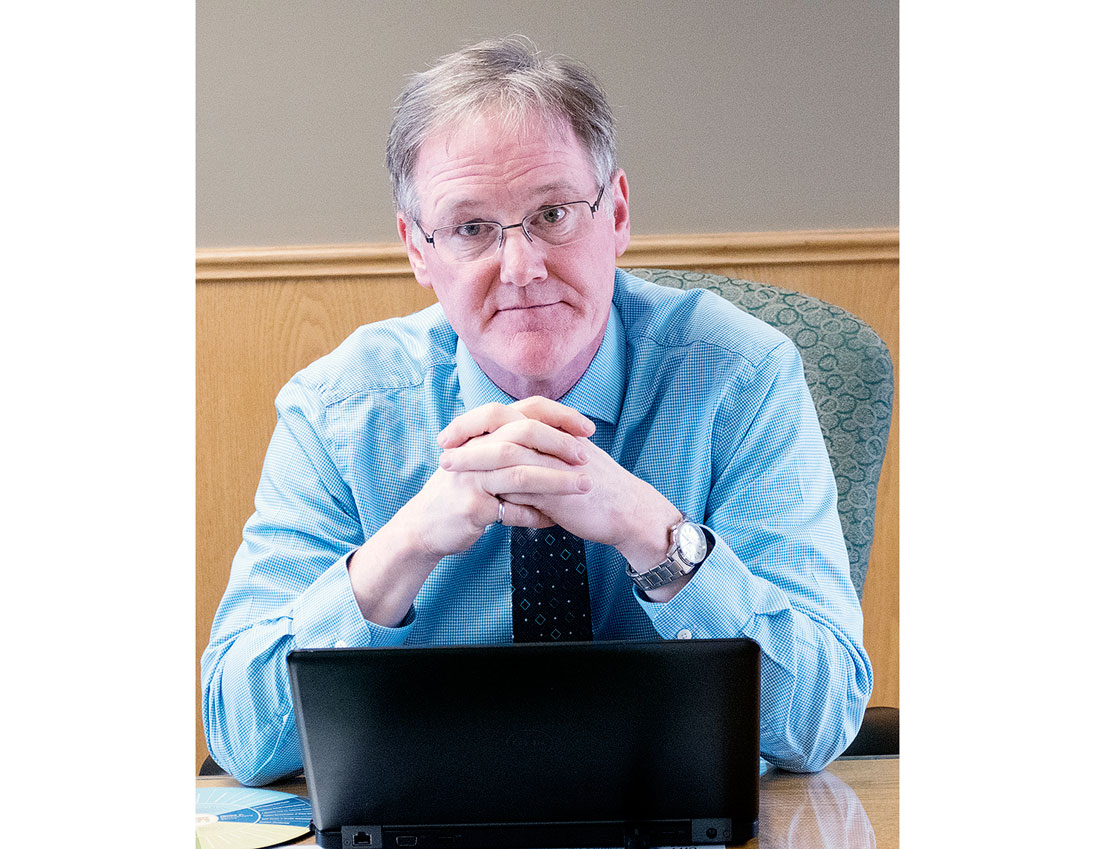 Photo by Whitehorse Star
Peter O'Blenes
Sewer system leak fix could cost $850,000
It's expected to cost at least $850,000 to fix a leak in the city's sewer system.
It's expected to cost at least $850,000 to fix a leak in the city's sewer system.
It's a problem city officials say has to be fixed as soon as possible, with council set to vote on whether to approve the spending for it next week.
The leak is at a valve chamber to part of the system that serves the Porter Creek and Whistle Bend neighbourhoods.
Peter O'Blenes is the city's director of infrastructure and operations. He brought forward the recommendation to approve the funding at Monday's council meeting.
O'Blenes noted the leak, next to the south side of the Yukon River, had been discovered late last year as part of the regular checks city staff conduct on the system.
Since then, the system has been operating on a backup pipe.
"The presence of a leak on the Porter Creek Flush Tank System constitutes a bona-fide emergency because of risk to public health, city property, private property, and the environment," O'Blenes said.
"To ensure that the risks may be addressed as quickly and effectively as possible, emergency funding and a new 2017 capital project was approved by council to retain an engineering consultant to assess the site and develop a repair plan, conceptual design and construction cost estimate."
Morrison Hershfield finished its report in mid-January.
It recommended "an open cut excavation, removal and environmental remediation of contaminated material, pipe repair of both the parallel force main pipes using flexible expansion joints, and backfill and site restoration."
A rehabilitation plan has already been approved as administration has worked with the territory and Environment Canada and will continue to do so as the efforts move along.
"The project is urgent because of the significant environmental risk of operating without a redundant backup on this system," O'Blenes stated in the report to council.
"To make the repair within the 2018 construction season, approval is needed now because we are on the critical path to complete detailed design and tender construction in time to avoid doing the work after freeze-up in the fall 2018."
Under questioning by council, O'Blenes made it clear that $850,000 is an estimate, and the full costs won't be known until work begins and excavation is done.
It's at that point the city will know what direction the plume is moving in. If it's moving toward the Yukon River, more work will likely be required.
Council will vote on whether to approve the budget change – with the funds set to come out of the city's sewer and water reserves – next week.
Councillors Samson Hartland and Rob Fendrick were absent from last night's meeting.
Add your comments or reply via Twitter @whitehorsestar
In order to encourage thoughtful and responsible discussion, website comments will not be visible until a moderator approves them. Please add comments judiciously and refrain from maligning any individual or institution. Read about our user comment and privacy policies.
Your name and email address are required before your comment is posted. Otherwise, your comment will not be posted.