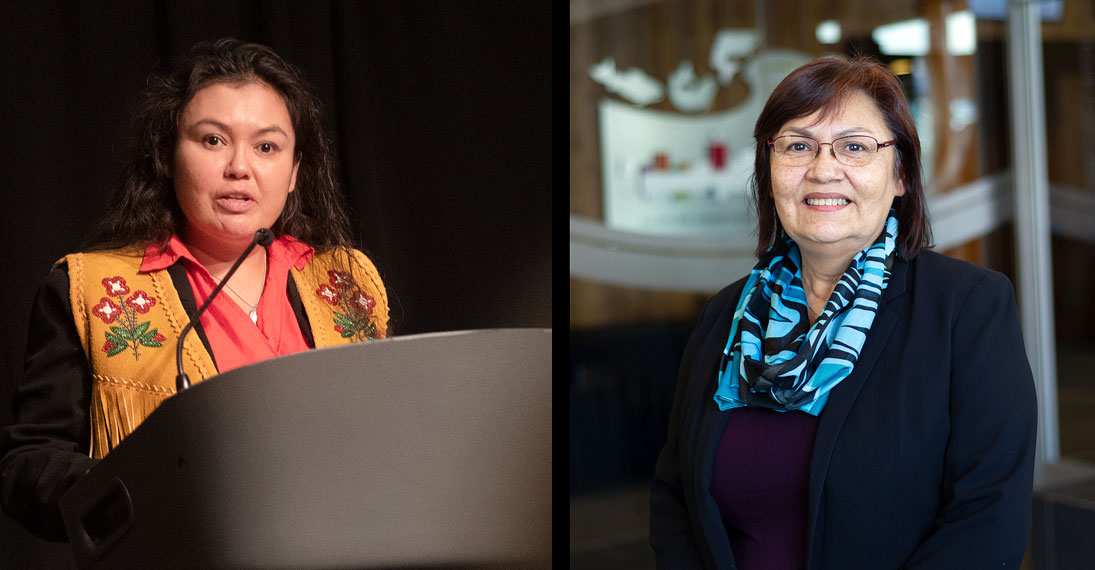 Photo by Whitehorse Star
Ta'an Kwäch'än Council Chief Kristina Kane and Chief Doris Bill
Settlement Lands being damaged, First Nations say
The Kwanlin Dün First Nation and Ta'an Kwäch'än Council say they've noticed a significant increase in Yukoners recreating on Settlement Lands, causing some long-term damage.
The Kwanlin Dün First Nation and Ta'an Kwäch'än Council say they've noticed a significant increase in Yukoners recreating on Settlement Lands, causing some long-term damage.
"We respect everyone's desire to enjoy all that the Yukon has to offer. But we are concerned that increased use of these lands for recreational pursuits is having a negative impact," Kristina Kane, chief of the Ta'an Kwäch'än Council, said in a recent statement.
"The cumulative effects and impacts facing these sites is challenging and can take years to reverse."
A growing Whitehorse population also seems to be contributing to increased hiking, camping, dog walking, biking, wildlife viewing and off-road vehicle use, the press release stated.
An increase in use may also be attributed to COVID-19 restrictions inspiring more Yukoners to recreate outside.
The two First Nations did not make representatives available to the Star for interviews.
In their statement, they said are concerned that Settlement Land will undergo more damage as Yukoners, travellers passing through to Alaska and B.C. residents increasingly utilize the land.
Both First Nations are requesting that Yukoners refrain from using Settlement Land sites so that the land, water and wildlife populations can heal.
There will be more patrols and community engagement events to assist in this.
A number of key areas of concern are highlighted in the press release.
These include unauthorized usage, vandalism and destruction of cultural sites, like traditional family and campsites. 
There is also unauthorized structure and trail development, tree cutting, more pet waste, litter and dumping.
Social media promotion of some wildlife viewing sites is also exacerbating the problem, the release said.
The First Nations described a "general lack of awareness by the general public about First Nation land management practices" when surveying the damage done by recreators.
"Protecting and preserving our lands and heritage sites for future generations is a key priority for the Kwanlin Dün First Nation," Chief Doris Bill said in the statement.
"Our ancestors have inhabited this land for thousands of years and we must continue our role as stewards of the land, air, waters, and animals."
According to Bill, Kwanlin Dün's Department of Heritage, Lands and Resources will be stepping up patrols on the land.
There is also a liability issue surrounding recreation on Settlement Land, the Ta'an Kwäch'än Council chief said.
"The public puts themselves at risk when using lands that are not regularly patrolled or managed for general recreational purposes," Kane said.
"We hope to educate everyone about respecting and caring for these important TKC resources."
Visitors who are uncertain whether they are using Settlement Land can contact either of the two First Nations or consult the Settlement Land maps available online.
Kwanlin Dün First Nation's Settlement Land encompasses 1,042 square kilometres surrounding Whitehorse.
Ta'an Kwäch'än Council's Settlement Land covers 796 square kilometres.
This land is protected for the use of the two First Nations to carry out on-the-land activities, protect harvesting areas and cultural sites.
This is according to land claim legislation, which was signed by Kwanlin Dün in 2005 and by Ta'an Kwäch'än Council in 2002.
Add your comments or reply via Twitter @whitehorsestar
In order to encourage thoughtful and responsible discussion, website comments will not be visible until a moderator approves them. Please add comments judiciously and refrain from maligning any individual or institution. Read about our user comment and privacy policies.
Your name and email address are required before your comment is posted. Otherwise, your comment will not be posted.