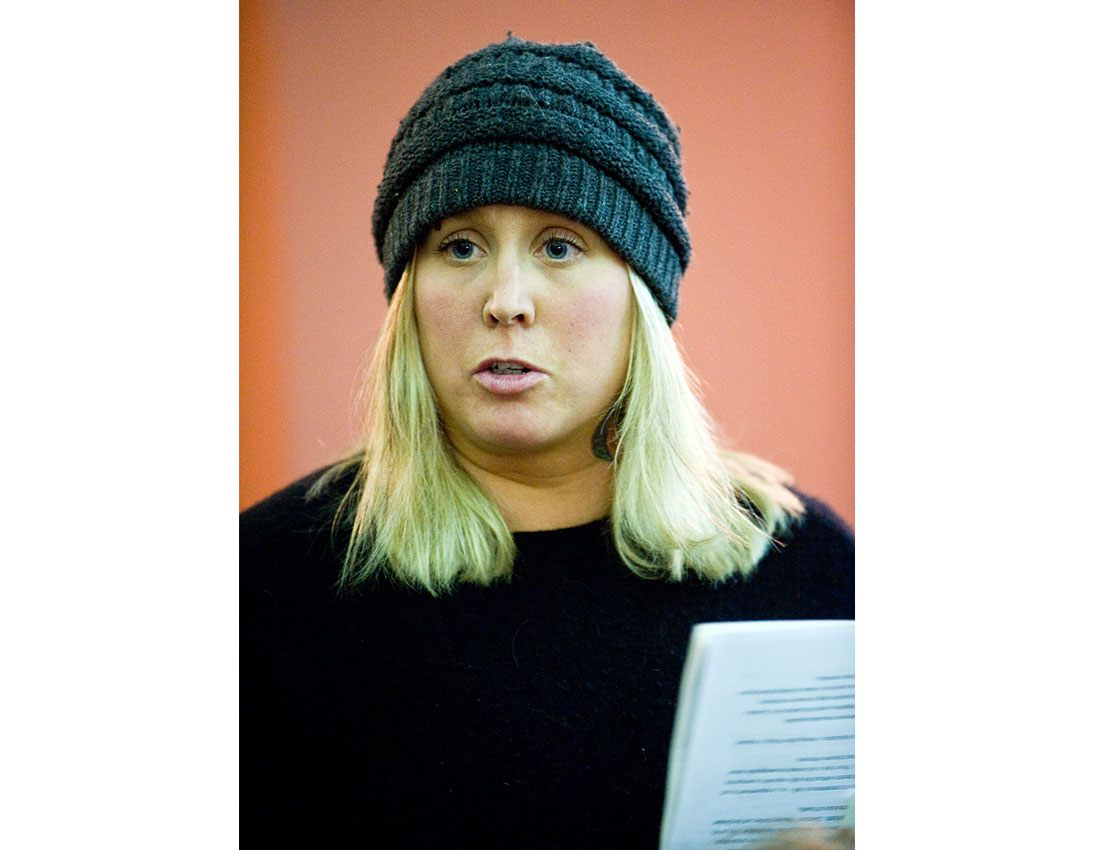 Photo by Whitehorse Star
Jordi Mikeli-Jones
Reward for leads on dog's death up to $7,500
The reward being offered for information leading to an arrest in the death of a black Labrador that was found in a dumpster last month has been increased to $7,500.
The reward being offered for information leading to an arrest in the death of a black Labrador that was found in a dumpster last month has been increased to $7,500.
Kona's Coalition head Jordi Mikeli-Jones said Tuesday afternoon that since the organization began taking donations to offer a reward for information leading to an arrest in the case, numerous Yukoners have come forward to help the cause.
They have noted their desire to help in some way after news of the discovery surfaced.
"I think it's just incredible," Mikeli-Jones said of the donations that have flooded in.
Whitehorse RCMP and city bylaw officers were called to the site – a dumpster in the Marwell area next to the Copper Road Veterinary Clinic – when a witness noticed a dog's leg in the dumpster.
At that time, bylaw officials said it was evident the dog had been dead for some time before the carcass was dumped and an investigation was underway.
On Tuesday, bylaw officer Tom Wyers said the bylaw department will turn its file over to the RCMP this week as the seriousness of the situation warrants looking at it under the Criminal Code of Canada.
Kona's Coalition also began its own fund-raising campaign and investigation shortly after the discovery, alleging it to be the "worst case of animal cruelty in Yukon history."
It described a number of scars on the carcass indicating long-term abuse, and noted a leg had been severed from the body.
It also appeared the dog had been shot at close range, a bullet entering behind its ear and coming out the front of the its head.
While Kona's Coalition had named the dog Jane, Mikeli-Jones said Tuesday she has since learned the Lab's name was Tulie.
In an update provided on social media and as a flyer, Mikeli-Jones said she had been able to track down Tulie's last known owner thanks to the leads she had received.
Sticking to her promise of anonymity for her sources, she said she has information about the dog up until last October.
Tulie was born in Carcross on May 13, 2014 and adopted to a couple sometime between Aug. 8 and 26.
"I am happy to report that for the time she was in their care, she was treated very well and LOVED! This woman went to help a friend clean out her house on Taylor Street.
"As she was bleaching the floors, she put Tulie outside at a neighbouring house, as they had a rope tied to a cement block.
"She could hear Tulie whining. She only had her outside for 20 minutes, noticed it was quiet, and went outside to discover Tulie had been dognapped."
After the dog disappeared in mid-October 2014, the owner canvassed the neighbourhood, put up posters in it and contacted animal shelters, but never found Tulie.
That's as far as Mikeli-Jones has been able to get on the case.
The woman has since moved away from the territory, though Mikeli-Jones was able to track her down and speak with her.
"She was just horrified," Mikeli-Jones said. "She's just beside herself with grief."
It is a small comfort to know Tulie did know human love during her brief life, Mikeli-Jones said.
Kona's Coalition is continuing to ask for information it will then pass on to authorities in an effort to learn about what happened to Tulie after mid-October.
Many Yukoners have generously donated to the reward fund, distributed flyers and offered their support in finding out what happened to the dog.
However, Mikeli-Jones said there have been a few negative comments from some who have noted, "it's just a dog" and questioned why anyone would donate to the cause.
As Mikeli-Jones argued though, the extent of what happened to Tulie warrants a full investigation to find out.
There's someone out there who did this, she pointed out, and they could do it again.
She noted the discussion around Tulie has led to a broader community discussion around animal treatment – specifically the recent suspected poisonings of dogs that appear to be happening in the Porter Creek area (see story below).
While Kona's Coalition continues its work around Tulie, it's also beginning work on a lobby campaign that will be aimed at stronger legislation at all government levels around animal cruelty.
Mikeli-Jones said if Tulie's case does not lead to a reward the money raised will go into working to bring about legislative reform on animal cruelty.
Kona's Coalition is also continuing with a number of other efforts.
Those include its Safe Haven program, which will launch shortly to provide temporary homes for animals coming from homes where women and children are leaving due to domestic violence.
Add your comments or reply via Twitter @whitehorsestar
In order to encourage thoughtful and responsible discussion, website comments will not be visible until a moderator approves them. Please add comments judiciously and refrain from maligning any individual or institution. Read about our user comment and privacy policies.
Your name and email address are required before your comment is posted. Otherwise, your comment will not be posted.