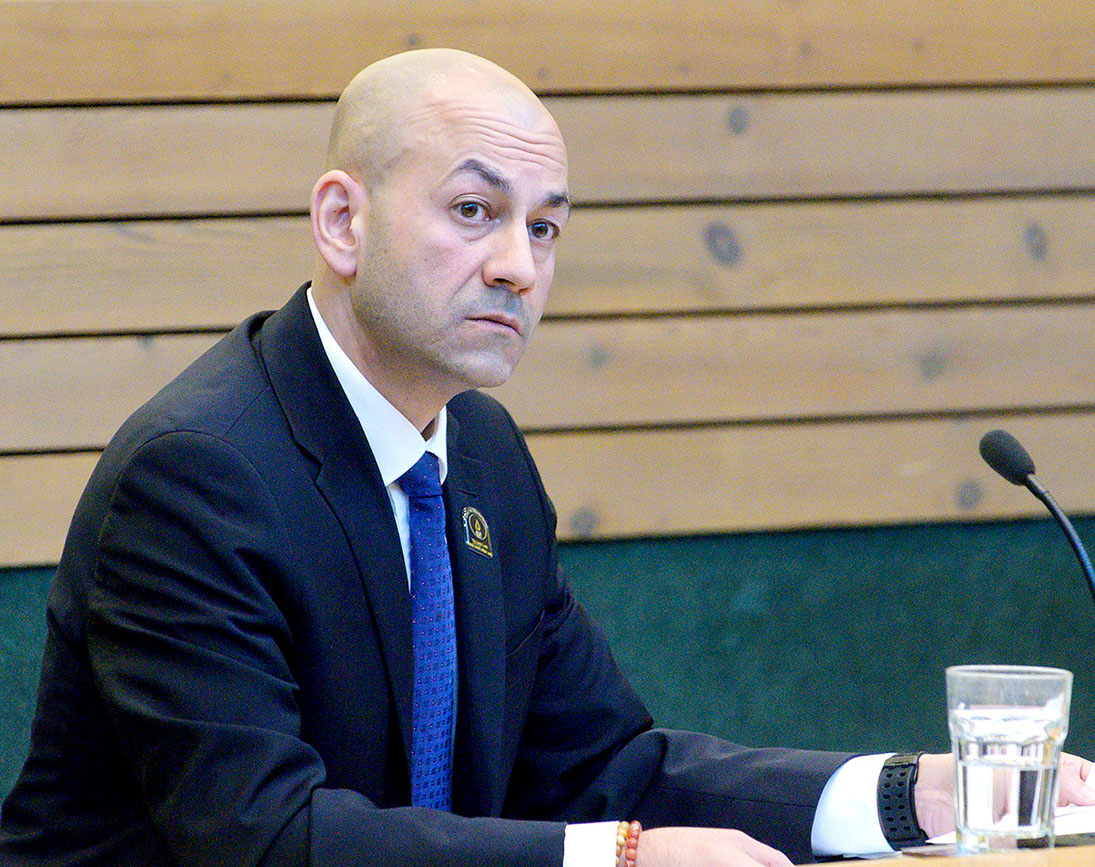 Photo by Photo Submitted
Premier Ranj Pillai
Respect public servants, Liberals urge NDP
The Liberal caucus is challenging part of NDP Leader Kate White's speech to delegates last Sunday at the party's annual convention (see story above).
The Liberal caucus is challenging part of NDP Leader Kate White's speech to delegates last Sunday at the party's annual convention (see story above).
But the New Democrats, in turn, are denouncing the Liberals' interpretation of White's remarks.
"Following public critiques of Government of Yukon employees, including a Yukon NDP convention speech where (White) suggested that employees of the Government of Yukon are dragging their feet on implementing policy, the Yukon Liberal government is calling on MLA White and her caucus to respect the work and workload of members of the territorial public service," the Liberal caucus said in a statement Tuesday.
"Yukon NDP convention attendees heard from their party's leader that the government's pathway for policy development and implementation "cut[s] corners we wouldn't dream of.
"They push timelines to be absolute last minute, and they're willing to negotiate with the well-being of Yukoners."
The Liberal caucus said it "believes in respecting the pressures that public servants face in enacting the many priorities set forward in the 2021 Yukon Liberal election platform, ministerial mandate letters, and the 2023 Confidence and Supply Agreement (CASA), of which White is a co-signatory."
Premier Ranj Pillai said, "The Yukon Liberal caucus knows that public servants work hard each and every day on behalf of Yukoners, and we feel they are doing excellent work advancing priorities set forward by elected officials.
"Whether it's enacting large policies that affect all Yukoners or performing casework that is important to a small group of individuals, the tenacity, drive and flexibility of public servants is what allows elected officials – regardless of their political bent – to get things done for the community," added the premier.
"I've always believed that we can achieve great things through the co-ordinated efforts of a strong public service, vibrant private sector, and active organized labour, as we saw during the COVID-19 pandemic."
White's remarks occurred on the eve of the ratification vote for the new collective agreement between the government and Yukon Employees' Union, the Liberals noted.
"We understand that many Government of Yukon employees have been working without a collective agreement since December 2021, due to a lengthy bargaining period compounded by YEU's unavailability to participate in bargaining from July to December 2022."
More than 3,500 employees will receive 10.5-per-cent wage increases over the three-year deal.
"Our caucus is pleased that the majority of YEU employees voted to ratify a new collective agreement that reflects the hard work they do in service of Yukoners and we hope that leaders from the Yukon NDP and Yukon Party will join us in celebrating these achievements for workers," stated Pillai.
Pascaline Etter, the chief of staff for the NDP caucus, responded Thursday, "the Liberals are saying that Kate criticized the public service. She did not."
Rather, White's remarks were directed at those in political control of the government, Etter said.
The NDP added in a statement Thursday, "The Liberals use public servants as a political shield every time they get criticized as a government.
"They've had years in government and have delivered the bare minimum. Weaponizing the public service to dodge political scrutiny shows a real lack of leadership, and a lack of respect for the public service.
"The Yukon NDP stands with the public servants – we stood with them recently when the government walked away from negotiations and left their entire workforce without a collective agreement for almost two years," the NDP added.
"We will continue to stand with workers, always."
The Liberals' statement went on to say the government has laid out "an ambitious plan" to:
• advance reconciliation; grow the territory's economy;
• maintain strong working relationships with federal, provincial and territorial counterparts,
• protect the environment, improve schools and students' learning experience;
• repair and rebuild road and municipal infrastructure across the territory;
• rebuild a patient-centred health care system "following years of inattention by the Yukon Party and a global pandemic"; and
• create a Yukon where everyone has a place they can call home.
Add your comments or reply via Twitter @whitehorsestar
In order to encourage thoughtful and responsible discussion, website comments will not be visible until a moderator approves them. Please add comments judiciously and refrain from maligning any individual or institution. Read about our user comment and privacy policies.
Your name and email address are required before your comment is posted. Otherwise, your comment will not be posted.