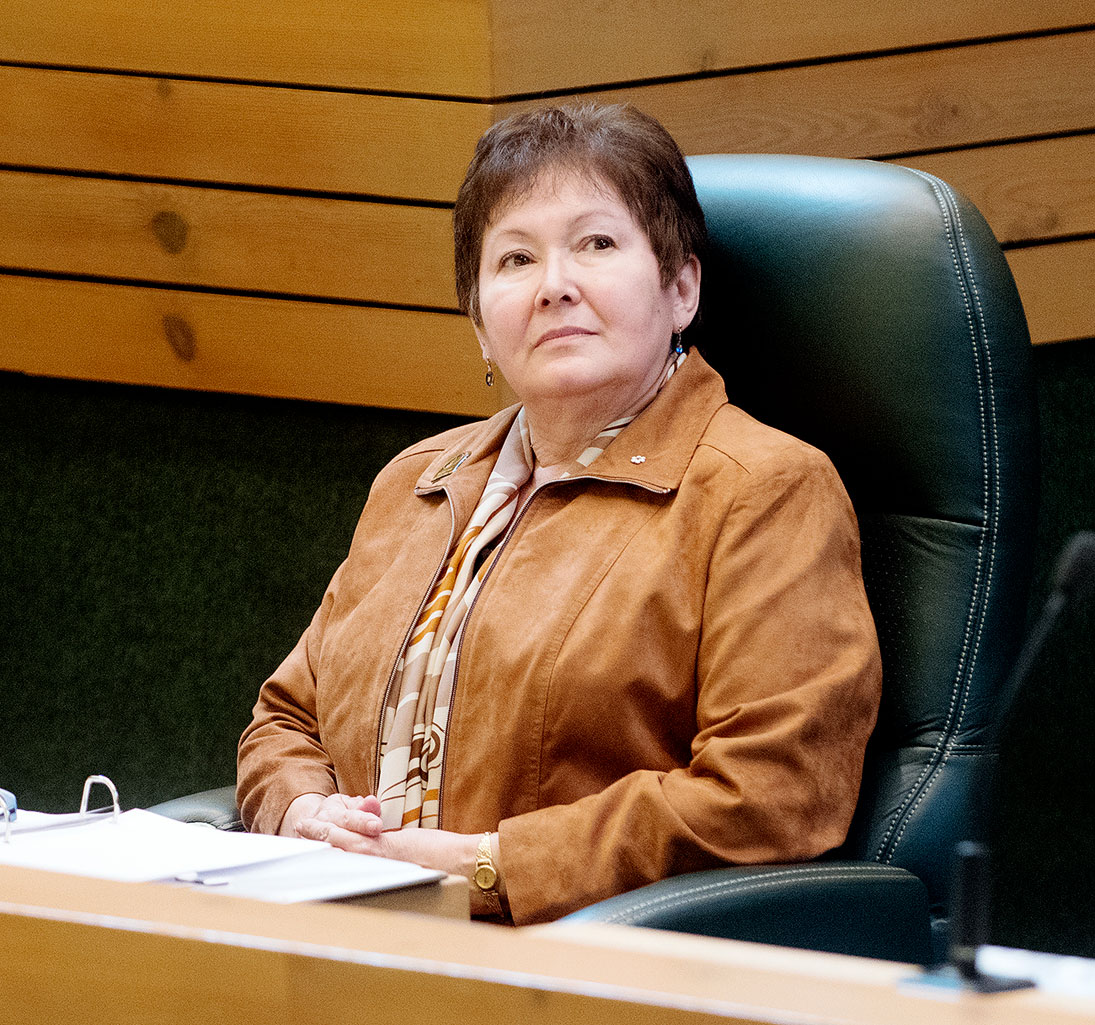 Photo by Whitehorse Star
Geraldine Van Bibber
Residents 'very concerned' about group home
Yukoners will be given the opportunity to weigh in on the possibility of a Yukon government group home in Porter Creek – at the municipal level.
Yukoners will be given the opportunity to weigh in on the possibility of a Yukon government group home in Porter Creek – at the municipal level.
Pat Living is a spokesperson for the Department of Health and Social Services.
She confirmed by email last week that the government is "exploring the purchase" of a building on Wann Road in Porter Creek "for use as a group home."
As for consultation on the residence, "we are following the process that the city has set out around zoning, etc. and will be contacting area residents to advise of our plans," Living wrote.
She was not available to the Star to answer further questions on the issue.
Geraldine Van Bibber, the Yukon Party MLA for Porter Creek North, said last Thursday that major decisions regarding the group home have been made already – without input from the residents who would ultimately have to live with this change to their neighbourhood.
"We've spoken to a real estate person who says there's a pending sale," Van Bibber told the Star. "This is not how consultation works, in our books."
The Yukon Party's books dictate that decisions are made with constituents, according to Van Bibber.
Marc Perreault, a RE/MAX realtor, confirmed that there is a conditional agreement for sale of the property in question, at 22 Wann Rd. He could not speak to the conditions of the sale.
The property was listed at $1.1 million, Perreault said, without a second parcel of land that is now included in the conditional agreement for sale.
"I've heard from several constituents via email and phone call, and they're very concerned about the changes in their riding, or neighbourhood," Van Bibber said.
"To be clear, the Yukon Party is not against group homes, the development of group homes. It's just that there should be a consultation that happens with people in that particular area."
Van Bibber wrote an email to Health and Social Services Minister Pauline Frost on Jan. 26.
In it, she informed Frost that she had been contacted by Porter Creek residents who had learned of the government's plans to renovate and convert the Wann Road building into a group home.
"Aside from the total lack of consultation from the government, a number of concerns with respect to this project have been raised, including and not limited to the recent increase in violent and property crime in the area and proximity to establishments where liquor is sold," she wrote to Frost.
Van Bibber asked the minister to make herself available to area residents to inform them about the government's plan, answer questions, and allow for consultation.
The minister was not available for an interview for this story.
Jeffrey Marynowski is the president of the Porter Creek Community Association. He told the Star last week that he had "not a clue" of the government's plans for the Wann Road property until it was reported by the CBC last Tuesday,
He said the development of a group home is "without a doubt" the kind of change the government should consult a neighbourhood about.
"Especially with the nature of group homes ... you buy into a neighbourhood, you become part of a neighbourhood ... for government to come in and change it without consulting is just wrong," Marynowski said.
He said that as community association president, he receives notification of Yukon government and city plans for the area all the time.
"So it's kind of funny that I got missed on this one here."
However, city process dictates that Porter Creekers will be informed of the group home plan in the near future – and were always going to be.
The city received a development permit application for conditional use of the property at 22 Wann Rd. last December, Pat Ross, the manager of land and building services, told the Star last week.
The building currently houses a bed and breakfast, near the strip mall where Coyote Video, Whiskey Jacks Pub and Grill and other businesses are located.
The conditional use being applied for by Health and Social Services is supportive housing, Ross explained.
He couldn't provide specific detail about the government's plans for the building.
However, supportive housing is defined under zoning bylaw as "the use of a building with dwelling units to provide services and supports onsite, in a residential setting, for nine or more individuals that require supervision or assistance to sustain the activities of daily living due to physical, mental, social, or behavioural challenges."
While a conditional use application is similar to a zoning amendment application in the process it follows, the former does not involve "introducing something foreign to the zone," Ross emphasized.
He explained that the conditional use was always contemplated in the zoning; it just requires some additional consideration by council.
"In the scheme of things, this is a residence that's being proposed. It'll just have your 24-7 onsite supervision component by staff of Health and Social Services that are embedded in the home to assist these tenants, because they need that support," Ross said.
City council will look at how this conditional use might impact the area in a variety of ways.
It reserves the ability to restrict, qualify or outright veto the conditional use application.
There will also be an opportunity for public input.
In the coming weeks, Ross said, residents living in the vicinity of the group home can expect to receive a mailed notice. It will explain an overview of the government's plans for 22 Wann Rd. and invite public comment.
The notice also has to be published in at least one Whitehorse newspaper.
"There's an opportunity to come in front of council and voice your concerns, and you can mail in things, and that information all gets considered by council through the process," Ross said.
Add your comments or reply via Twitter @whitehorsestar
In order to encourage thoughtful and responsible discussion, website comments will not be visible until a moderator approves them. Please add comments judiciously and refrain from maligning any individual or institution. Read about our user comment and privacy policies.
Your name and email address are required before your comment is posted. Otherwise, your comment will not be posted.