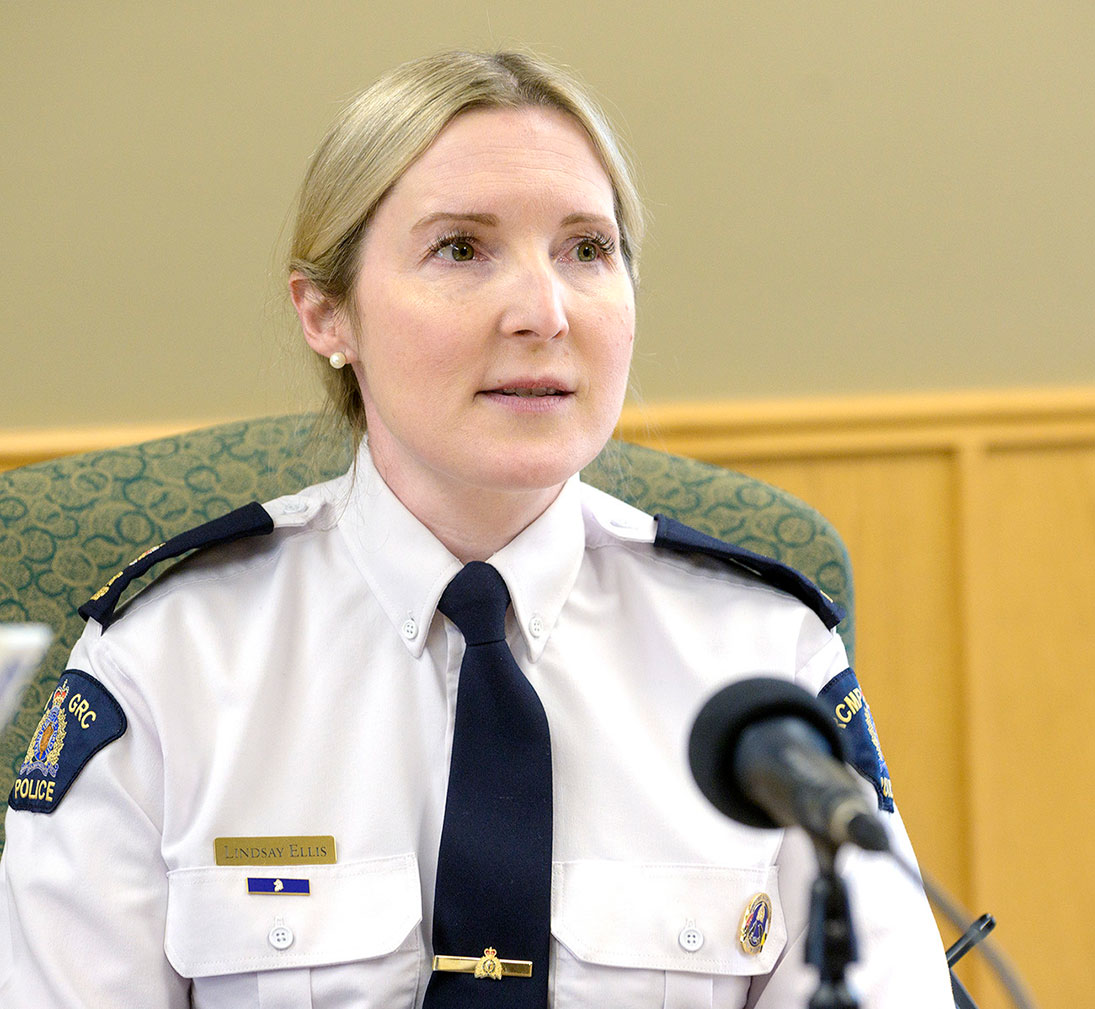 Photo by Whitehorse Star
RCMP Supt. Lindsay Ellis
RCMP investigating two homicides in Mayo
Mayo RCMP and the Yukon RCMP Major Crime Unit are continuing to investigate two homicides in Mayo, RCMP Supt. Lindsay Ellis told the Star today.
Mayo RCMP and the Yukon RCMP Major Crime Unit are continuing to investigate two homicides in Mayo, RCMP Supt. Lindsay Ellis told the Star today.
The victims are Ben Symington, 35, and Michael Bennett, 22, both of Whitehorse.
At about 9:13 a.m. Saturday, a member of the public reported the murders to police.
Mayo RCMP attended the initial call and notified the Yukon RCMP Major Crime Unit, who travelled to Mayo.
Yukon RCMP Forensic Identification Services and Yukon Coroner's Service are also actively participating in the investigation. The investigating team remains on the scene.
Ellis explained in an interview that the RCMP continue to believe that there is no immediate danger to the public at this time.
No arrests have been made, but there is no danger that police are aware of, and they have no information suggesting there is an outstanding danger, she said.
"The families of Mr. Symington and Mr. Bennett have been notified of their deaths by police," police said in a statement.
"Yukon RCMP shares our condolences to their families and loved ones."
The principal scene for the police investigation is a main roadway in the C-6 subdivision, on the land of the First Nation of Na-Cho Nyak Dun, in Mayo.
The roadway and subdivision were closed to all but local residents, but have since been reopened.
"Based on information provided to the investigators, we believe the incident initially occurred shortly after 5 a.m. Saturday, as multiple witnesses have reported hearing gunfire around that time," police said.
"Police were first notified of this incident upon receiving the call at 9:13 a.m. At this time, we can confirm both men were shot; however, the type and style of the firearm is still under investigation."
The shooting was reported by an individual who came across the deadly scene.
Ellis told the Star the investigation so far has confirmed that multiple nearby residents heard gunfire at around 5 a.m., but nothing was reported to police at that time.
The crime scene includes a blue 2010 Ford Escape.
Ellis said she could not say whether police have a suspect, because the investigation is ongoing.
The Major Crime Unit investigators and the RCMP detachment in Mayo have appreciated co-operation from the public during this investigation so far, police said.
"At this point, we would like to extend a further appeal to witnesses and the public for the following: anyone who interacted with either Ben Symington and/or Michael Bennett over the past week, since March 4.
"We believe they have been in the central Yukon area since that time, and want to speak with those they have interacted with, regardless of the reason for the interaction. "
Police want to hear from anyone who may have seen the Ford Escape in Mayo last Friday evening or Saturday morning of March 11.
"The vehicle is currently in police custody, so we are not seeking information on its current location. "
Anyone in Mayo, including the C-6 subdivision, and the First Nation of Na-Cho Nyak Dun, who have exterior video surveillance at their homes/businesses, or doorbell cameras, are asked to contact the police.
"A crime of this significance in a small community such as Mayo will have a substantial impact on the community," police said.
"We want to emphasize that we do continue to believe that there is no immediate danger to the public related to these homicides.
"We are aware of the impact of the substance use emergency on the community of Mayo, as with other Yukon communities, and are active with our partners in supporting community safety.
"All avenues of investigation are being pursued. As we work on gathering physical evidence, processing and analyzing the information we can learn from exhibits at the scene, we also want to emphasize the importance of witnesses coming forward to share any information about Mr. Symington and Mr. Bennett.
"Sometimes, even information that may seem insignificant can be an important factor in a police investigation."
Anyone with information about this investigation is encouraged to contact Yukon RCMP Major Crime Unit at 667-5555 in Whitehorse, at 996-5555 if calling from Mayo, or with the local prefix if calling from another community.
The Star's calls to Mayo Mayor Trevor Ellis and Simon Mervyn, the chief of the Na-Cho Nyak Dun, were not returned.
These are the territory's second and third homicides of 2023.
Aaron Smarch, 35, of Carcross, was murdered on Feb. 2 in downtown Whitehorse.
Add your comments or reply via Twitter @whitehorsestar
In order to encourage thoughtful and responsible discussion, website comments will not be visible until a moderator approves them. Please add comments judiciously and refrain from maligning any individual or institution. Read about our user comment and privacy policies.
Your name and email address are required before your comment is posted. Otherwise, your comment will not be posted.