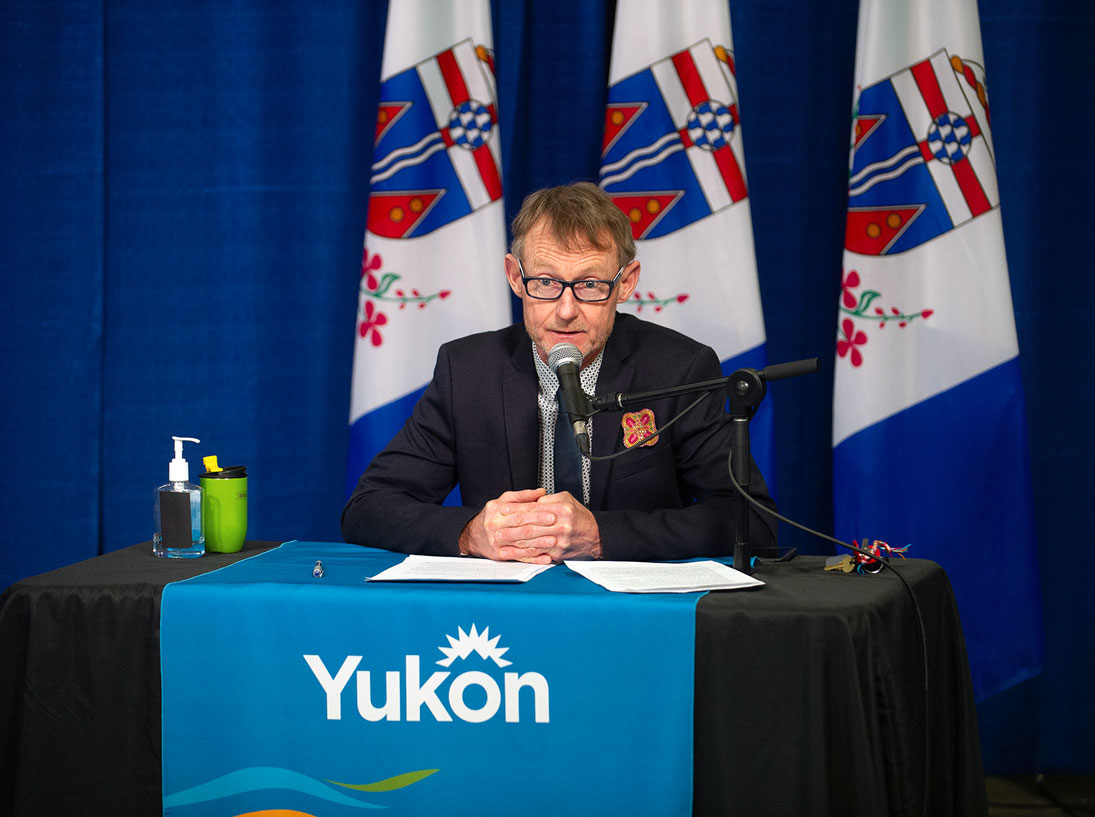 Photo by Whitehorse Star
Dr. Brendan Hanley
Probable COVID case was a false positive
The probable case of COVID-19 announced last Saturday was a false positive, according to the chief medical officer.
The probable case of COVID-19 announced last Saturday was a false positive, according to the chief medical officer.
"We can be confident … that this person did not have active COVID infection in the Yukon, is not contagious, and could not have introduced any infection into Yukon," Dr. Brendan Hanley said during a COVID-19 update late this morning.
The individual was tested over the long weekend using the GeneXpert rapid testing machine at Whitehorse General Hospital.
The machine can garner a test result within 45 minutes, but can also be unreliable and requires a secondary test result from a lab in B.C.
"Our local testing machine, that uses PCR technology to amplify the presence of viral nuclear material, it will pick up even small amounts of the virus (and) it is subject to some interpretation," Hanley said.
The individual's GeneXpert test result showed low levels of virus, but the confirming test result from B.C. returned negative.
It's possible that the individual was sick with a different virus, or residual COVID-19 viral material was confusing the test result, Hanley explained.
"It's consistent with a past COVID infection and continued shedding, but we can't prove it," Hanley said.
The chief medical officer explained that the GeneXpert machine, while convenient for its quick result, can be unreliable due to its sensitivity. 
"It actually picks up smaller amounts of virus than the larger machines, but what the larger machines are better at doing is telling us what is more practical to know," Hanley said.
Larger machines are better at gauging infectious virus levels, he explained.
Ultimately, gauging whether someone has a contagious case of COVID-19 is the most important piece of information for contact tracing and mitigating spread of the disease.
He noted that because the GeneXpert machine is so sensitive, it's unlikely to show a false negative result in an individual showing COVID-19 symptoms.
The GeneXpert machine has been in use for about three weeks, and Hanley said he is not reconsidering its use despite its limitations.
"It's been humming away and being useful for us quietly in the background, in certain clinical scenarios especially in the hospital," Hanley said.
"Every technology has its limitations."
The chief medical officer noted that these occasional events should serve as a reminder to remain cautious against the virus and uphold the "safe six."
"We've demonstrated we can handle these occasional introductions of COVID into our territory," Hanley said.
When the probable case was announced last weekend, the chief medical officer noted that he heard many rumours about the identity of the individual.
"We are close and well-connected; we are each a degree or two away from knowing everyone else, so rumours circulate well ahead of actual information," Hanley said.
He emphasized the importance of protecting individuals' privacy, so that people are willing to come forward with honest information when possible infection occurs.
He also warned against "erroneously identifying" individuals on social media or elsewhere.
"There's clearly a strong public interest in knowing as much information as possible; there's also a strong ethical and societal value in protecting privacy."
Add your comments or reply via Twitter @whitehorsestar
In order to encourage thoughtful and responsible discussion, website comments will not be visible until a moderator approves them. Please add comments judiciously and refrain from maligning any individual or institution. Read about our user comment and privacy policies.
Your name and email address are required before your comment is posted. Otherwise, your comment will not be posted.