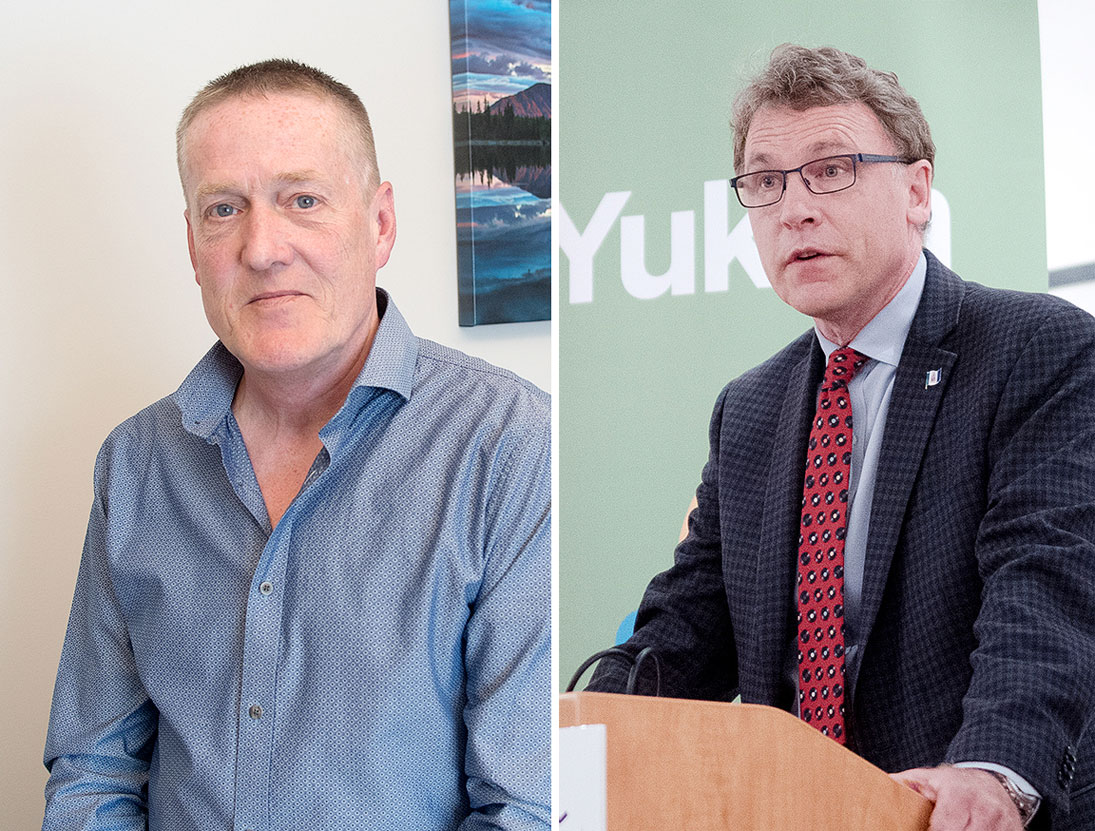 Photo by Whitehorse Star
Yukon Employees' Union president Steve Geick and Highways and Public Works Minister Richard Mostyn
Privatization unleashes angry backlash
The privatization of the Queen's Printer is being criticized for a lack of open communication from its 18 workers, the Yukon Employees' Union and opposing MLAs.
The privatization of the Queen's Printer is being criticized for a lack of open communication from its 18 workers, the Yukon Employees' Union and opposing MLAs.
"The way they've done this is totally disrespectful to all the staff (at Queen's)," Steve Geick, the Yukon Employees' Union president, told the Star this morning.
Seventeen of the 18 Queen's employees belong to the union. Many attended an emergency meeting on Friday evening to discuss the sudden change.
Geick said employees felt blindsided by the decision and underwhelmed by the lack of communication regarding the timeline of the Queen's closure.
About a year ago, Geick said, employees heard rumours that there would be a shuffling of staff and potential job loss. They were told "something is going to happen, but we don't know what it is," Geick said.
When staff members requested details from the Department of Highways and Public Works, they were unable to draw out any information. They feel they spent the year in limbo.
Last week, employees were told they would be moved into different territorial government jobs following the transition of the publicly-owned Queen's. There were no descriptions of those new positions, nor an implementation date.
Geick said Queen's Printer staff feel bewildered by the turn of events. They are unsure how to proceed without a timeline for closure nor more details of the jobs they will be moved into.
"The staff are saying, 'So what do we tell our customers? The stock levels in stores right now are depleted, so where are we getting stock from?'" Geick said.
"The way people were treated was totally disrespectful for a government that prides themselves on being a top employer."
Highways and Public Works Minister Richard Mostyn told the Star this morning the decision to privatize Queen's was made by the cabinet in late September. There was no public announcement.
He estimates the decision will result in $1.6 million in savings for the Yukon.
"As soon as that decision was made, and it was not made lightly … we reached out to the union to gain their opinion on how to proceed and how to deal with the employees," Mostyn said.
"To me, the employees are very important; there's a lot of good people in central stores at Queen's Printer and we want to make sure they're looked after."
Mostyn said every Queen's employee will be provided with an opportunity within the government.
Eleven positions have been allocated within Highways and Public Works, he said, all of which are based on work that is comparable to positions held at Queen's.
He said privatization was an internal decision spurred by recommendations from the Financial Advisory Panel. His department was asked to limit the operations and maintenance budget within two per cent, and to seek out "efficiencies" within that budget.
Axing the public printing company is a result of necessary modernization, Mostyn said.
He noted the necessity of government printing services has decreased, as legislative documents are now posted online and government offices are outfitted with their own printers.
"It's a completely different world, so we are modernizing," Mostyn said. "It's a difficult transition for people who have done this job a long time and have pride in their work."
Work is currently underway to find a private company that will provide Queen's services. Those include the provision of stationary and cleaning supplies.
Mostyn estimated a timeline of a "few months" to make the transition.
"There are already several print shops in town, already doing a lot of work for government, so that work will just continue and scale up," he said. "The capacity is there within the private sector."
Mostyn said he has not spoken with Queen's employees but understands the shift is causing friction.
"When you go through a transition like this, there's some sadness at this change in the work environment; I absolutely sympathize with that," he said.
He maintained that the move away from government printing services is a natural shift happening country-wide.
There are not currently plans for an increase of privatization of government services, Mostyn said.
NDP MLA Liz Hanson told the Star this morning she is concerned about the lack of transparency in this decision.
She noted it was made without the tabling of documents, so there has been no opportunity to debate it in the legislature so far.
"What we've seen increasingly over the last two years is–– this is is a government that doesn't want to engage in discussion with the elected members of the assembly," Hanson said.
"These decisions are being made totally outside of the democratic process we are supposed to be engaged in."
Hanson said she wants to see evidence of research from the Liberal government on this decision, with proof that quality of services will not be affected and real dollars will be saved.
She expressed concern for the displaced Queen's employees. Many have worked together for several years and take pride in the services they provide.
"It's not a very sensitive approach," she said of the shuffling of staff. "People are not widgets. When you reassign people, what's the environment they're going to be reassigned to?"
As an example, she anecdotally knows a deaf Queen's employee is aided by another who knows sign language, the result of a cohesive workplace environment that may not be duplicated when staff are moved into new positions.
She also expressed concern that the decision signals increased privatization for other departments involved with the financial panel's review, namely Health and Social Services.
Geick, who spoke with the Star from Ottawa this morning, said he is in the nation's capital on other business but is using the opportunity to speak with legal sources and assess the union's options.
He said the union will be fighting the decision, if possible.
"It's a pretty intricate thing," Geick said, explaining he will be wading through the complex language of the union's collective agreement, the financial act and the printing act in search of a battle plan.
Geick said he finds the process of privatization to be disingenuous to the Liberals' oft-repeated mission statement of public service excellence.
"(The Liberals) talk about mental health in the work place, and there are people at this meeting in tears who have been there for decades, and are going to be farmed out to the Department of Highways and Public Works," he said.
Geick added he is frustrated with Mostyn's public declarations that his department is working "very closely" with the union.
"They didn't work with us," he said, noting the union was notified approximately one week previous to staff members being informed of the shuffle.
The fast pace of the announcement poses a problem for Geick, who wants it known that Mostyn's assertions of comradery with the union are false.
"It almost makes it sound like we're in favour of it, which we're not," he said.
Add your comments or reply via Twitter @whitehorsestar
In order to encourage thoughtful and responsible discussion, website comments will not be visible until a moderator approves them. Please add comments judiciously and refrain from maligning any individual or institution. Read about our user comment and privacy policies.
Your name and email address are required before your comment is posted. Otherwise, your comment will not be posted.