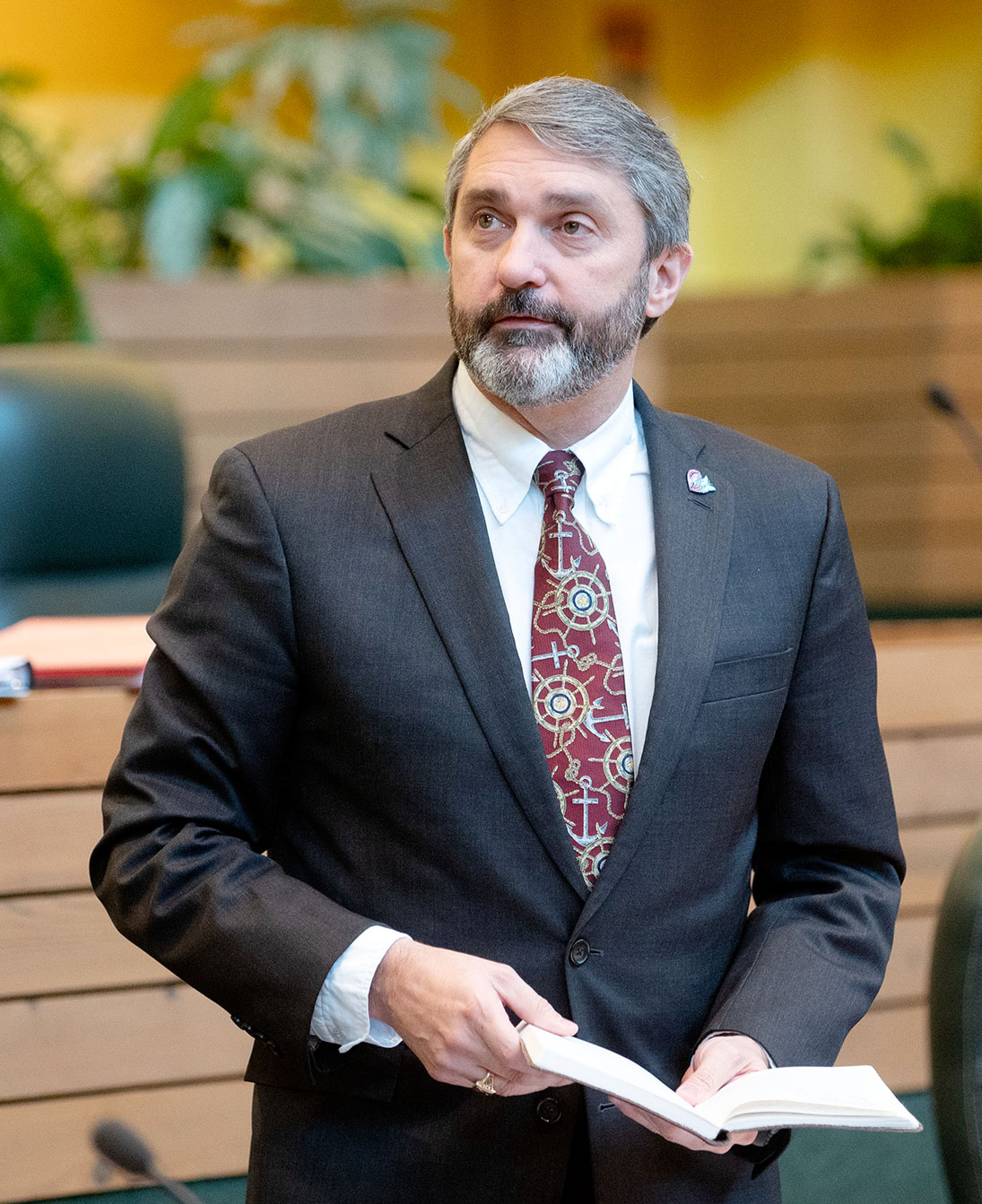 Photo by Whitehorse Star
Premier Sandy Silver
Premier welcomes reopened border
Premier Sandy Silver says he's glad to see the American border set to reopen Nov. 8, but added there's much work to be done.
Premier Sandy Silver says he's glad to see the American border set to reopen Nov. 8, but added there's much work to be done.
"There's been lots of conversations with Governor (Mike) Dunleavy, with Mayor Andrew Cremata in Skagway and the mayor of Haines as well," Silver told reporters last Thursday afternoon.
"Everyone is chomping at the bit to go to Alaska, but cautious and careful is the more important piece.
"I think there's still some details to be worked as far as mixed batches of vaccines goes. I would reiterate how important it is to have a united front as far as provincial and territorial responsibility on vaccine certification."
A news release from the Canada Border Services Agency is reminding travellers that border measures remain in place for anyone entering or returning to Canada and that "they should get informed and understand their obligations as they make their travel plans.
"Travellers should check if they are eligible to enter Canada and meet all entry requirements before heading to the border.  
"Fully vaccinated travellers coming to Canada must complete the mandatory pre-arrival molecular COVID-19 test and submit their mandatory information including their digital proof of vaccination in English or French using the free ArriveCAN (App or website) within 72 hours before arriving in Canada," the release said.
"Antigen tests, often called "rapid tests", are not accepted. Fully vaccinated travellers who are eligible to enter Canada continue to be subject to mandatory random testing on arrival. 
"For short trips, that are less than 72 hours, Canadian citizens, people registered under the Indian Act, permanent residents and protected persons travelling to the United States are allowed to take their pre-arrival molecular test before they leave Canada. If the test is more than 72 hours old when they re-enter Canada, they will be required to get a new pre-arrival molecular test in the United States." 
The release went on to state "unvaccinated or partially vaccinated travellers who are eligible to enter Canada must continue to follow pre-arrival, arrival and Day-8 molecular COVID-19 testing requirements, and quarantine for 14 days."
"I'd love to see more parallel rules and procedures on both sides of the border," Silver said.
"There's testing available in all communities, but we have concerns about just anyone testing. I've talked to Dr. (Christine) Elliott about this, and about the proper procedures. You run certain risks (using it)."
Elliott is the territory's acting chief medical officer of health.
"We have to make sure we have the human resources in place and the right technicians for the testing," Silver said.
Add your comments or reply via Twitter @whitehorsestar
In order to encourage thoughtful and responsible discussion, website comments will not be visible until a moderator approves them. Please add comments judiciously and refrain from maligning any individual or institution. Read about our user comment and privacy policies.
Your name and email address are required before your comment is posted. Otherwise, your comment will not be posted.