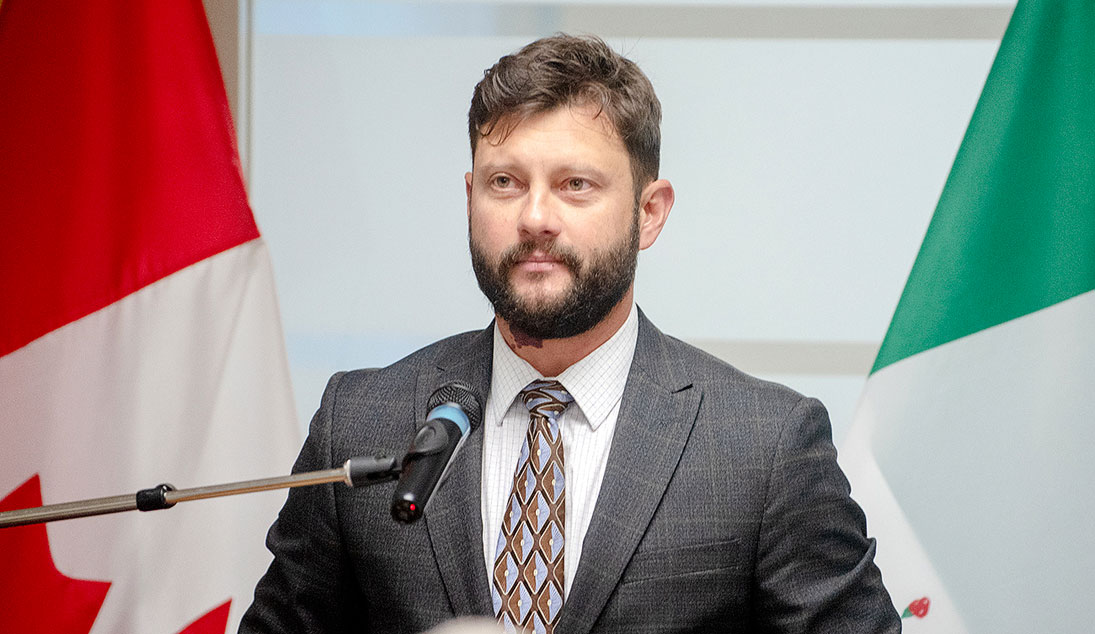 Photo by Whitehorse Star
Liberal MLA Paolo Gallina
PNWER summit was fruitful, MLA says
Liberal MLA Paolo Gallina was in Saskatoon last week to attend the 2019 Pacific Northwest Economic Region (PNWER) annual summit.
Liberal MLA Paolo Gallina was in Saskatoon last week to attend the 2019 Pacific Northwest Economic Region (PNWER) annual summit.
He was acting in his capacity as the Yukon representative for the PNWER executive committee.
Gallina participated in a panel discussion on transportation and infrastructure.
He discussed the Alaska Highway as a critical transportation link for individuals and businesses throughout the Pacific Northwest region, the government said in a statement last Friday.
At a meeting of the executive committee, Gallina put forward a motion requesting a letter of support from PNWER to the U.S. Department of Transportation requesting $25 million US for the Shakwak portion of the Alaska Highway.
The motion received unanimous approval from the committee.
Additionally, Gallina participated in a panel discussions focused on climate policy and economic growth.
He highlighted the government's support of Yukon First Nation-led renewable solar and wind energy projects in rural communities.
He also attended sessions on forestry and mining, and toured the Boundary Dam Power Station to learn about its carbon capture and storage technology.
This year's summit focused on policy issues affecting economic development in the region. Those included agriculture, technology and innovation, trade, resource development and a panel on the changing dynamics of Indigenous businesses.
"This was an excellent opportunity to highlight our government's work with Yukon First Nations to transition our remote communities to clean energy," Gallina said.
"It also allowed me to emphasize the importance of the Alaska Highway as an economic corridor, and garner support from all our regional partners to lobby the U.S. Department of Transportation for funding to support Alaska's only land link to the continental United States.
"By sharing insights and best practices, and building strong partnerships, we can increase economic prosperity across the Pacific Northwest," Gallina added.
The PNWER Foundation is a public-private organization whose members include Alaska, Idaho, Montana, Oregon and Washington; Alberta, British Columbia, Saskatchewan, the Yukon and the Northwest Territories; and private sector organizations.
More than 600 key business leaders, legislators and government leaders from the Pacific Northwest region attended this year's summit.
In 2018, Whitehorse hosted the PNWER Economic Leadership Forum, which focused on First Nations economic development and maximizing economic growth in the North.
Add your comments or reply via Twitter @whitehorsestar
In order to encourage thoughtful and responsible discussion, website comments will not be visible until a moderator approves them. Please add comments judiciously and refrain from maligning any individual or institution. Read about our user comment and privacy policies.
Your name and email address are required before your comment is posted. Otherwise, your comment will not be posted.