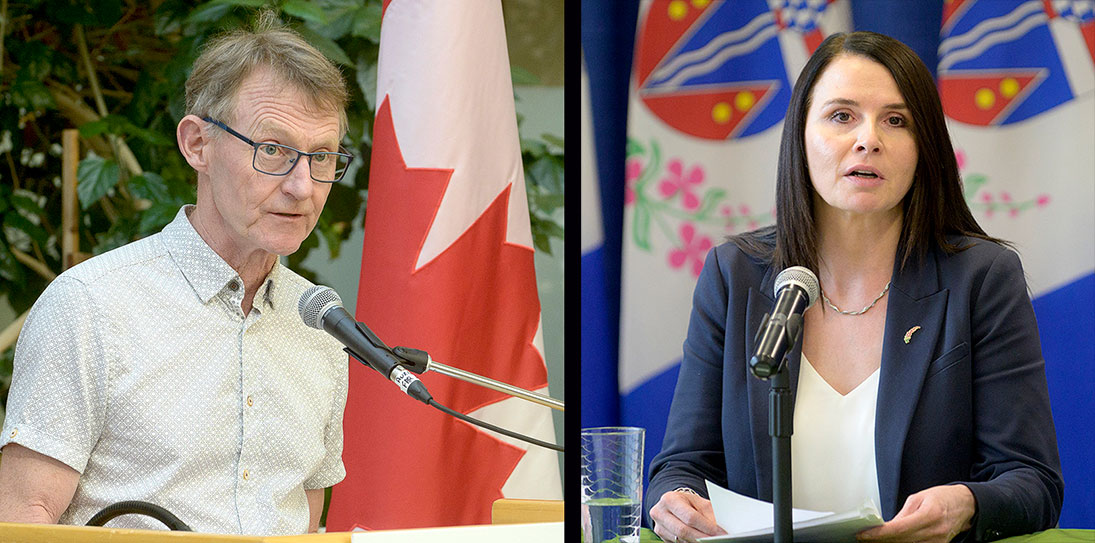 Photo by Whitehorse Star
Yukon MP Brendan Hanley and Education Minister Jeanie McLean
Plans move ahead for Burwash Landing school
Preliminary joint funding of $22.5 million for the construction of a new school in Burwash Landing was announced Monday.
Preliminary joint funding of $22.5 million for the construction of a new school in Burwash Landing was announced Monday.
The final cost of building the school in the North Alaska Highway community will not be determined until the procurement phase concludes.
The Kluane First Nation has advocated for a school for decades.
Students are currently driven or bused 16 kilometres to the aging Kluane Lake School in Destruction Bay.
Monday's announcement was made by Yukon MP Brendan Hanley. He spoke on behalf of Dominic LeBlanc, the federal minister of Intergovernmental Affairs, Infrastructure and Communities.
Also involved were territorial Education Minister Jeanie McLean and Highways and Public Works Minister Nils Clarke.
The new public school, or Kêts'ádań Kų̀, which means "house of learning" in the Southern Tutchone language of Kluane First Nation, will replace Kluane Lake School.
For more than 60 years, the existing school has been populated primarily by students residing in or near Burwash.
"The construction of this new Kêts'ádań Kù in Burwash Landing will better serve children and families in the community for years to come," the two governments said in a statement.
"By investing in rural, remote and northern infrastructure, the Government of Canada is growing our country's economy, increasing the resiliency of our communities, and improving the lives of Canadians."
Ottawa is contributing up to $10,875,000, while the Yukon government will chip in at least $11.7 million.
"We are proud to partner with Kluane First Nation and the Government of Yukon on this important project," said Hanley.
"This new school or Kêts'ádań Kų̀ (learning house) will provide students and educators in Burwash Landing with a local facility to learn and access valuable educational opportunities right in their community.
"The Government of Canada will continue to work collaboratively with different levels of government and First Nations partners to make meaningful infrastructure investments in our territory and across the country."
In June 2020, after many years of discussions, Kluane First Nation and the Yukon government signed a memorandum of understanding outlining a commitment to plan and construct the school.
In the territory's 2022-23 Five-year Capital Plan, an estimated budget of $20 million to $28 million was included for a new school in Burwash.
"Through this project, we are honouring the longstanding request of Kluane First Nation and the school community to move the new Kêts'ádań Kù, a learning house, to Burwash Landing," said McLean.
"This major milestone demonstrates our government's commitment to building this new school. I look forward to continuing to work with Kluane First Nation as we move closer to breaking ground on the Kêts'ádań Kù."
Clarke called the plans "another positive step towards reconciliation and working together with Yukon First Nations.
"This is an excellent opportunity to advance a major project that will benefit the students and families of Burwash Landing for generations to come," Clarke added.
"It will also provide new economic opportunities for people living in Burwash and serve the community's needs now and into the future."
Chief Bob Dickson said his First Nation is "pleased to be working in partnership with the Government of Canada and Government of Yukon to build a school in Burwash Landing.
"The recent collaboration between our governments is an example of reconciliation in action.
"Education has been a priority for Kluane First Nation for generations, and a new school in Burwash Landing is the culmination of decades of tireless effort by many Kluane First Nation citizens," Dickson added.
"The Kêts'ádań Kų̀ will be infused with KFN language, tradition and culture, and will serve the broader community as a whole for years to come."
The longstanding absence of a school in the community once cost a Yukon Party government its Education and Justice minister.
The late John Edzerza made a high-profile resignation from those major portfolios in August 2006.
As he described it at the time, one of the dominant reasons was the decision by Dennis Fentie, the late premier, to cancel the initial planned budgetary allotment for a new school. Edzerza said the reversal in course was a personal and professional embarassment to him.
The federal government investment comes from the Rural and Northern Infrastructure Stream of the Investing in Canada Infrastructure Program.
Federal funding is conditional on fulfilling all requirements related to consultation with Indigenous groups.
Under the Investing in Canada Plan, the federal government is investing more than $180 billion over 12 years in public transit projects, green infrastructure, social infrastructure, trade and transportation routes, and Canada's rural and northern communities.
Over the past six years, Ottawa has invested more than $306 million in 60-plus infrastructure projects across the Yukon under the Investing in Canada Infrastructure Program.
During that period, more than $47.4 billion has been invested in communities by Infrastructure Canada across the country for infrastructure projects.
Add your comments or reply via Twitter @whitehorsestar
In order to encourage thoughtful and responsible discussion, website comments will not be visible until a moderator approves them. Please add comments judiciously and refrain from maligning any individual or institution. Read about our user comment and privacy policies.
Your name and email address are required before your comment is posted. Otherwise, your comment will not be posted.