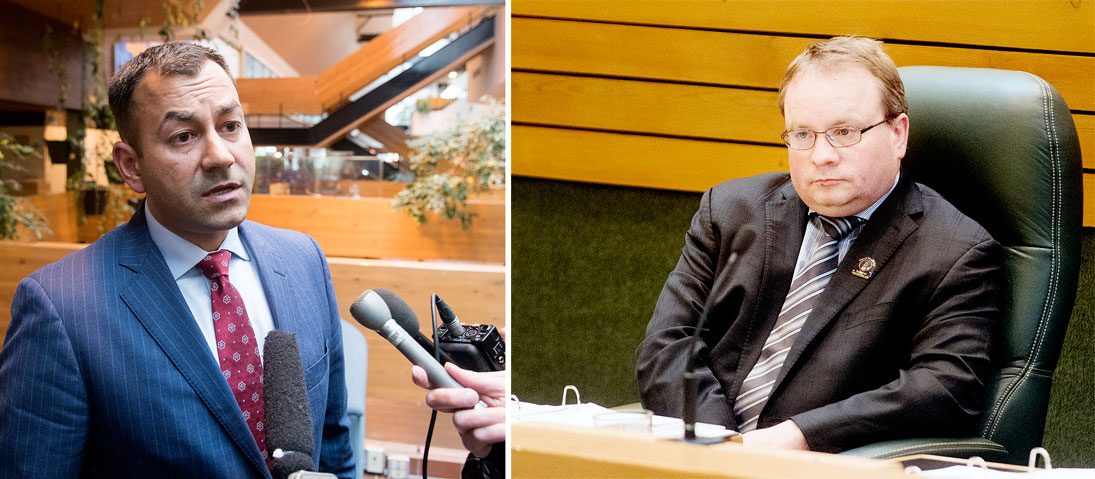 Photo by Whitehorse Star
Energy, Mines and Resources Minister Ranj Pillai and Yukon Party critic Scott Kent
Pillai 'discontinues' considering oil, gas interests
Energy, Mines and Resources Minister Ranj Pillai has cancelled any further consideration of interest expressed last fall about the potential for oil and gas leases in northern Yukon.
Energy, Mines and Resources Minister Ranj Pillai has cancelled any further consideration of interest expressed last fall about the potential for oil and gas leases in northern Yukon.
The minister cited concerns being raised by First Nations as the reason for his decision.
Every year, the Yukon government reviews expressions of interest it receives from the oil and gas industry regarding areas it might be interested in exploring.
If areas are identified, after conducting consultations with First Nations, the government can put out one or more lease options that companies can bid on for the rights to explore for oil and gas.
The process is exactly how Chance Oil and Gas – formerly Northern Cross – secured the rights to its stock of oil and gas leases on Eagle Plain.
There has, however, been next to no expressions of interest in recent years. But in the government's intake last year, 15 different locations had been identified as areas of interest by one or more parties – two on Eagle Plain and 13 in the Kandik sedimentary basin that runs along the Yukon-Alaska border.
No further consideration
Pillai told the legislature Thursday he will not give any further consideration to those expressions of interest, as the affected First Nations do not want to proceed to the bid process at this time.
"Three northern Yukon First Nations — Vuntut Gwitchin First Nation, Tr'ondëk Hwëch'in First Nation and the First Nation of Na Cho Nyäk Dun — indicated that they did not support proceeding to a call for bids on the requested postings at this time," said Pillai.
"The northern First Nations also expressed an interest in working more closely with the Yukon government on responsible oil and gas exploration and development in north Yukon.
"I am announcing today that this process is now officially discontinued, and there will be no further public review of the submitted locations related to the fall 2016 request for postings."
In a scrum with reporters after question period, Pillai explained there were challenges with the 2016 process that was started under the former Yukon Party government.
He insisted there must be a partnership between the Yukon government and First Nations if there is going to be oil and gas development in the Yukon.
Pillai also pointed out there have been no further expressions of interest received since the 2016 intake.
Yukon Party critic Scott Kent expressed disappointment in Pillai's announcement, calling it a broken Liberal promise from the 2016 election campaign.
It may have been understandable if the expressions of interest were inside the Dawson planning region, where a land use plan has not been agreed to, Kent told the legislature in response to Pillai's ministerial statement.
"This was an opportunity to open new oil and gas development potential that would align with promises that the Liberals made in their platform – and I'm going to quote from their platform at this time: 'supporting oil and gas development… on Eagle Plains, in collaboration with the Vuntut Gwitchin First Nation and in keeping with the provisions of… the North Yukon Land Use Plan…'"
Kent said Pillai's decision is worrisome because it could threaten the existence of the oil and gas industry in the Yukon.
Substantial benefits
The industry, the critic told the legislature, has a long history in the Yukon – and has generated substantial benefits for the territory.
NDP Leader Liz Hanson, on the other hand, applauded the Liberals' decision. She suggested it was a brave step by the government and a demonstration of its ability to use the tools it has to begin tackling climate change.
"Yukon, along with all governments, must demonstrate by its actions that it is prepared to make the systemic changes necessary to move away from fossil fuel exploration and extraction," Hanson told the legislature.
"The notion of a viable oil and gas industry in Yukon is an illusion. The 'pause' button that the government has pushed on the oil and gas posting process is an opportune time for this government to do a reality-based assessment with respect to Yukon's continued involvement in an industry that cannot, does not, survive without significant subsidies."
Chance Oil and Gas filed a $2-billion lawsuit against the Yukon government after the Liberals came to power in December 2016.
It claimed the Liberal policy against hydraulic fracturing in the Yukon could affect the business potential of its Eagle Plain project.
Outside courtroom
Chance and the government are in discussions to resolve the matter outside the courtroom.
Over the years, Chance has insisted its target was conventional oil and gas resources which would not require fracking. But the government's ban on fracking could potentially harm the business model, the company maintains in its court documents.
Chance has spent in excess of $100 million on its Eagle Plain project in the last decade, most of it since 2011.
– With a file from Taylor Blewett
Add your comments or reply via Twitter @whitehorsestar
In order to encourage thoughtful and responsible discussion, website comments will not be visible until a moderator approves them. Please add comments judiciously and refrain from maligning any individual or institution. Read about our user comment and privacy policies.
Your name and email address are required before your comment is posted. Otherwise, your comment will not be posted.