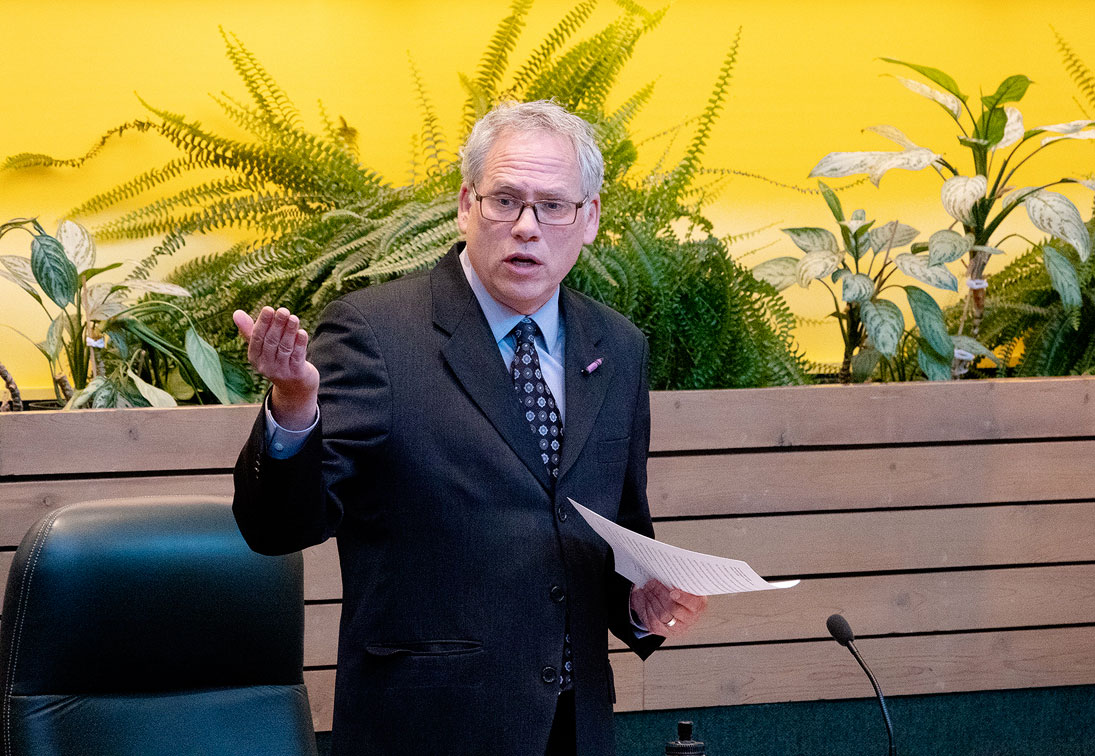 Photo by Whitehorse Star
John Streicker
Per-capita cannabis sales led the nation
The Yukon saw the highest per-capita cannabis sales in Canada last year, according to the federal bureau of statistics.
The Yukon saw the highest per-capita cannabis sales in Canada last year, according to the federal bureau of statistics.
"The Yukon has outperformed all other Canadian jurisdictions," John Streicker, the minister responsible for the Yukon Liquor Corp., said on Thursday.
Streicker tabled the corporation's Annual Cannabis Report in the legislative assembly on Thursday. Tomorrow is the two-year anniversary of cannabis legalization in Canada.
Cannabis sales in the Yukon doubled the N.W.T.'s and were nearly five times higher than Ontario's, per capita, according to Statistics Canada.
Cannabis sales totalled about $4.9 million in the Yukon's 2019-20 fiscal year. 
The vast majority of cannabis sales this year was in the form of buds, or flower cannabis, totalling $4.3 million.
Oils accounted for $461,153, while edibles and concentrates accounted for $84,394.
The liquor corporation made a gross profit of $1.3 million from cannabis sales last year. Expenses, including salaries, totalled $1.5 million. 
A government grant of $195,000 and income from disposal of property resulted in a total comprehensive income of $171,000.
Streicker said the corporation doesn't intend cannabis sales to be a money-making venture.
"Our target is a zero balance; we are not trying to earn any revenue for the government through cannabis," Streicker told the legislature.
"Our goal is for it to be revenue-neutral from a government perspective."
The corporation's mission is to funnel profits into the private sector, the minister explained. 
Streicker said he believes that legalization has impacted the illicit cannabis market, because cannabis sales are rising while reported cannabis usage among Yukoners has stayed essentially the same.
"Here in the Yukon, cannabis sales increased by almost $3 million over the past fiscal year," Streicker said.
Statistics Canada reported that the illegal cannabis market was at an all-time low last summer, with legal sales outpacing the street market.
Yukon Party MLA Wade Istchenko questioned Streicker's claim that the illicit market has been impacted by legalization.
"We know that there is still a very robust black market in the Yukon," Istchenko told the house.
"We believe that the only way the black market will be substantially reduced in the Yukon is if the legal market can compete on price."
Istchenko claimed that government mark-ups are driving retail prices higher than street prices, and increasing availability of cheaper products is vital.
Streicker responded that the liquor corporation won't adopt a free-market mentality to help lower prices.
"Our two chief goals here have been, all along, to displace the black market and to support the health and wellness of Yukoners," Streicker said.
"Like alcohol, it is a controlled substance, and we will continue to control it."
The 2019-20 fiscal year saw five private dispensaries open their doors. The government-run cannabis store off Industrial Road closed last October to make room for private retailers.
Cannabis retailers were briefly permitted to sell products online under the Civil Emergency Measures Act (CEMA) as an action against COVID-19.
Streicker withdrew that ministerial order – killing online sales – on Sept. 9.
Streicker told the house Thursday his department intends to enable online sales permanently, but didn't want to continue under the ministerial order.
Online sales were $25,000, contributing to .5 per cent of total cannabis sales.
"It's a very, very small portion," Streicker said.
"This has been to allow our remote communities – to make sure that they have access; that's all."
He said the liquor corporation is working on permanent implementation of online cannabis sales outside of the CEMA.
Add your comments or reply via Twitter @whitehorsestar
In order to encourage thoughtful and responsible discussion, website comments will not be visible until a moderator approves them. Please add comments judiciously and refrain from maligning any individual or institution. Read about our user comment and privacy policies.
Your name and email address are required before your comment is posted. Otherwise, your comment will not be posted.