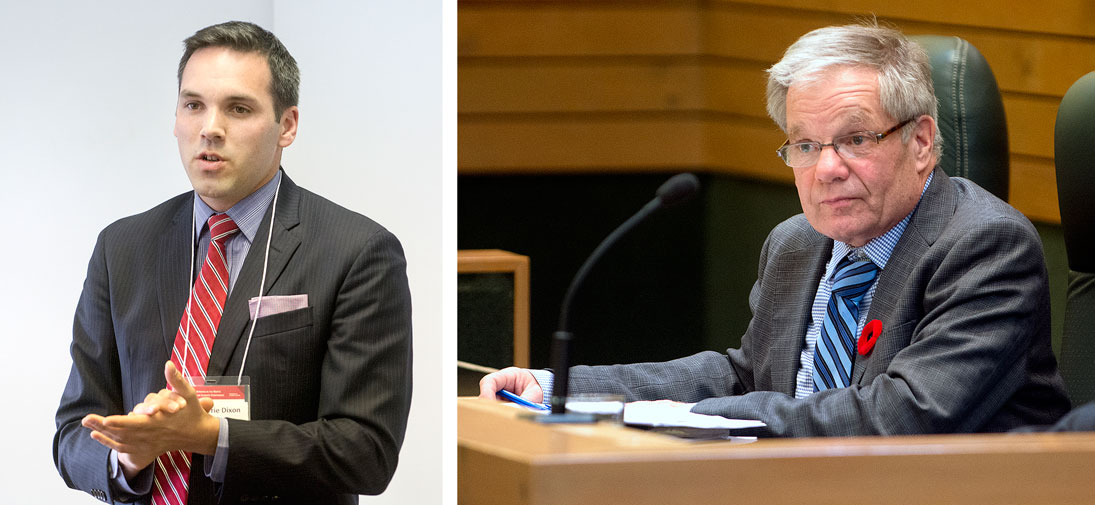 Photo by Whitehorse Star
Community Services Minister Currie Dixon and NDP MLA Jim Tredger
Pending cold casts water supply into doubt
Residents of Keno City have been getting water delivered from Mayo since last July, when the community's well was accidentally cut off during routine cleaning.
Residents of Keno City have been getting water delivered from Mayo since last July, when the community's well was accidentally cut off during routine cleaning.
It's been going smoothly so far, according to some citizens – with deliveries occurring two to three times per week and no reportable delays.
"So far, it's been fine," Yvonne Bessette, a resident of Keno City, told the Star this morning.
"That'll be different once it gets cold. I don't know (delivery) will be feasible once it's 40 or 50 below."
Similarly, in the legislature yesterday, NDP MLA Jim Tredger voiced concerns about the road to Keno City.
"The Keno road has never been known for being a smooth drive," Tredger said.
"It is far from guaranteed that water trucks will be able to make the drive."
In extremely cold weather, he added, joints on a water delivery truck can freeze.
But the concerns about the community's water go beyond bad weather possibilities.
Historically, the area has been a successful mining district. As a result of this mining activity, from time to time the water has had several minerals in it, Community Services Minister Currie Dixon said Monday.
In 2012, a health impact assessment was undertaken after people in the area were worried about the increased activity at Alexco Resources' Bellenko mine, which began production in 2011.
The study focused on health effects from airborne exposure to different metals, as well as cadmium and zinc in the groundwater.
The World Health Organization has linked chronic oral exposure to cadmium to kidney damage, while high levels of zinc can cause gastrointestinal illnesses.
But the area's water supply was deemed to be well within Canada's drinking water guidelines. Though there didn't appear to be any immediate threats to residents, more monitoring was suggested.
A spokesperson for the Department of Community Services, indicated that the water's safety has changed since the well was worked on this past summer.
"Recent test results show a minimal increase in uranium and natural sediment. Because these levels exceed the Canadian Drinking Water Standards, we will continue bringing in drinking water for the community, from Mayo," the department wrote in an email.
In addition to the increase of uranium, she said, there have also been some "aesthetic" changes, which have affected water colour and taste, but pose no health risk.
"Our water wasn't that great to begin with," Bessette said.
The problem now, she said, is that the government hasn't determined whether the community's well can be saved.
The department indicated that since the Keno City well underwent cleaning and a new liner was installed over the summer, there has been routine testing and pumping out sediment from water within the well.
"Until the well collapsed this summer, I don't think there was a problem with it," said Mike Mancini, another resident of Keno.
"If it's damaged too much, they might have to consider putting in a new well."
Whether a new well is needed has not been determined.
Dixon said last week the government has considered a new well altogether, but is still holding out hope that the existing well will fix itself.
"We're going to continue to try to make the existing well work," he said.
"It's a question that we don't have an answer to at this point, but we're working on it."
The imported water is currently costing the government roughly 50 per cent more than it ordinarily would, according to the Department of Community Services.
The contract to deliver water to Keno residents is $6,500 per month.
Hauling water from Mayo, however, raises the cost by about $3,200 – bringing the total to about $9,700 each month.
It is not known how long the government will continue to bring water from Mayo, but it is the solution for the short term, as Dixon put it.
"From my perspective, they're doing the best they can," he said.
"(But) we want everything to be better tested. It's a big concern."
Add your comments or reply via Twitter @whitehorsestar
In order to encourage thoughtful and responsible discussion, website comments will not be visible until a moderator approves them. Please add comments judiciously and refrain from maligning any individual or institution. Read about our user comment and privacy policies.
Your name and email address are required before your comment is posted. Otherwise, your comment will not be posted.