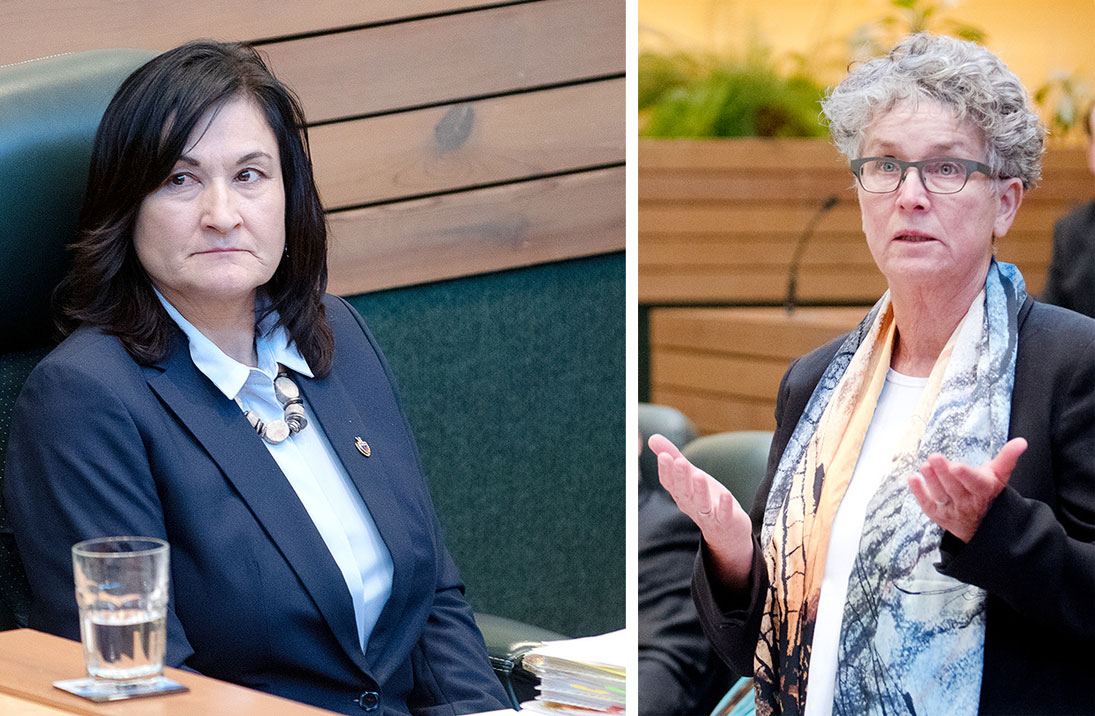 Photo by Whitehorse Star
Health and Social Services Minister Pauline Frost and NDP Leader Liz Hanson
Parties quiz YG about group home report
In the wake of a report confirming a wrongdoing at a Yukon group home in 2016, the territorial government was on the defensive in the legislature late last week.
In the wake of a report confirming a wrongdoing at a Yukon group home in 2016, the territorial government was on the defensive in the legislature late last week.
That's after questions from both the Yukon Party and Yukon NDP, who quizzed Health and Social Services (HSS) Minister Pauline Frost in the House last Thursday.
Frost and the department had publicly apologized last September for causing "unnecessary stress" and for an "institution in crisis" that led to the allegations of mistreatment from both workers and youth living in group homes.
Diane McLeod-McKay is the Yukon's Public Interest Disclosure Commissioner (PIDC). She released her special investigation report into the allegations last week.
It saw wide-ranging suggestions that detailed both actions the department should take with respect to the allegations as well as her own powers and process carrying out the investigation.
One of those suggested that YG do a review of the act to clarify the commissioner's role as "there is a significant difference of opinion between my office and the Yukon government as to the powers of the PIDC to obtain records and interview witnesses."
NDP Leader Liz Hanson echoed this point last Thursday, referencing McLeod-McKay's point that YG lawyers were in the room when she spoke to some workers.
"I can't imagine staff feeling at all comfortable reporting their concerns with government lawyers sitting there," Hanson said, pressing the government to do a review of PIDWA.
Justice Minister Tracy-Anne McPhee responded that YG "will fully consider all of the recommendations and suggestions that she (McLeod-McKay) made in that report to develop a plan and a timeline for areas of improvement."
Speaking specifically to the idea of legal counsel being involved, McPhee added, "We will review her comments and her recommendations and make a determination going forward as to whether there is the need for any clarification."
Meanwhile, speaking to reporters shortly after question period last week, Frost referenced her earlier statement that YG "accepted the recommendations presented in the report.
"We want to ensure that every child that comes into care, whether it be through our education streams or through the Child and Family Services stream, is provided the best possible care," Frost said.
"Was it perfect? It's never perfect – the most perfect and ideal circumstance is to have the child with their families and their communities."
The minister pointed out that in efforts to get at this, the department matched the financial supports and services that extended family caregivers can get with the same level of support for foster caregivers, as of November 2018.
Supports for family caregivers include clothing and special needs rate allowance, respite, alternate childcare services, some transportation and school supplies, among others.
Those agreements let kids who need care from outside the home stay with members of their extended family rather than be placed in other types of care, including residential or foster.
A late-2017 release shows caregivers could receive from $1,073 to $1,945 per child every month, whereas before this increase, those rates sat at a base monthly payment of $688 to $838 per child.
Changes like those are having a positive impact, Frost said, adding that there were 158 children in government care in 2016 and 92 as of the past February.
Back in the legislature, the Yukon Party also had some choice words for the government.
Watson Lake MLA Patti McLeod reminded it how it handled the allegations when they first came to light, thanks to a CBC North investigation last spring.
McLeod pointed to the 60-day timeframe YG has to lay out what steps it will take or look to take to meet the recommendations put forth.
She added "that doesn't mean that it has to wait until the last minute to notify the commissioner."
Frost responded by laying out the progress so far: YG received the PIDWA commissioner's report after an independent advisor did one that prompted the public apology last year.
That was Pamela Costanzo, a B.C.-based labour and employment lawyer, who also made a number of recommendations.
YG is now waiting for the review of the Child and Family Service Act to wrap up, Frost added.
The panel for that was announced last May – when YG said the report from the panel was expected for fall 2018.
An HSS spokesperson confirmed Tuesday the independent panel had received an extension to deliver the report for the end of May 2019 instead, and the goal is to table it in the legislature during the fall of 2019.
Meanwhile, the treatment of those in care is not the only thing that fell short of perfect, the commissioner found; McLeod-McKay also pointed to some struggles she faced while doing her work, coming complete with "numerous legal challenges" from YG lawyers.
That was when she requested records and employee witness interviews, during which the department at times outright refused access to some records and insisted on having a lawyer present during some interviews.
For her part, Frost said the question of appropriateness of lawyers being in the room is one better suited for the legal and justice field.
"I can say that HSS fully co-operated and provided all the information that the PIDWA commissioner required during her comprehensive review of the wrongdoing," she said.
The government will now have 60 days to respond to McLeod-McKay's report, which makes other suggestions not strictly around the allegations themselves.
"Those are things we will take under advisement as we evolve as a government," Frost added.
Add your comments or reply via Twitter @whitehorsestar
In order to encourage thoughtful and responsible discussion, website comments will not be visible until a moderator approves them. Please add comments judiciously and refrain from maligning any individual or institution. Read about our user comment and privacy policies.
Your name and email address are required before your comment is posted. Otherwise, your comment will not be posted.