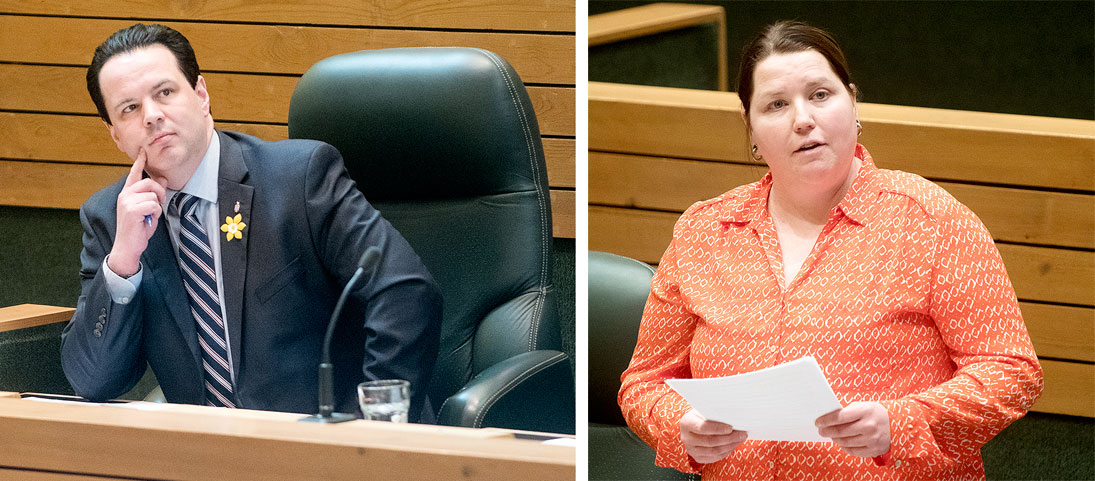 Photo by Whitehorse Star
Brad Cathers and Kate White
Parties assess critical Auditor General's report
The Auditor General of Canada has released a highly critical report of the Yukon government's response to the impacts of climate change and the need to reduce greenhouse gas emissions over the past 11 years.
The Auditor General of Canada has released a highly critical report of the Yukon government's response to the impacts of climate change and the need to reduce greenhouse gas emissions over the past 11 years.
Now, the Yukon Liberal government is left to remedy the commitments, actions and reporting on climate change that the four-person audit team found insufficient.
The departments involved in the audit were Environment, Energy, Mines and Resources (EMR), Community Services and Highways and Public Works.
Environment Minister Pauline Frost issued a statement Tuesday affirming the government's support for the four recommendations made by the Auditor General's Office.
These recommendations suggest the Yukon government:
• Conduct a risk assessment across the territory to help the government prioritize its climate change commitments;
• Develop those commitments to include timelines, costs and intended levels of greenhouse gas emission reductions;
• Publicly and consistently report on progress and expenditures associated with meeting all commitments; and
• Carry out "concrete" and "timely" actions to address the impacts of climate change
"The government supports the recommendations, and work is underway to address them," Frost said.
This work includes a new Yukon strategy for climate change, energy and green economy with commitments and goals supported by "clear milestones, completion dates and associated costs," she said.
Public consultation on the strategy is expected to occur in 2018 for its projected release in 2019, according to Frost, though final dates will be determined with partners on the strategy.
The government is already establishing partnerships with First Nations and municipalities, she said.
Brad Cathers, the Yukon Party's EMR critic, expressed disappointment with this response from the government.
"We've heard a lot of nice-sounding platitudes, but we've seen very little in terms of specific commitments or specific actions," he told the Star Tuesday.
Cathers also pointed out that the government will be approaching the end of its mandate by 2019.
"To hear that they're planning to come up with a plan in a couple of years, maybe, is not really a sign of great leadership on the part of the government."
The audit examined the government's climate change policy from July 2006 to July 2017, a period of Yukon Party leadership save for the last eight months after the Liberals were sworn in last Dec. 3.
Cathers, an MLA for all of those 11 years and a former EMR minister, said he doesn't "entirely agree" with the audit's condemnation of insufficient government action on climate change and greenhouse gas reduction.
"There are a lot of initiatives that weren't captured by the scope of the audit," he said.
He cited the Yukon Party's work to enhance renewable energy, micro-generation, and energy efficiency rebate programs.
These were elements of the government's Energy Strategy – a policy that wasn't evaluated in the audit.
It focused on the 2006 Yukon Climate Change Strategy, the 2009 Climate Change Action Plan, and two progress reports in 2012 and 2015.
"In retrospect, we probably should have done a better job of formally connecting the energy strategy to the Climate Change Action Plan," Cathers said.
He also noted that the Office of the Auditor General does have to work within a specific scope of assessment.
NDP Environment critic Kate White said she felt "a little bit validated" by the audit's results.
"When we were in the official Opposition, we were asking questions to the Yukon Party," she said
"Often, it was, 'How are you going to measure this? What's your goal?' And there was always this moving target."
However, White explained, this is now the Liberal government's responsibility.
She called the 2019 climate change, energy and green economy strategy "a bit lame."
"Not to say that having a new report doesn't make sense," White said.
"But ... you've got to address what the issues are right now, and right now things aren't being prioritized. Things aren't being measured.
"It's hard to be accountable if you don't actually have a goal."
Add your comments or reply via Twitter @whitehorsestar
In order to encourage thoughtful and responsible discussion, website comments will not be visible until a moderator approves them. Please add comments judiciously and refrain from maligning any individual or institution. Read about our user comment and privacy policies.
Your name and email address are required before your comment is posted. Otherwise, your comment will not be posted.