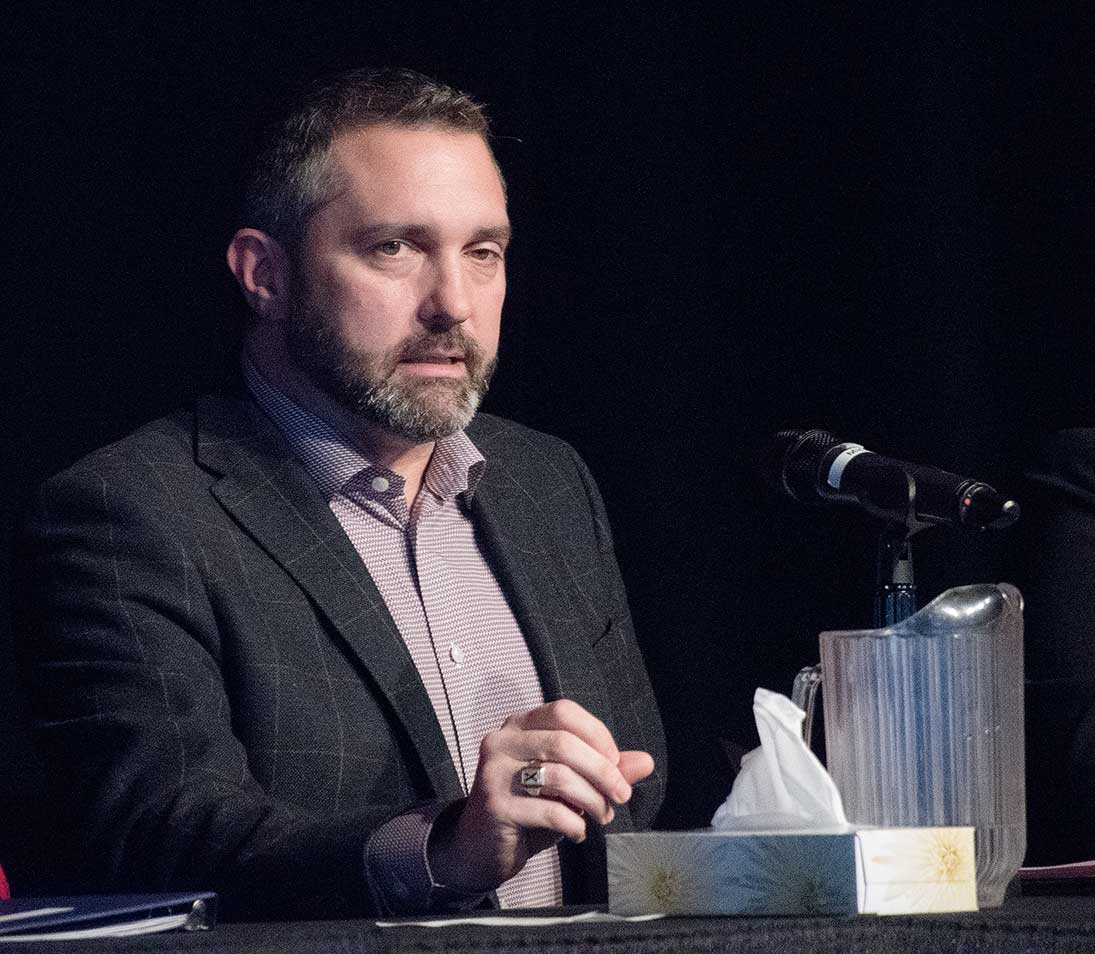 Photo by Whitehorse Star
Premier Sandy Silver
Ottawa has answers to carbon tax impacts: Silver
When it comes to outstanding questions about the impacts of a carbon price in the Yukon,
When it comes to outstanding questions about the impacts of a carbon price in the Yukon, and how, if at all those impacts might be somewhat alleviated for northerners, "the ball is on Ottawa's court," Premier Sandy Silver told reporters Monday.
The results of a federally-led analysis of the impacts of a carbon price in the Yukon were released last Thursday.
While the analysis "doesn't paint the whole picture when it comes to carbon pricing," Silver told the legislature Monday, its findings, as well as the results of the Yukon government's own engagement on its as-yet-undetermined design of a carbon pricing revenue rebate, will be presented to Ottawa.
It's up to the federal government, he told reporters after question period, "as far as their interpretations of the pan-Canadian framework, the special circumstances, not only in the territory of Yukon but in the Northwest Territories and Nunavut as well."
He emphasized that his government's message has been, "you cannot penalize us for being in the North, you cannot penalize us in areas where we cannot find alternatives that are going to reduce those emissions."
Yukon consumers are already feeling the impacts of carbon pricing, Silver pointed out, when it comes to many commodities brought into the territory from Outside jurisdictions where a carbon pricing system is currently in effect – Alberta, British Columbia, Ontario and Quebec.
When a Yukon carbon price is applied come Jan. 1, 2019, all of its revenues will be rebated to Yukoners and Yukon businesses.
"If every time that you go to the pump ... you realize 'I'm getting this much rebate back, and I pay this much in carbon,' you're going to start thinking about your behaviour," Silver said.
NDP Environment critic Kate White wanted to know how exactly this government plans to encourage that behaviour change.
"What new incentives will this government be putting in place to encourage and reward Yukoners for decreasing their use of fossil fuels and moving to renewable energy sources?" she queried in question period Monday.
Community Services Minister John Streicker said that while work on initiatives like getting remote communities off-grid and solar panel rebates is ongoing, the government's "main investment" is in energy retrofits.
"That investment in energy retrofits targets the best location for reducing energy dependency. That is in heating our homes and our buildings. In this way, by insulating them better and by changing over the furnaces and the old oil tanks, we will reduce our emissions," Streicker said.
But as Silver pointed out, in response to a media question about the impacts of carbon pricing on the mining industry, "there are some areas where we cannot find alternatives that are going to reduce those emissions," and the feds seem to get that, he said.
The Yukon government is waiting for more information from Ottawa about plans for carbon pricing in "emissions-intensive trade exposed sectors," including mining, according to a YG companion document released with the federal analysis.
"Efforts are currently being made to ensure that Yukon's industries are not at a disadvantage when compared to industries in southern jurisdictions," it reads.
The federal analysis concluded that carbon pricing would have a minimal impact on the mining sector, but that's without considering the projected opening of two large mines in the territory.
"You saw the content of the review process," Silver told reporters.
"Lots of questions in the media, we have lots of questions as well, and we're working with Ottawa to answer those questions."
Add your comments or reply via Twitter @whitehorsestar
In order to encourage thoughtful and responsible discussion, website comments will not be visible until a moderator approves them. Please add comments judiciously and refrain from maligning any individual or institution. Read about our user comment and privacy policies.
Your name and email address are required before your comment is posted. Otherwise, your comment will not be posted.