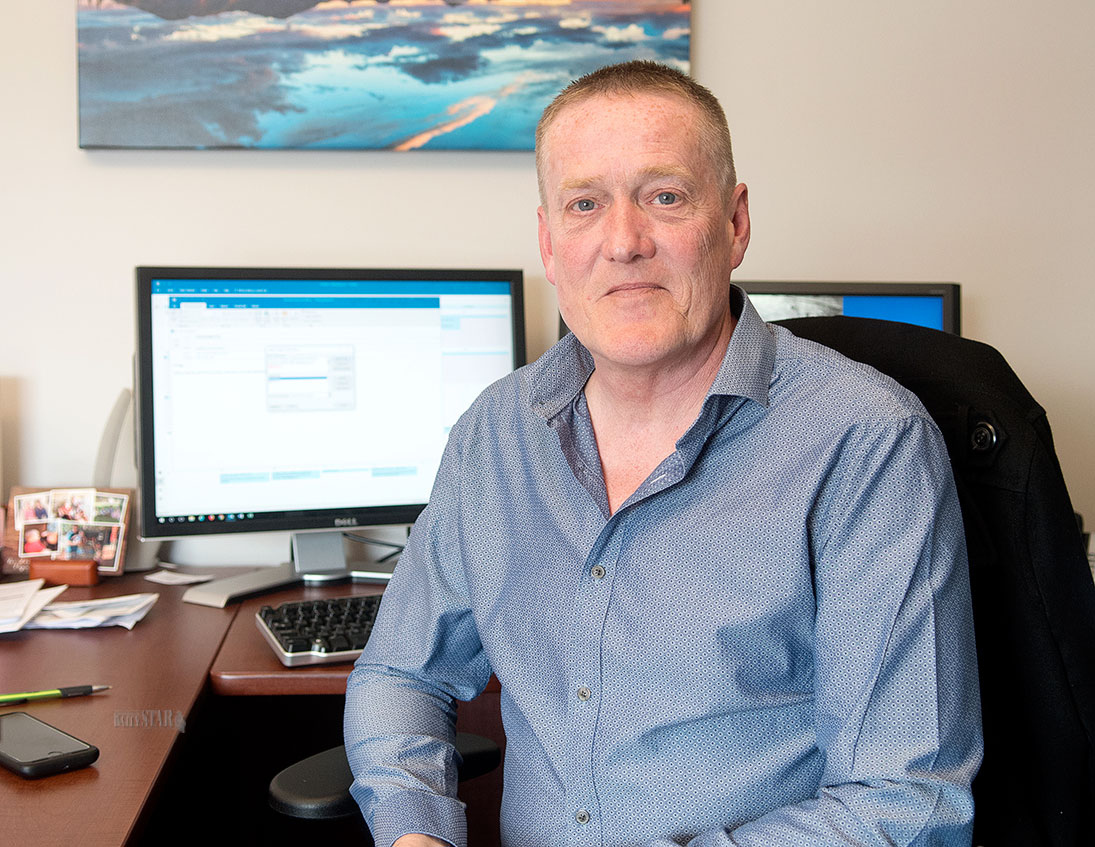 Photo by Whitehorse Star
Steve Geick
Optics around office closure 'horrible': YEU
The territory's employees' union is speaking out against the temporary closure of a youth office under the purview of the Department of Health and Social Services.
The territory's employees' union is speaking out against the temporary closure of a youth office under the purview of the Department of Health and Social Services.
Steve Geick, the president of the Yukon Employees' Union, which represents government workers in the territory, told the Star today the assistant deputy minister, director of human resources, director of HSS and another individual arrived suddenly last Friday morning at the Integrated Supports for Yukon Youth office in Whitehorse.
They told workers that because of a problem with plumbing and heating, they should go home – and not return until Tuesday.
But Geick said he received notice from the Public Service Commission (PSC) that while workers were ordered to leave the office, he was told it was for matters related to an internal human resources investigation.
He said he was confused as to why officials "misled" workers.
He then posed that question to Richard Mostyn, the minister responsible for the PSC, by sending him a note last Sunday.
Geick noted that the officials were "looking around the office, the blinds were closed, and that was it."
Geick mentioned a complaint he received from a member last Sunday to PSC last Monday, asking again: "what's going on here, we're getting two messages."
A day or two later, he was told that an apology had been delivered to the workers at the office, with PSC members admitting there was a miscommunication.
They "apologized to members and said 'we misled you, that's not why we were here,'" he said, but no further explanation was given.
While he was grateful for the PSC for keeping him up to date (he is not in the territory at the moment), he remains skeptical of the whole process.
"I don't understand what they could be doing for four days," Geick said, adding, "what else were they looking for?"
Sympathizing with the potentially sensitive nature of investigations, he said he was simply trying to make sense of it all.
"I understand they can't exactly discuss what's going on," he said of HSS, giving "kudos to PCS for notifying me of the actual reason they were there."
He feared what kind of tone this could potentially set for the department, which has been the subject of scrutiny as of late.
The department is currently involved in a couple of reviews and investigations. Among them are the Child and Youth Advocate Office's systemic review scheduled to be released in March of next year, as well as an external investigator and special advisor brought in by the government, as announced by HSS Minister Pauline Frost in early May.
It comes in the wake of allegations of mistreatment detailed by the CBC from a youth who once lived in government-run group homes.
"It almost seems like a rogue little group of people are very interested in ....," he trailed off. After thinking, he added: "Coverup is a strong word."
He's also worried that those who are truly impacted are the children and youth wanting to access the services.
"Yes, our members are as well," Geick admitted, but "our members are there for the kids to offer quality care."
Meanwhile, an HSS spokesperson chalked up the confusion to miscommunication, confirming the office was indeed closed for HR matters.
"There was miscommunication around why that building was closed, that we dealt with," Patricia Living, the director of communications for the department, told the Star early this afternoon.
She added that staff were initially told it was a heating and plumbing issue.
"That was miscommunication with staff, and it has been corrected with staff."
When asked about efforts to clarify that with others involved, Living said that "we've spoken with our staff."
Geick gave the benefit of the doubt to the department – but remained critical of how the situation was handled.
"There very well might be a perfect rational for both of those actions but the optics of it are horrible," he said.
The ISYY office is dedicated to those aged 12 to 24, and offers government services after regular business hours, according to its webpage.
Youth are able to learn how to access housing, get social assistance and search for employment through the office, among other things.
The site also notes that the office hosts a receptionist, two family support workers and a social worker.
Geick was unable to confirm exactly how many employees were told to leave the office.
The HSS spokesperson pointed out that the building doesn't open on Sundays and Mondays.
Add your comments or reply via Twitter @whitehorsestar
In order to encourage thoughtful and responsible discussion, website comments will not be visible until a moderator approves them. Please add comments judiciously and refrain from maligning any individual or institution. Read about our user comment and privacy policies.
Your name and email address are required before your comment is posted. Otherwise, your comment will not be posted.