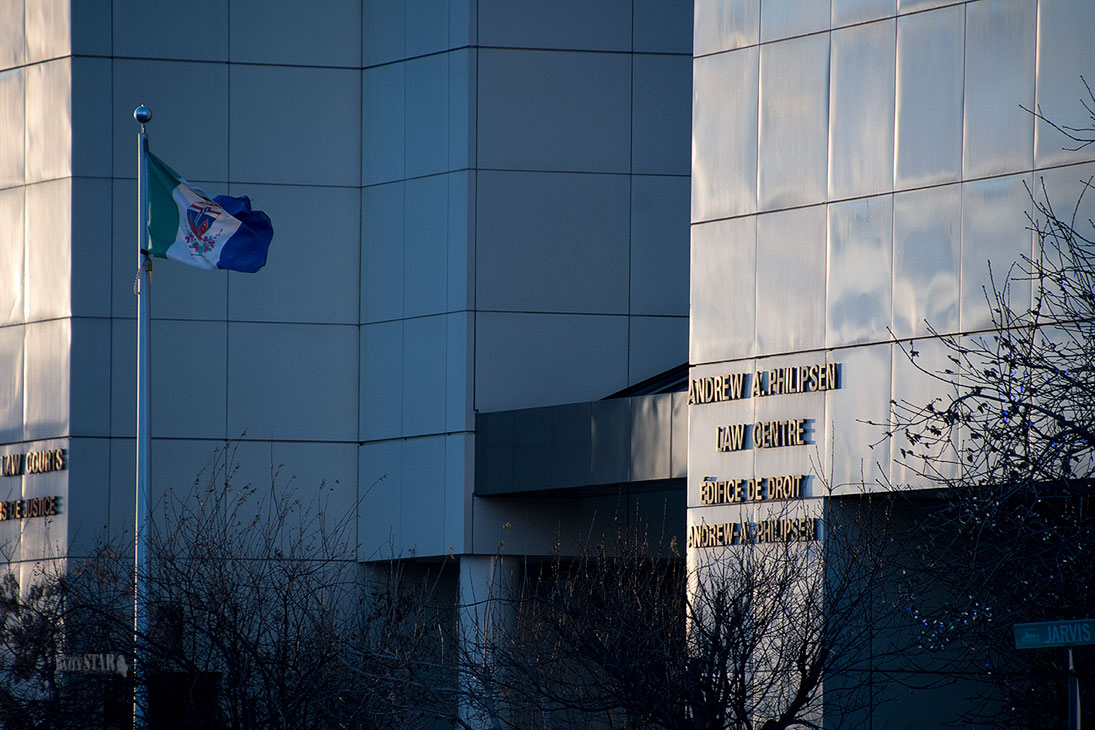 Offender can become productive citizen: judge
A Whitehorse man has been sentenced to a nine-month conditional term and two years' probation for a drug offence and three weapons-related charges.
A Whitehorse man has been sentenced to a nine-month conditional term and two years' probation for a drug offence and three weapons-related charges.
George Dawson, 26, was sentenced Friday by deputy Judge William Digby. The sentence covers four offences:
• possession of marijuana for the purpose of trafficking;
• two counts of possession of a weapon for dangerous purposes; and
• possession of a prohibited weapon.
Crown prosecutor Susan Bogle and Dawson's lawyer, Amy Steele made submissions.
Bogle told the court that Dawson was found with 24 packaged baggies of marijuana when his vehicle was stopped by the RCMP on Oct. 31, 2017. The total amount of the drug weighed approximately 93 grams and was valued at an estimated $720.
Dawson was found with a pair of brass knuckles in his pants pocket and a collapsable baton near the driver's seat of the car he was driving. Police also found multiple cellphones.
Bogle argued that the drugs, weapons and phones indicated Dawson was operating a small-scale drug distribution operation.
"It can be described as making an easy profit," Bogle said.
She argued that trafficking in northern community is considered aggravating. This is because northern communities are smaller with less support, she said. She conceded that marijuana is a soft drug, but stated that does not change the facts.
Bogle argued the two weapons are aggravating, as the brass knuckles were concealed and the baton was easily accessible.
As for mitigating factors, she said Dawson is a young man with no criminal record.
Bogle felt a three- to six-month sentence would be appropriate, followed by probation. She was also open to strict house arrest.
Steele told the court her client is a member of and is employed by the Kwanlin Dün First Nation.
She said Dawson does have some applicable Gladue factors. He was partially raised by his grandparents, who have experience at residential schools, Steele said.
She argued that there is no evidence that Dawson was violent or threatening. Nor is there evidence that he used any of the weapons found by police, the lawyer added.
Steele told the court that Dawson co-operated with police and followed all his bail conditions, which included an 8 p.m. curfew during the initial bail period.
She pointed out he has both family and community support.
"People believe in him," Steele said.
She argued that a jail term was not needed.
The defence proposed a three-month conditional sentence and two years' probation. If a conditional sentence was not possible, she suggested a longer probationary period.
Digby asked both sides if the October 2018 legalization of cannabis should play a factor in the sentencing.
Steele felt this was irrelevant because trafficking is still illegal. Bogle agreed, saying this offence dates well before legalization occurred.
After the submissions, Digby said this is a troubling case due to the trafficking and weapons. He felt he had to look at alternatives to jail.
The trafficking offence should get a nine-month conditional sentence, he believed.
As for the weapons charges, the judge felt a two-year suspended sentence would be appropriate.
He explained this should take into account all relevant Gladue issues. It would allow Dawson to serve his sentence in the community and still deter and denounce this type of behaviour.
"I'm satisfied that Mr. Dawson will not be involved in criminal activity in the future," Digby said.
The judge felt Dawson had learned from his mistakes and seen the errors in his behaviour. He added Dawson should become a productive member of his community.
He explained this means it was not necessary to separate Dawson from society; the probation would have terms to promote rehabilitation.
Digby stated that Dawson needs to make reparations to the community. He said even drugs like marijuana can have a negative effect on the fabric of a community.
Digby imposed several conditions. The nine-month conditional sentence will begin with three months of house arrests.
Dawson will be subject to an 11 p.m.-to-6 a.m. curfew for the remaining six months.
During this period, he will have to make a reasonable attempt to get a job, remain in the Yukon and perform 30 hours' community service.
The probation conditions include several conditions similar to the sentence. He will have to perform 60 hours' community service.
Dawson will be subject to a firearm prohibition with an exemption for sustenance hunting.
He will only be able to hunt to provide food for himself, his family or community. He will not be allowed to have a firearm in his residence, and he can only use non-restricted guns.
Dawson must also be accompanied by someone legally eligible to own a gun.
Add your comments or reply via Twitter @whitehorsestar
In order to encourage thoughtful and responsible discussion, website comments will not be visible until a moderator approves them. Please add comments judiciously and refrain from maligning any individual or institution. Read about our user comment and privacy policies.
Your name and email address are required before your comment is posted. Otherwise, your comment will not be posted.