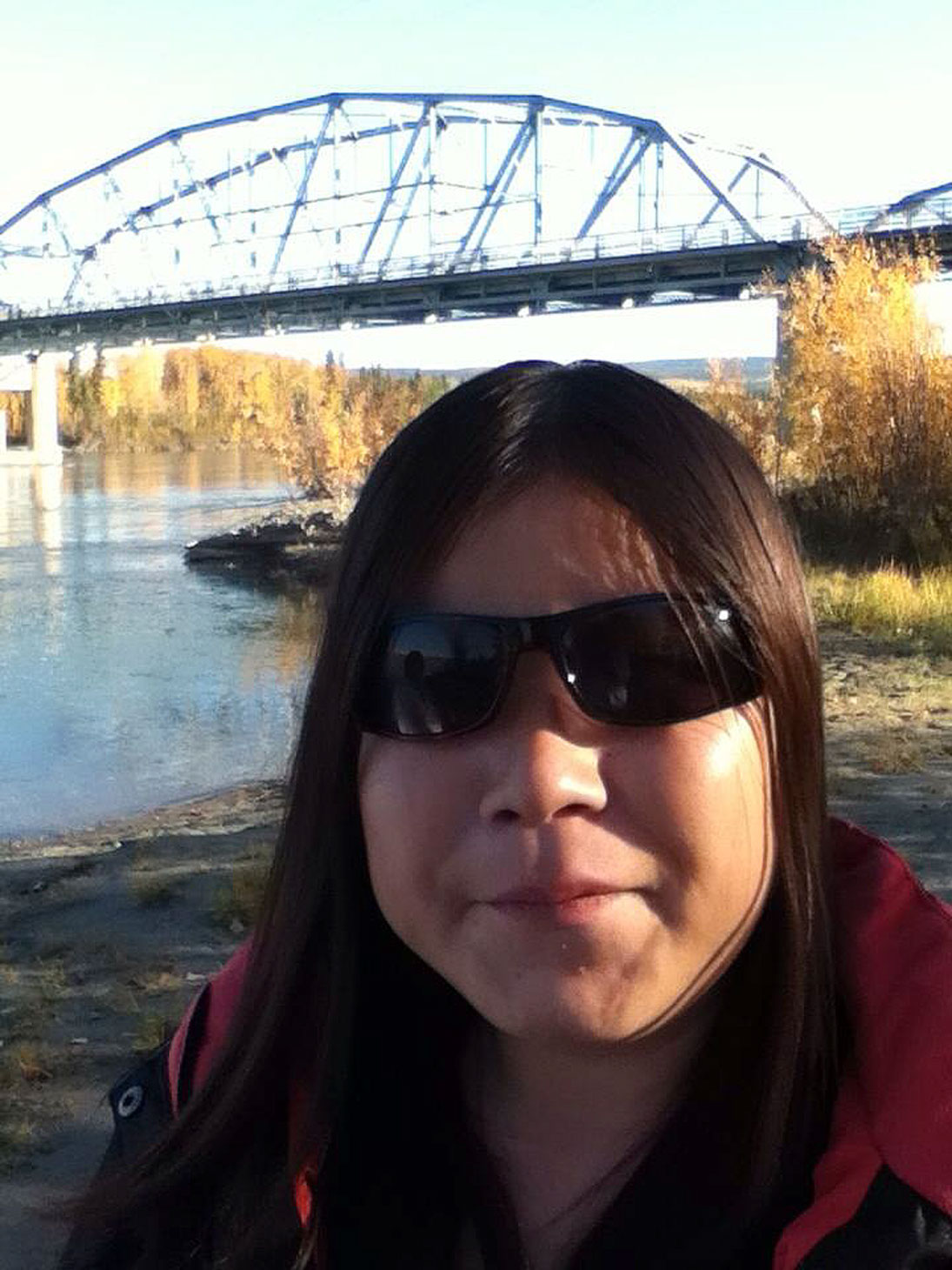 Photo by Photo Submitted
Cynthia Blackjack
Nurses testify at inquest into woman's death (Revised)
Wednesday, the third day of the inquiry into Cynthia Blackjack's death, saw testimony from two nurses who were present at the Carmacks health centre on the day of her passing in 2013.
Wednesday, the third day of the inquiry into Cynthia Blackjack's death, saw testimony from two nurses who were present at the Carmacks health centre on the day of her passing in 2013.
The inquest is taking place at the Kwanlin Dün Cultural Centre in Whitehorse after having heard testimony in Carmacks on Monday and Tuesday.
Deb Crosby and Theresa Ogilvie were the managing nurse and auxiliary nurse on call respectively.
They were questioned by counsels representing the territorial government, the Yukon coroner, the Little Salmon-Carmacks First Nation and the Council of Yukon First Nations (CYFN).
"There isn't anything I would have done differently," Crosby told counsel.
The 29-year-old Blackjack died Nov. 7, 2013 while being medevaced to Whitehorse.
She had contacted the health centre by phone several times in the days previous, complaining of dental pain.
The day before she died, she visited the centre with abdominal pain.
She was given morphine and was advised to find her own ride to Whitehorse General Hospital.
The following day, Blackjack returned to the Carmacks health centre by ambulance, and staff immediately chose to medevac her.
She suffered cardiac arrest mid-transport and died minutes before the plane landed in Whitehorse. The likely cause of her death was ruled as multi-organ failure caused by hyper-acute liver failure.
The inquest is seeking to prove whether Blackjack's death could be attributed to systemic malpractice affecting First Nations patients.
Crosby worked at the Carmacks health centre from 2007 to 2014. She refuted the idea that racial profiling affected treatment given to First Nations patients.
She told counsels she worked to acquaint herself with First Nations considerations. During her time in Carmacks, she said, she attended General Assemblies, potlatches and workshops hosted by the Little Salmon-Carmacks First Nation. She also worked with First Nation staff and elders.
At the prompting of Susan Roothman, the counsel representing Little Salmon-Carmacks, Crosby added that she was aware of residential schools and the impact of intergenerational trauma.
She said she spoke with elders to learn of their experiences with residential schools in communities.
Crosby said she has been trained in trauma-informed care and "absolutely" saw Blackjack as a vulnerable person.
"Cynthia did have challenges: Cynthia had challenges with addictions, Cynthia had challenges around trauma when she was young, socertainly all of the things that I learned (about trauma-informed care) would have come into play."
Roothman asked Crosby how her cultural background, as a non-Indigenous person, affects her ability to treat First Nations patients.
As a member of the LGBTQ2S+ community, Crosby said, she has experienced discrimination.
She also worked extensively with marginalized populations early in her career.
"I had no bias and no stereotypes," Crosby said. "I know what it's like to be biased against.
"My very first nursing job was at the Royal Alexandra Hospital (in Edmonton) working with marginalized people.
"I wound up doing a lot of work around sexual assault and domestic violence because I wanted to provide care to people who are marginalized. So I can very clearly say that I, personally, have no bias. My children were raised with no bias.
"I don't make assumptions. I see what I see."
Counsels questioned notations made in Blackjack's file the week she died.
On Nov. 6, Blackjack is described as "very dramatic during assessment. Difficult to determine symptoms."
The note is signed Matt Lewis, a full-time Carmacks nurse at the time.
Roothman questioned whether the use of the term "dramatic" might inspire medical staff to overlook dangerous symptoms.
Crosby responded that "dramatic" is a term used by nurses to describe a patient who is "expressing things over and above what, perhaps, might be there."
She said she did not have a problem with Lewis using the term, and nurses' job is to report what they see, to the best of their ability.
CYFN counsel Gregg Rafter later questioned the phrase "on a recent bender," mentioned in the same notation as the term "dramatic."
Crosby told counsel the use of the term "bender" would likely have been Blackjack's words.
There was discussion of how much a community nurse is able to control a patient's care without infringing on privacy or overstepping boundaries.
Roothman suggested that, in First Nations culture, issues of health involve the entire family.
She questioned whether Crosby should have contacted Blackjack's mother or grandmother regarding her recurring health concerns.
Crosby said that in adhering to the nurse's code of ethics, she could not contact family without the patient's explicit permission. She noted that she thought of Blackjack as a very private person.
She added that in providing care for Blackjack's recurring dental issues, dentist appointments were made for her by Carmacks staff.
On several occasions, Blackjack did not show up for her appointment.
As a medical practitioner, Crosby said, it was outside her capacity to direct Blackjack further.
"Patients have the right to live at risk, as long as they understand the implications," Crosby said.
On Nov. 6, Blackjack was instructed to find a ride to Whitehorse General Hospital, and to return to the health centre if she could not find one.
Crosby said this is common practice in Carmacks because there is only one ambulance, and dispatching it to Whitehorse would remove it from the community for four or more hours.
Generally, if a patient is able to go safely by private vehicle, he or she is instructed to do so.
When Blackjack left the Carmacks health centre on Nov. 6, Crosby said, she understood that a ride had been secured for her.
"Ultimately, I need to think about the community as a whole … you're always thinking of the worst-case scenario," she said.
Add your comments or reply via Twitter @whitehorsestar
In order to encourage thoughtful and responsible discussion, website comments will not be visible until a moderator approves them. Please add comments judiciously and refrain from maligning any individual or institution. Read about our user comment and privacy policies.
Your name and email address are required before your comment is posted. Otherwise, your comment will not be posted.