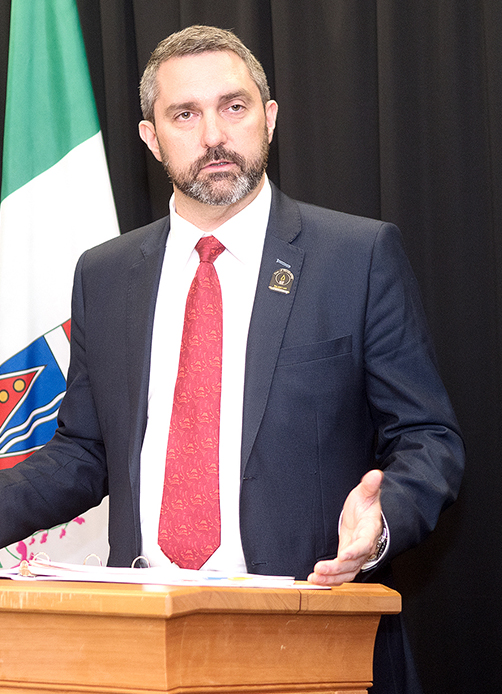 Photo by Whitehorse Star
Premier Sandy Silver
'Now is not the time to panic,' says premier
The Yukon's ministers doubled down Tuesday on assurances that the territory is well-prepared for the threat of COVID-19.
The Yukon's ministers doubled down Tuesday on assurances that the territory is well-prepared for the threat of COVID-19.
"Now is not the time to panic," Premier Sandy Silver told the legislature during Tuesday's question period.
"It is important to remember that the risk in Yukon and in Canada is considered to be low and that there have been no confirmed cases in Yukon…. We are extremely prepared."
Silver had planned to travel to Ottawa to meet with premiers and the Prime Minister today, but called the trip off this afternoon out of "an abundance of caution." The meeting had intended to co-ordinate a "national response" to the COVID-19 outbreak.
Silver responded to questions alongside Pauline Frost, the minister of Health, and Jeanie Dendys, the minister of Tourism and Culture, on the Yukon's preparedness for potential hospital influxes and tourism dips.
Patti McLeod, the Yukon Party MLA for Watson Lake, questioned whether the hospital is prepared for a Yukon outbreak of the virus.
She noted that Whitehorse General Hospital is often already at capacity, suggesting there wouldn't be space for patients diagnosed with COVID-19.
Frost responded that Yukoners should "rest assured" that necessary supports will be provided if an outbreak occurs. She said her department is taking the lead of the acting Chief Medical Officer, Catherine Elliott. 
Silver added to the response that the budget for 2020-21 includes more funding for the Yukon Hospital Corp.
Stacey Hassard, the interim leader of the Yukon Party, questioned the territory's preparedness for an expected tourism fallout.
Mélanie Joly, the federal Minister of Tourism, told reporters in Montreal last week that revenue from Chinese tourism is expected to dip $550 million in Canada this year.
Last Sunday, the federal public health officer recommended that Canadians avoid cruises.
Referencing these, Hassard asked how the Yukon's Tourism department will prepare for the downturn and "collapse" of the cruise ship industry.
Dendys responded that her department is working with Destination Canada and the territory's chief medical officer to "assess the situation."
She added that they have been in talks with Holland America, a cruise line with routes to Alaska, on a daily basis.
"We are adjusting as we go," Dendys said.
"This is a very fluid situation that is happening in Canada."
Dendys repeated Silver's assertion that Yukoners should not panic. She also refuted Hassard's notion that the cruise ship industry is collapsing.
"There is great concern –– absolutely. We are working on different scenarios with our partners around how to mitigate this," Dendys said. 
Although there is an anticipated drop in Chinese tourism, Dendys said, the Yukon has a diverse tourism market that will help to balance the scales. She said the Yukon does not "fully rely" on the Asian market.
For the second day in a row, NDP Leader Kate White questioned whether the government will work to implement paid sick leave.
She noted that retail and hospitality workers aren't able to work from home, as has been recommended in other Canadian jurisdictions, to avoid the spread of COVID-19.
John Streicker, the minister of Community Services, said the territory is working with the federal government on employment insurance to support workers. A change to paid sick leave would require a change in territorial legislation, he said. 
He added that he "opened the conversation" with his department Tuesday morning, and is willing to consider the change.
In the meantime, he touted the pending $1 increase to the minimum wage, which he said will support service-industry workers.
The wage will rise to $13.71 on April 1. In 2019, the Yukon Anti-Poverty Coalition pegged a family's living wage at more than $19 per hour.
See related coverage.
Add your comments or reply via Twitter @whitehorsestar
In order to encourage thoughtful and responsible discussion, website comments will not be visible until a moderator approves them. Please add comments judiciously and refrain from maligning any individual or institution. Read about our user comment and privacy policies.
Your name and email address are required before your comment is posted. Otherwise, your comment will not be posted.