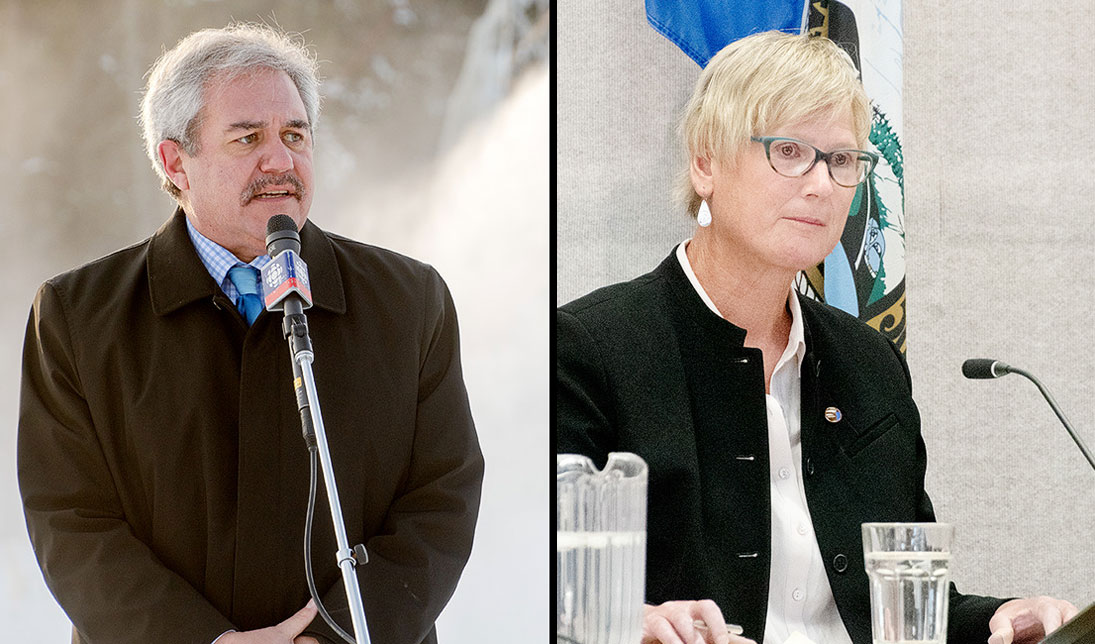 Photo by Whitehorse Star
Mayor Dan Curtis and Coun. Laura Cabott
'Not my finest or my best hour,' Curtis says
Mayor Dan Curtis offered regret and an apology to Coun. Laura Cabott at Monday's city council meeting.
Mayor Dan Curtis offered regret and an apology to Coun. Laura Cabott at Monday's city council meeting.
"I would also like to say I have no excuse for my behaviour last week and I would like to acknowledge on my part, I was out of line," he said in offering his apology to Cabott, and to other members of council.
The mayor apologized for making a suggestion out of the blue last week that Cabott, as chair of the Yukon Environmental and Socio-economic Assessment Board (YESAB) may be in a conflict of interest with her participation in discussions regarding the city's wildfire risk reduction strategy.
There had been concerns whispered into his ear, the mayor said last week.
He opened Monday's comments by saying Cabott's integrity is beyond reproach, that the councillor is completely transparent who works hard on behalf of the city and its residents.
Cabott must have felt blindsided by a truck with his suggestion she may be in a conflict of interest, the mayor said.
Curtis said Cabott has never done that to him, nor has any member of council.
"It just slipped out, and again I have no excuse other than to say I'm sorry," Curtis said. "I think I did do a study on how not to do it.
"I would like to think I can lead by example and help council if they stumble. On this, it is I who stumbled.
"My actions are incredibly regrettable. Not my finest or my best hour, and for this I am truly sorry."
Curtis said he hoped both Cabott and the rest of council can forgive him in time for what he said was inappropriate behaviour.
Cabott declined last week to respond to Curtis' question regarding a conflict of interest, though Coun. Dan Boyd did come to her defence.
Boyd, who was chairing that segment of the meeting last week, told Curtis it was unfair to Cabott to raise the issue out of the blue in an open council meeting, with no prior notice.
Cabott did provide a response at this week's meeting. She said she felt it was important to respond.
As a lawyer for the past 28 years, she said, she knows what conflict of interest is, as she deals with it almost every day.
She told council Monday she had checked all the pertinent legislation and guiding policies such as the Municipal Act, the city's procedure bylaw and the city's code of conduct.
She said she looked at conflict of interest policy bylaws for the assessment board.
"I want to assure my fellow council members, city staff and residents of Whitehorse that I am not in a conflict of interest," Cabott said.
"Nor could it reasonably be perceived I'm in a conflict of interest with regard to the Wildfire Management Strategy and Action Plan."
She said she takes her role on council and her role as chair of the assessment board very seriously and would not want to put those responsibilities in jeopardy, nor would she want to jeopardize the public trust.
Cabott said as a guiding document, most activities in the Wildfire Management Strategy will not be subject to a review by YESAB.
Establishing fuel breaks that may arise out of the strategy could trigger a review, she said.
Cabott said that assessment would be conducted by the board's designated office in Whitehorse, and would be carried out completely independent of the central executive committee the councillor chairs, as per the rules.
The councillor said she agreed with Boyd's comments last week suggesting there are better ways to deal with conflict of interest concerns, rather than bringing them up at an open council meeting with no prior notice to herself or anybody else.
"I trust this clarifies matters, and I appreciate having been given the opportunity to speak to this tonight," Cabott concluded.
Add your comments or reply via Twitter @whitehorsestar
In order to encourage thoughtful and responsible discussion, website comments will not be visible until a moderator approves them. Please add comments judiciously and refrain from maligning any individual or institution. Read about our user comment and privacy policies.
Your name and email address are required before your comment is posted. Otherwise, your comment will not be posted.