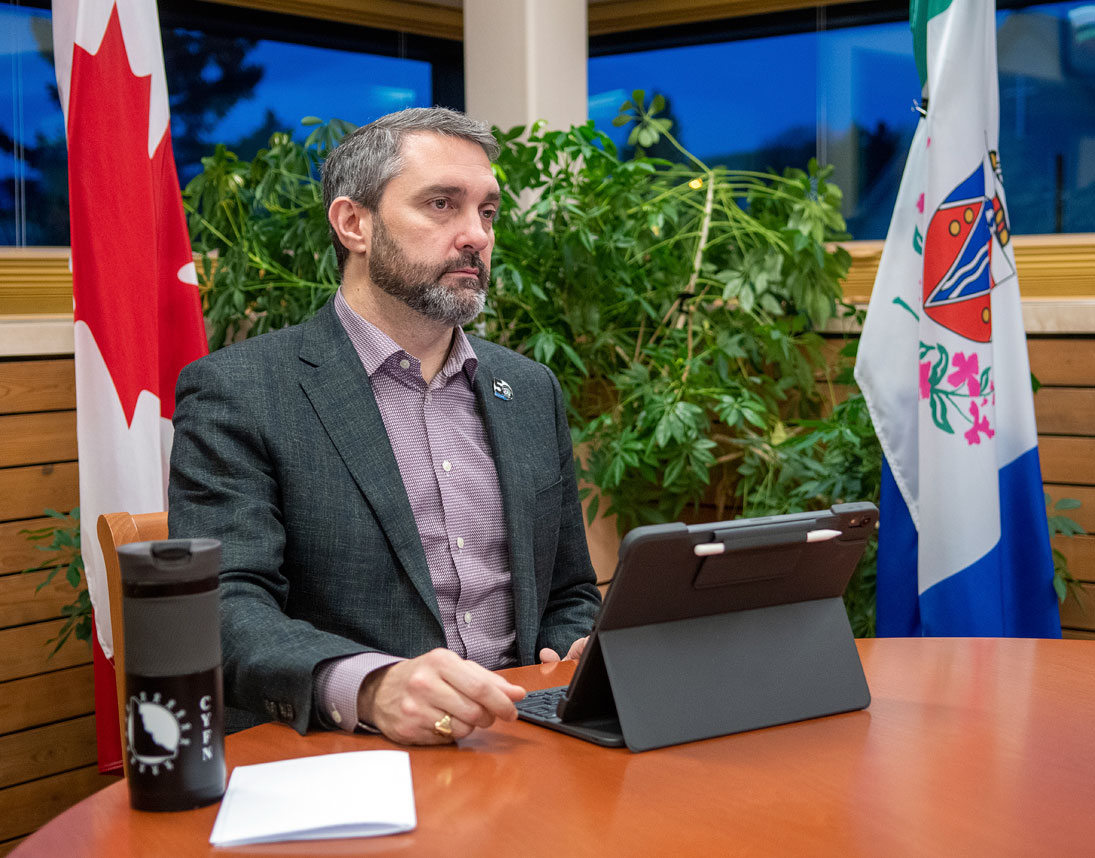 Photo by Whitehorse Star
Premier Sandy Silver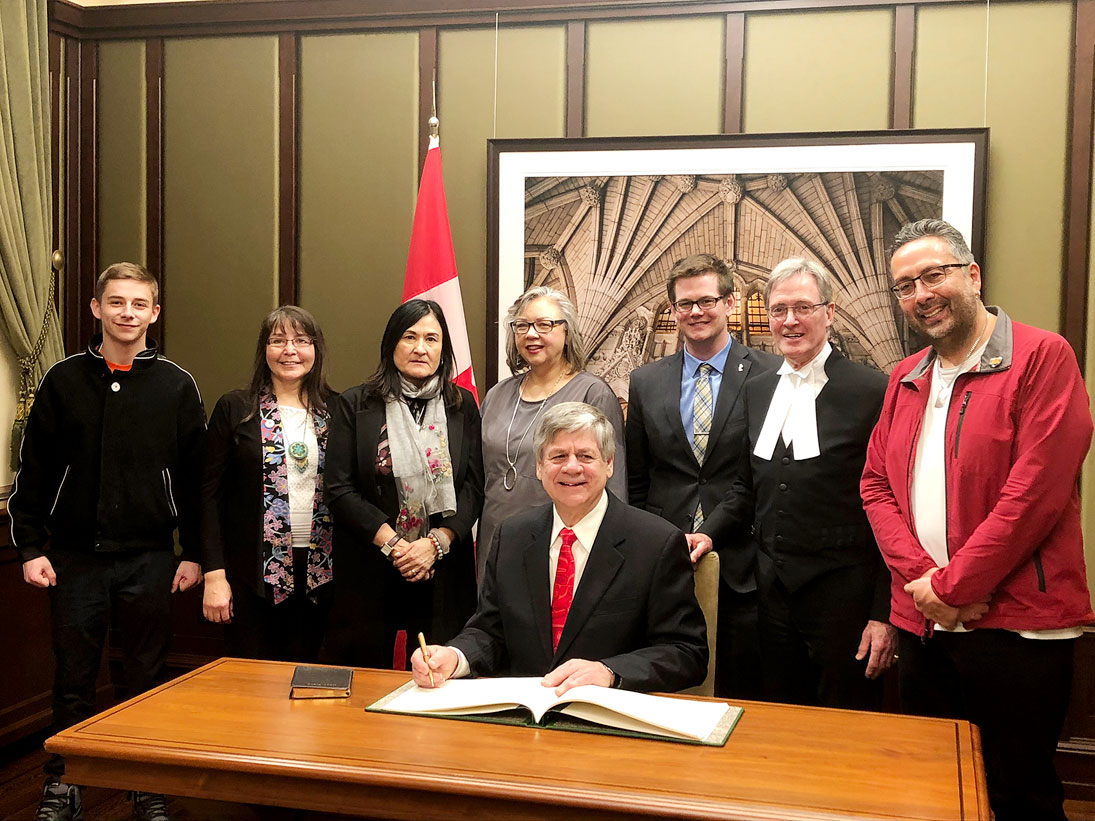 Photo by Photo Submitted
FIFTH TERM BEGINS – Several Yukoners watch Larry Bagnell (seated) sign the papers to be sworn into offi ce as the territory's Liberal MP for the fi fth time Monday in Ottawa. Standing from left to right are Samuel Taylor, a youth from Dawson City; Chief Roberta Joseph, Tr'ondëk Hwëch'in First Nation; territorial Environment Minister Pauline Frost; Justice Minister Tracy-Ann McPhee; Yukoner Conol Slobodin; Charles Robert, Clerk of the House of Commons; and Coun. Duane Aucoin of the Teslin Tlingit Council. Bagnell called it 'a great honour to be sworn in once again as the Member of Parliament for the Yukon. I look forward to getting back to work and representing Yukoners in the 43rd Canadian Parliament (which will begin Thursday).'
North gaining attention at premiers' meeting
Northern issues are being prioritized by Canada's premiers in a call to action from the federal government.
Northern issues are being prioritized by Canada's premiers in a call to action from the federal government.
All 13 of the country's provincial and territorial leaders met in Toronto on Monday morning to discuss the challenges facing the country. The priorities they outlined will be communicated to Prime Minister Justin Trudeau.
The premiers, who form the Council of the Federation, last met in Saskatchewan last July.
Premier Sandy Silver called the meeting a "great opportunity to meet face-to-face and hear different perspectives on issues" during a teleconference to local reporters on Monday afternoon.
The premiers assembled a communiqué listing four priorities requiring immediate action from the federal government. It includes an invitation to the prime minister to co-host a meeting with premiers and first ministers in 2020.
The fourth item in the communiqué is "Northern Priorities". It calls for "robust" investment in infrastructure and action to fight climate change in the North.
Silver said he met with Joe Savikataaq and Caroline Cochrane, the premiers of Nunavut and the N.W.T. respectively, on Monday morning to discuss infrastructure and climate action as priorities for the North.
"Climate change was mentioned nationally, there, but we really wanted to put it in the northern context," Silver told media.
"We believe that as we are spending federal dollars, and making sure it fits the unique needs of an extremely vast (geographical) area, one of the ties that bind is climate change. We have to prepare for the new normal."
In asking for robust infrastructure investment, Silver suggested the Queen Energy Fund and the Arctic Energy Fund could be brought back to the table to support the North.
"Investing in infrastructure will be critical to building that stronger community, and supporting our economy in a northern context," he said.
During Yukon Days this week in Ottawa, Silver and members of his caucus will meet with Yukon First Nations chiefs and federal ministers to discuss community-specific solutions for the Yukon.
While the three territories differ in their need for infrastructure support, Silver said they chose to ask for "robust" investment as a catch-all word that will work for the whole region.
He said the three northern premiers were able to find common ground on several issues, including health care funding and challenges facing rural communities.
Silver noted that Monday morning was his first time meeting with Cochrane, who was elected as premier of the N.W.T. in October.
Monday's communiqué listed strengthening the economy, fiscal stabilization and health care as the other three countrywide priorities.
To strengthen the economy, the premiers agreed to foster sustainable resource development, improve the environmental assessment regime and expand international trade.
The premiers are calling for an expansion of the Fiscal Stabilization Fund, an emergency fund devoted to provinces facing economic downturn.
Finally, the communiqué asks for a 5.2 per cent increase in the Canada Health Transfer payment to support health care infrastructure.
Silver is scheduled to meet with Trudeau on Friday.
While in Ottawa, Silver will also meet with the ministers of environment, infrastructure, public safety, finance, health and the treasury board.
Four Yukon chiefs are also in Ottawa this week to meet with federal ministers.
Champagne-Aishihik Chief Steve Smith, Kluane Chief Bob Dickson, Vuntut Gwitchin Chief Dana Tizya-Tramm and Peter Johnston, the Council of Yukon First Nations' grand chief, will all be present.
Add your comments or reply via Twitter @whitehorsestar
In order to encourage thoughtful and responsible discussion, website comments will not be visible until a moderator approves them. Please add comments judiciously and refrain from maligning any individual or institution. Read about our user comment and privacy policies.
Your name and email address are required before your comment is posted. Otherwise, your comment will not be posted.