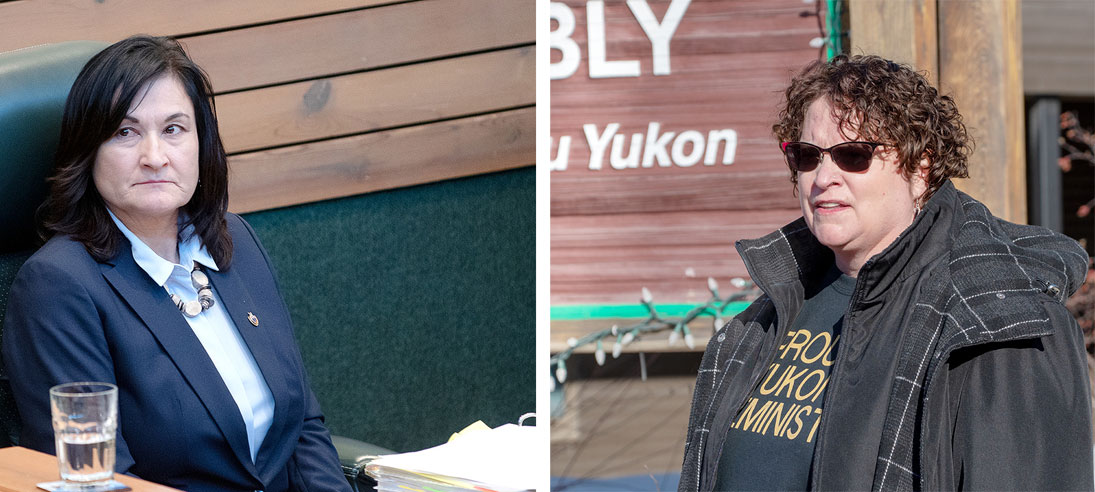 Photo by Whitehorse Star
HSS Minister Pauline Frost and Barbara McInerney
No plans to take over society, YG says
After noting one society was at risk of turning over its services to the Yukon government fewer than two years ago, YG said Wednesday there is no plan or intention to take it over moving forward.
After noting one society was at risk of turning over its services to the Yukon government fewer than two years ago, YG said Wednesday there is no plan or intention to take it over moving forward.
That's as the territory is set to wrap up its comprehensive health review later this year.
That exercise is taking in part a look at all the NGOs that get funding from the Department of Health and Social Services (HSS).
One of those is the Yukon Women's Transition Society, which has publicly estimated that it needs at least an additional $500,000 on top of its core funding of $1.474 million to stay afloat.
That's instead of the just under $30,000 extra it will get for 2019-20 (accounting for a two per cent increase), on top of the same $1.474 million core funding.
The group runs both Betty's Haven and Kaushee's Place.
Barbara McInerney, the latter's executive director, has expressed worry that it may see its services jeopardized.
The group offers housing to children and women fleeing domestic violence – an essential service, HSS Minister Pauline Frost noted Wednesday afternoon.
"We've clearly had some misunderstandings in terms of what their understanding was and what I had before me," the minister told reporters shortly after question period.
"I think we've cleared that, and we will continue to have discussions so that we don't end up in a situations where there's misunderstandings in the future."
Frost was also asked about the society facing a similar fate in the future that was mentioned back in 2017, and said that is not in the mandate nor vision for the government moving ahead.
"We're here really to work with the (society) to ensure they're successful and that's what we intend to do in the future," she said.
"We're looking forward to working with them to ensure they continue to provide those services in years to come; that's where we are right now," the minister added.
Back in June 2017, the group held an emergency meeting to in part discuss giving up control to YG.
The government said it hopes to avoid that situation going forward.
Frost acknowledged that a growing population, demand and costs meant taking a closer look at services with an eye on efficiencies.
"If an NGO has been in existence for 40 years, well in that 40 years, they would have grown into something that meets their client services needs.
"And if that's the case, we want to know what that is so I can support them to be successful."
She reiterated that later Wednesday. She noted that the review the department undertook looked at needs, the organization's mandate and performance, and the possibility of increasing its scope and programming.
Meanwhile, some of the misunderstandings referenced were around the length of funding agreements.
Frost and the department confirmed this week there was a three-year agreement from 2017-20 on the table early on in their mandate for the group to consider.
That was rejected by the society's board.
A six-month transfer payment agreement was negotiated from there, followed by two three-month agreements for the 2017-18 year, the department explained earlier this week.
McInerney had previously said she didn't recall any three-year funding agreement being offered, saying that it was "completely incorrect."
The Star was unable to reach McInerney in time for further comment Thursday.
For its part, HSS was unable to confirm the $500,000 figure the group has mentioned publicly would be needed, came forward via a formal request to it.
It did say that the group submitted a "preliminary business plan for 2019-2022" with information that projected a deficit for 2019-2020.
However, "there are discrepancies between what we (HSS) have received and what the Societies Registrar has received," said HSS spokesperson Clarissa Wall. The department was unable to specify what those discrepancies were.
Wall also added this week that the board in 2017 "did not believe it is possible to operate the facilities safely, or to meet commitments to clients or staff without being in a deficit position."
She then cited a letter to HSS from the group as saying "the options as we see it are to plan for the immediate closure of the facilities or to transition their operations to the Yukon Government." It pointed to increased usage, operation costs and the cost of wages.
This comes as Frost has been questioned frequently in the legislature since MLAs returned last Thursday about the level of funding for NGOs.
Both opposition parties have said they worry that funding is frozen for these groups, and pointed to May 2018 letters that were tabled earlier this week.
Those were sent from the department that said YG "made the decision to maintain funding to NGOs at the 2017-18 levels."
Since then, the department said this week, the decision was made earlier this calendar year to provide a two per cent increase to 22 of the 33 NGOs' HSS funds.
All of these increases are reflected in the "miscellaneous transfer payments" section in the 2019-20 budget (page 13-23), which amounts to a total of $250,000.
HSS has acknowledged that a two per cent increase is not accounted for line by line, per group, because the budget "had to be submitted prior to the determination of the 2% increases," Wall said this week.
Add your comments or reply via Twitter @whitehorsestar
In order to encourage thoughtful and responsible discussion, website comments will not be visible until a moderator approves them. Please add comments judiciously and refrain from maligning any individual or institution. Read about our user comment and privacy policies.
Your name and email address are required before your comment is posted. Otherwise, your comment will not be posted.