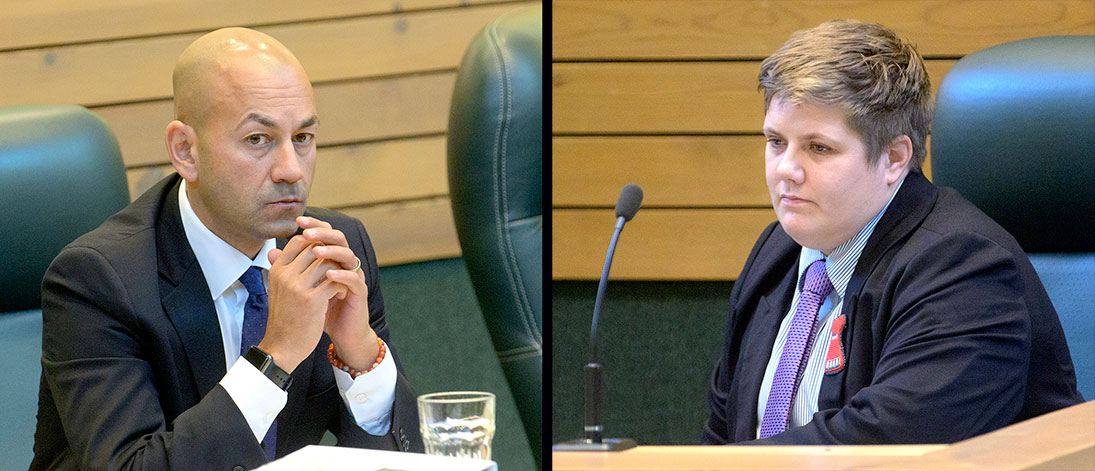 Photo by Photo Submitted
Economic Development Minister Ranj Pillai and NDP MLA Emily Tredger
NDP pushes for permanent paid sick days for all illnesses
The territory has extended the temporary paid sick leave rebate for COVID-19 yet again, but the NDP is asking when permanent paid sick days for all illnesses are coming; maybe next year, says the government.
The territory has extended the temporary paid sick leave rebate for COVID-19 yet again, but the NDP is asking when permanent paid sick days for all illnesses are coming; maybe next year, says the government.
The Yukon's new plan for managing COVID-19, released Nov. 10, is easing pandemic restrictions as the territory shifts to start learning to live with the virus.
For a fourth time, paid sick days will be available through government rebates for anyone who misses out on work because they get sick with COVID-19. 
But after two years of temporary rebates, NDP MLA Emily Tredger wants to know why the government hasn't made paid sick days permanently available for all workers, regardless of the illness.
"The chief medical officer of health recommends that people stay home as long as they have symptoms of any illness," she said during question period Monday.
"Unfortunately for many people, it's not that simple. Many Yukoners face the choice between staying home from work or earning the wages they need to put food on the table and to cover their rent and mortgage."
Tredger asked Economic Development Minister Ranj Pillai how long he intends to keep extending the temporary program, which now expires after March 31, 2023.
Further, she asked whether the Yukon will implement a permanent paid sick leave program for all workers.
Pillai said the government is working on a permanent model of paid sick leave, though it's in the preliminary stages.
"We know that there needs to be a plan going forward and that is what we are certainly working on," he said, "but we do need to have a conversation with the business sector, the private sector, as well as other stakeholders before we decide what happens after March 31."
Those conversations will determine how a permanent paid sick leave program – which Pillai told reporters Monday the government is seriously pursuing – is funded.
A government panel co-chaired by Tredger and Community Services Minister Richard Mostyn has already looked at the logistics of paid sick leave and how it could be implemented.
The Making Work Safe panel published a report last January that recommended 10 paid sick days "per employment year" be legislated for all Yukon workers.
The report also said employers shouldn't be harmed in the process.
To ease the burden on the private sector, Pillai told media, any permanent program would likely be heavily funded by the government. He said it's too early to say how much such a program might cost.
Since March 2020, the government has spent nearly $3.5 million on the paid sick leave rebate program for COVID-19, Pillai told reporters.
However, that doesn't necessarily indicate how much a permanent program would cost, he said, since the scope of illness-related absences would be broader.
Funding is only one component, though.
The Department of Community Services is working on policy that would make paid sick days part of the Yukon Employment Standards Act, Pillai said.
"That (policy work) is really focused on identifying who a program like this would support, what's the scope of the program," he told media.
He noted the complexities in drafting policy that's supposed to cover all Yukon workers.
"Lots of people that are working in the gig economy, does that get covered?" he asked.
"In some cases, they're contract workers. In some cases, they are working for firms that are located in other places in the world, but they love living here.
"And so there's lots for us to review and to contemplate before being able to roll it out."
The Yukon was the first of many provinces and territories to offer temporary sick leave benefits during the COVID-19 pandemic, but few governments have implemented permanent paid sick leave since.
The federal government will require all federally regulated private sector businesses to provide 10 paid sick days as of Dec. 1.
That covers 945,000 workers in a variety of industries across Canada, like bank and postal service employees.
British Columbia has the largest paid sick leave program of any province or territory.
Five paid sick days became available for all workers under that province's Employment Standards Act at the start of this year.
Prince Edward Island and Quebec also offer paid sick leave, and did so before the COVID-19 pandemic set in, but both require years of employment to be eligible for up to two days in Quebec, and only one in P.E.I.
Should the Yukon government implement the recommended 10 paid sick days next year, it would be the largest paid sick leave program of any province or territory.
But the timeline is still unclear. Pillai said there's a chance it could be in place before the temporary COVID-19 rebate expires after March 31, but consultation, funding and policy work could take more time.
In that case, he said the temporary benefit would likely be renewed again, but a permanent program is very much in the works.
"My sense going forward is we want to get this work done," he said.
Tredger told reporters Monday that the current temporary benefits aren't good enough in the interim.
"The CMOH (chief medical officer of health) is saying that people need to stay home when they're sick – that that's the best thing we can do to prevent the spread of illness," she said.
"And so we have to make that possible for people. It's no good to recommend that if people can't actually do it."
Employees who miss work after testing positive for COVID-19 are currently eligible for up to 10 days of paid sick leave through the temporary rebate program.
Yukon businesses aren't required to offer paid sick leave for other illnesses.
"We've heard really heartbreaking stories," Tredger said of her work on the Making Work Safe panel.
"We heard from people who said, 'every time I'm sick, I have to figure out what I'm going to sell to try and cover the lost wages.'
"We heard lots of those stories from Yukoners. And people were really clear that they wanted paid sick leave."
Add your comments or reply via Twitter @whitehorsestar
In order to encourage thoughtful and responsible discussion, website comments will not be visible until a moderator approves them. Please add comments judiciously and refrain from maligning any individual or institution. Read about our user comment and privacy policies.
Your name and email address are required before your comment is posted. Otherwise, your comment will not be posted.